Cycle Repair business is CO2 Neutral, with help from Nissan and ZEN.
London based cycle repair business Honor Cycles has expanded its service with a pick-up and drop off service using an electric van. The Nissan e-NV200 is one of the latest models, with an "official" range of 174 miles, or in real world driving – around 125 miles (check out this full review on the van if you like).
Founder Josh Liu commented "We just charge it overnight at the workshop and it easily covers our area in and around East London, we don't need to charge when out and about, because of course that would interfere with pick up and workload."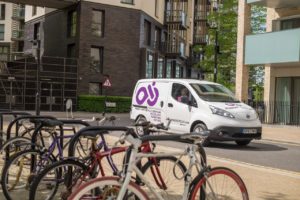 Electricity for the van comes from Green Network Energy, meaning that zero emissions at the tailpipe also means zero emissions in generation. So there's no greenhouse gases and no diesel particulates either.
The business, which was first established in March 2018, was assisted by a grant from the Zero Emissions Network and services a range of regular and e-bikes, both from individuals and large fleets.
Being both Bosch and Shimano trained, they are seeing more and more electric bikes on the streets of London using their services. "We like dealing with bikes that have quality drive systems where you can get support and the spares, it's better than unknown brands where you can't get the parts". Although the van has been reliable and presented Josh and his team with no issues, he wonders if the size will be enough longer term:
"You can get about 6 bikes in quickly and easily, but to really fill it, you'd have to turn all the bars, then maybe you would get 10, at the most"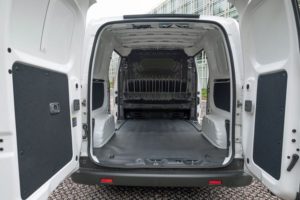 Electric vans could be the ideal vehicle for about town usage for many stores, being congestion charge and emissions charge free, no 'road tax' or Vehicle Excise Duty as we should say* and very cheap to fuel. In fact their "fuel consumption" is the opposite of vans, you get the most miles per Kw around town – and the least in motorway driving.
So if regular rips to Welsh trail centres are your thing, then this van probably isn't for you. But, if quiet and relaxed driving, daily deliveries, (very) low costs and saving the planet is your thing, the Nissan might be right up your street.
Check out running costs here with our sister publication EVFleetworld.
Related articles:
'* Roads are paid for by general taxation, as we all now know, thanks to Carlton!