Electric bike values up 95% in H1 data as supply chain adjusts to Covid
The first half of 2020 has been a period like no other for the bike and electric bike business. Courtesy of the Bicycle Association, CI.N digs into the back story of how the shortage in stock supply came to be and what the industry is now doing to catch up…
The juggling act that is forecasting stock accurately is perhaps the market's greatest challenge, especially so when it comes to bike imports. Inescapably, bike boxes are cumbersome, sometimes difficult to ship and incredibly resource intensive when stacked on the shelves of either a distributor or in a bike shop's storeroom. Accuracy, throughout the chain, is of paramount importance; the sell through goals, spend capacity and storage capabilities throw up significant variables and often can cause friction when miscalculations occur.
For this reason, the industry has erred on the side of caution in the past decade. Very steadily since 2010 the combined bike and electric bike tally has shrunk from a peak of around 3.91 million units in 2010. By 2016 imports ran closer to 3,000,000 units where it has remained since, scraping just 2.5 million in 2018. H1 2019 remained low.
Though in 2019 the tally had grown by around 250,000 units, the figure for 2020 had in Q1 and Q2 fallen short of progress, registering at 6% down like-for-like. These tallies, some of which relate to orders placed just prior to the emergence of the Covid-19 pandemic, do not yet tell the story of what came next. Before many could react, production lines ceased to operate country-by-country, compounding a soon to emerge demand dilemma.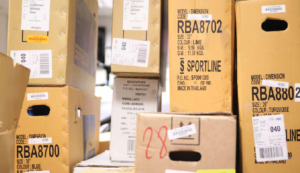 For bike and accessory distribution giant Moore Large that demand meant ordering 30,000 extra bikes in one month alone, selling them all, then ordering thousands more. Extrapolate that across the business and it's likely Q3's report will bake very interesting reading. In many cases where supply lines are not directly attributed to a parent group's supply, we could see big gains for countries that were quick to re-open production lines versus those that could not meet the demand boom immediately.
Despite significant supply disruption imports of e-Bikes were also up; 58% by volume in H1 against the prior year, points out the BA. Compounded by anti-dumping measures against Chinese imported goods, the value increase is perhaps more astounding, up 95% year-on-year.
"This must be a clear indication that UK suppliers had already increased electric bike orders even prior to any Covid-19 impact and in anticipation of increased sales in 2020. This foresight has stood the UK industry in good stead to make the most of the huge increase in demand and interest due to Covid 19. Our MDS reports sales of e-Bikes were up 88% by volume in H1 compared to 2019 and retail sales value doubled for the same period," said the Bicycle Association's Steve Garidis.
That certainly tallies with CyclingIndustry.News' own study of independent retail stores. In yet to be published findings it is shown that the electric bike is the single largest growth area for future investment, coming in at more than double the next area for investment, the workshop.
For this reason, it's little surprise to see the market's leading brands to be investing significantly in production of pedal assist models. Gazelle, one of the market's top ten according to our study, are soon to be producing more electric bikes than pedal powered machines, while Cube Bikes, a top five label are now comfortably north of 200,000 electric bikes produced annually.
Though Q3 import data may read very differently, up to Q2 sourcing has been relatively static, with Indonesia (up 99%) and Turkey (up 89%) clear winners of new trade, while France and China saw 46% and 32% decreases, respectively in the moving annual total to June 2020 data. China's decline stems largely from a drop off in e-Bike trade. Formerly a key supplier, just 6% of e-Bike imports came from this source in the 12 months to June 2020.
Value added
Once again, it is values landed that tell one of the more exciting stories. Our most expensive bicycle imports come in from Germany and Poland, averaging at £698 and £596, respectively. Taiwan, a beneficiary of the anti-dumping measures placed on Chinese imports has risen to represent an average landed value of £305, the highest in the Far East.
These movements have nudged the average landed values steadily north and a clear trend is forming. Since the 2012 road boom the average unit value has climbed by £74 to reach £167 on average in 2020. Year-on-year that tally has risen by £26, its sharpest increase to in more than a decade.
Electric bike data presents another clear trend north and, as alluded to by Garidis, the growth demonstrates that pre-Covid faith in pedal assisted unit sales was running at a high. As a proportion of our value imported, electric bikes rose from 11% in 2018 to 17% in 2019, but thus far in 2020 they have come in at more than a quarter in £ terms. That growth is lead by Germany and Belgium, closely followed by the Netherlands, Czech Republic and Taiwan, shipping e-bikes value at anywhere between £912 to £1,564 in value, on average.
What does Britain have to offer the world?
On the subject of exports, Britain was likewise affected by the deep plummet in activity attached to the pandemic. Like for like our units shipped declined by around 50,000 units in Q2 of this year, dipping under 85,000 units worth under £25 million.
This decline further bucks a trend that had, since 2010, been on the increase and in fact nearly doubled toward 2018's peak in exports. 2019 did however track backwards by over 100,000 units and it would not be surprising if 2020's data struggled to kick the figures onwards without a significant boost in production toward the tail end of the year.
Though Brexit may well strain future relations, the EU represented just shy of two-thirds of the UK's bicycle goods exports and nearly 80% of the value of goods shipped onwards.
Making the data add up
The Bicycle Association's Steve Garidis did let CI.N on a now resolved data disparity that further enhances our industry's reporting capability.
In tallying the Association's own Market Data Service figures against import totals, a gap in reporting had become evident. Garidis told CI.N: "We've done a significant amount of work on these stats this year as we discovered that products entering bonded warehouses were not being captured in the HMRC stats. This data has been used for many decades, which was not a huge problem until 2019 when Brexit stockpiling meant nearly one million units went into bonded warehouses!"
Accounting for this in forward looking statements, the BA says that it once again has faith that the import data is free from significant errors and as a result, paired with its data service, can now be used as a foundation for informing the Government on the size and demand created by the bicycle industry.
"Getting to the bottom of this has been additionally useful because we are now able to estimate the total proportion of the market our Market Data Service (MDS) is capturing.  For example – of a total of 2.72m bicycle units imported in 2019, our MDS captured the sale of 1.84m – over 2/3rds of the market," adds Garidis.
With hard evidence crucial to swinging political will it is said that some recent advocacy wins have been tied directly to lobbying efforts that utilise the power of these datasets.
For more information and to enquire about becoming a member of the Bicycle Association, head over to www.bicycleassociation.org.uk.