BLB launches Aventon Pace E-bikes into UK and Europe
Brick Lane Bikes have announced the launch of Aventon Pace e-Bikes into the UK and Europe after launching the e-Bikes in the US earlier this year. The news comes after the group won the prestigious Bicycling Bike 2020 award for e-Bikes.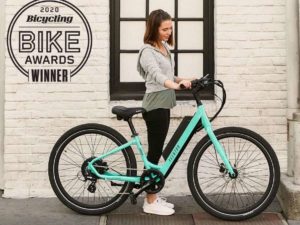 Built around a Cruiser geometry, using an Alu frameset and 650B wheels, the Pace is light, comfortable with the smaller wheel/bigger tyre combination and perfect for potholed city roads and gravel paths alike.
The 250Watt brushless motor has 5 levels of pedal assist – which when tied into the 7 speed Shimano gearing – means that riders can fly up the steepest of hills with the cable pull disc brakes allowing them to come down safely and securely.
The 420Wh battery (which can be charged in three hours on or off the bike) allows for an estimated 35 to 40 mile range and a large data screen provides speed, battery level, pedal assist level and distance covered.
The brand has picked parts from reputable manufacturers and designed the system to fit the bike rather than purchasing from one of the larger organisations. Additionally, using a rear hub-drive motor, as an alternative to a mid-drive motor, and a super strong, Shimano drivetrain has kept the price competitive.
Designed to be the first in a long line of e-Bikes for everyday use, the bike comes in a variety of sizes and colours, with step-through and sloped top-tubes and is priced at £1,499/€1,754.
Full details can be found on the website or via the sales team on 0203 022 3002.