LightSKIN honoured with Red Dot Design Award 2020.
LightSKIN has been awarded the Red Dot Design Award in the category Product Design for its bicycle lighting system.
The road-legal (German StVZO-compliant) bicycle lighting system from LightSKIN is awarded for outstanding achievements in design by a jury consisting of 40 international experts who said: "The LightSKIN lighting system innovatively utilises modern technology and draws attention with its intelligent and functional concept."
Jaeyong Lee, founder of Korean based LightSKIN thanked his long time partner Schindelhauer for the successful implementation of all requirements of the StVZO. He said: "Our aim is to combine the latest technologies with a discreet, fully integrated design to provide the highest possible practical benefit and attractive appearance. We are extremely pleased that our LED lighting systems for bicycles with approval for German road traffic have been awarded this very special distinction. We are very grateful to the jury of the Red Dot Design Award for the honour and to Schindelhauer for the successful cooperation."
Short supply due to high demand
In the course of extremely high demand, especially for the recently launched StVZO model of LED handlebar, sales partner Schindelhauer reported an increase in delivery times by several weeks for B2B and B2C customers. As a result of this, the production quantities have been increased significantly. Schindelhauer is now confident to be able to serve orders at short notice due to full stock and thanks all its customers for their patience. The Seat post and handlebar are also available for electric bikes and are already used by manufacturers such as Schindelhauer with Arthur.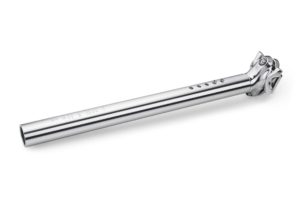 LightSKIN LED seat post (StVZO)
The LightSKIN LED seat post has five integrated LED lights which provide optimum road safety from every angle. The internal battery can be charged via Micro USB and provide a run time of 10 hours (three active LEDs) to 15 hours (five active LEDs). Thanks to its minimalist design, the LightSKIN LED seat post is weatherproof, theft-proof and meets all requirements of the German Road Traffic Licensing Regulation (StVZO) in this revised model.
LightSKIN LED handlebar (StVZO)

The LightSKIN LED handlebar offers an integrated front light with the world's smallest lens that complies with the German StVZO. The light output comes to a maximum of 150 lumens and has a running time of up to six hours thanks to an internally installed battery – rechargeable via Micro-USB. Despite the narrow design, excellent heat dissipation is ensured by an optimised metal circuit board.