Cargo bike logistics firm PedalMe crowdfunds (again) to meet rapid expansion
Though only in business since April of 2017, cargo bike logistics and taxi firm PedalMe has taken to CrowdCube once more to meet what CEO Ben Knowles says has been a near 20% month-on-month growth since starting trading.
Demand has surged for cargo bike logistics, with clients of the firm asking for more and more of their needs to be met by the custom-built Urban Arrow cargo bike fleet, now tallying 42 in London (before the last crowdfunder they had 12, says Knowles). 45 staff make up the entire business as it stands.
With that increase in demand from customers comes the need to buy more bikes, recruit more staff and invest heavily in the back-end infrastructure, such as the firm's app and radios. It was only recently that the firm travelled to the now Pon-owned Urban Arrow to personally pick up a fleet of new bikes, which they then pedaled all the way back to London.
Speaking to CyclingIndustry.News this week, former transport planner Knowles said: "This is our second funding round. Last time we raised 235% of our £150,000 target and that cash got us to where we are now, but the growth rate has been astonishing. We now do the same amount of business in a busy hour as we did in our entire first month. It's primarily logistics trade at the minute – perhaps 97% of the work we do. We carry people too still (great fun!), but our ability to resource jobs is often outstripped by demand meaning wait times for a bike are a bit long for passengers – barring pre-bookings. for now – we need more bikes, riders and our new tech system implemented to allow us to make these jobs in a timely fashion and grow this market too."
Knowles' business is now capable of moving vast amounts of goods by bike and now even has customised four-metre-long trailers that latch on to its three metre Urban Arrow bikes. These carry large shipments from outer parts of the city inwards, at which point the network of couriers can consolidate the distribution and fan out for delivery.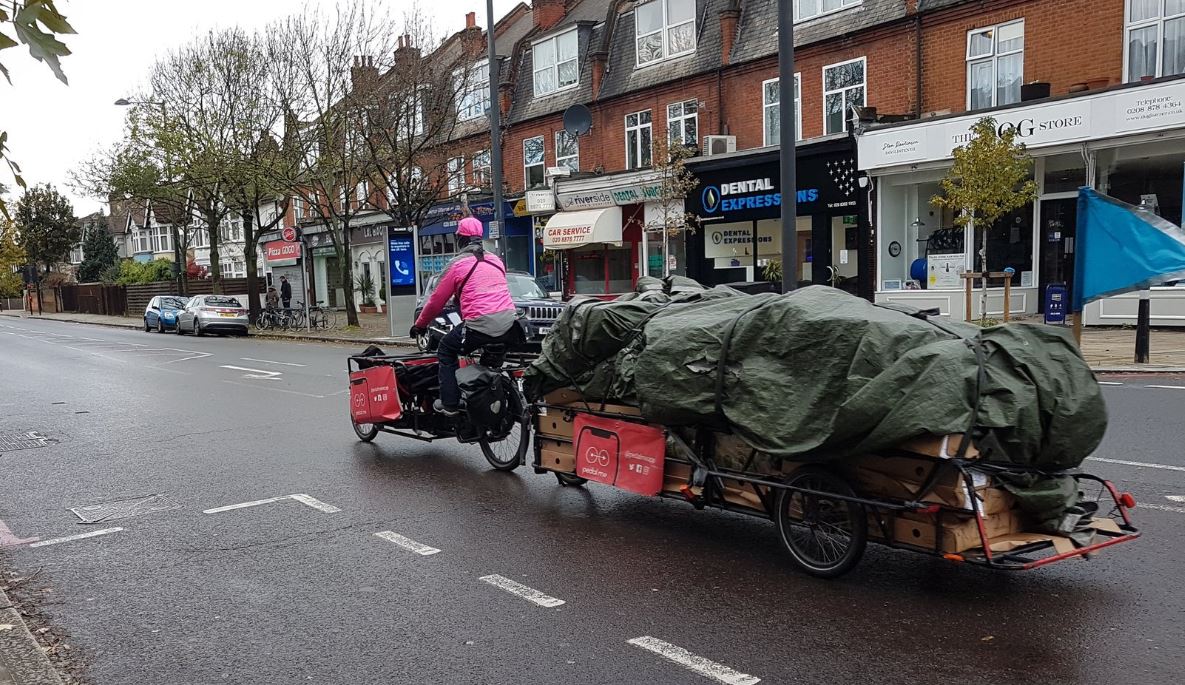 He believes businesses quite like the kudos of delivery via an eco-friendly means, but that's not the main reason for the business' growth – instead it's the better quality of service, shorter journey times of bikes, and lower cost that is driving growth. In just one year since the last crowdfund, PedalMe's estimated monthly C02 saving has increased by 108% to over 4 tonnes. Outside of that, the firm's monthly number of jobs completed has increased by 150% to nearly 3,000 and the total distance travelled each month has increased 108% to 16,598km.
"There are perhaps five or six major clients that are prompting this move to fund again, we're simply at capacity in being able to meet their needs. The reason why we've become successful is that, in cities, bikes are quicker and more agile. This allows us to be cheaper than alternative means and cleaner," says Knowles.
The business took the decision early on to employ rather than sub-contract its staff. This, says Knowles, gives the firm a certain level of reliability for customers and credibility among its staff.
PedalMe's expansion comes at a time when Uber has been denied a licence renewal (though it will appeal) in London, potentially giving PedalMe a leg up to expand its people carriage. It is only because delivery jobs tend to be pre-booked that more cargo bikes are not available to taxi customers around, suggests Knowles.
As anyone who has ridden a cargo bike knows, it's not quite the same as riding a bicycle, so PedalMe's riders are trained prior to hitting the road to Pedal Me's own City and Guilds Assured standard – which is exceptionally thorough with most riders failing the infamously tough passenger assessment.
The Urban Arrow bikes, capable of hoisting a 150 kilo load, are similarly well looked after with what Knowles says is a "high maintenance schedule". Unsurprisingly, that is delivered either at the base, or in emergencies via on the road cargo bike based mechanics.
"Ideally i'd like to raise £1 million," says Knowles of the second round, "though the first target is £300,000."
To view the pitch, head here.