CBS stats place Netherlands as Europe's top exporter of bicycles
Statistics released by the Netherland's Central Bureau for Statistics place the region as Europe's top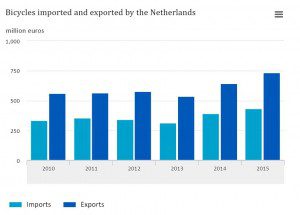 exporter of bicycles.
With a value of €793 million destined for overseas, the bicycle friendly region's closest rival is Germany, which ships some €708 million in value.
Compared to 2014, the Netherlands has upped its output by 14%, meaning the region now accounts for a quarter of Europe's exports. The figures are largely made up of domestically made builds, however bicycles that are shipped in for final touches before being re-exported are represented.
CBS suggests that the numbers now rank the Netherlands as world's third largest manufacturer of bicycles.
Meanwhile, imports into the region rose to a value of €536 million Euro, showing the locals also have an appetite primarily for German and Taiwanese made bikes. The pair account for 60 percent of bikes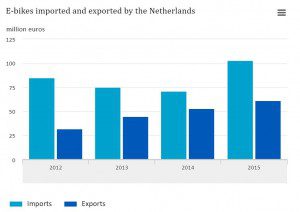 shipped in.
As a result it's perhaps unsurprising to see electric bikes too have shown significant import growth. In 2015 nearly 20% of bikes landing were power assisted, a 46% year-on-year growth with a value of €103 million. Just 8% of bikes leaving the Netherlands are electric, with a value of €61 million.
In terms of sales, Dutch industry Association RAI has revealed that 28% sold now feature pedal assist. A 23.6% year-on-year growth equated to 276,000 electric bikes sold in one year.
Sales of all bicycles among both specialists and non-specialists totaled €899 million. The average sale price has now risen consectuviely for eight years and one in three purchase now sit above €900.
It is estimated that the dutch value the bicycle dealer too, with a 70% market share for 'specialist' retailers.
Source: CBS