Ceramic Speed rethinks the performance drivetrain with "unlimited" Driven concept
The recipient of a Eurobike Award for design and innovation, CeramicSpeed has teased a radically new drivetrain concept which it says is in theory "unlimited" with how wide a range it can offer.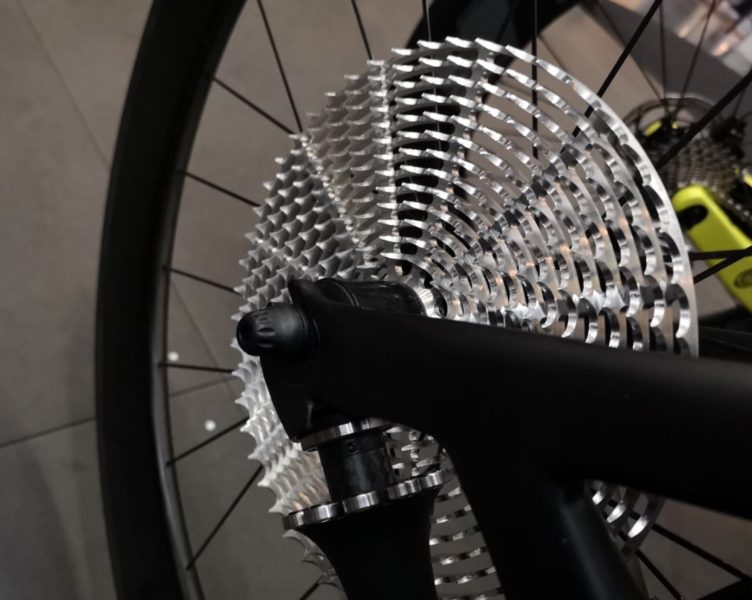 Initially designed as a 13-speed system, the unique drive shaft concept is said to deliver 60% less friction compared to a standard traditional drivetrain, as well as vastly improving the range of frame design options open to OEM frame makers. The system is said to have half (49%) the friction of the market leader at present.
Talking to CI.N earlier today, Friction Facts founder and now Ceramic Speed CTO Jason Smith explained: "The system completely eliminates the need for anything hanging off the bike, like derailleurs and chains. We eliminate all eight points of sliding friction. What's more, this is in its infancy, we think there are applications for mountain bike here, whereby the single ring at the back could be covered by a mud shield. We're hearing some great new ideas here at Eurobike from those coming to look."
Developed in collaboration with the University of Colorado, among others, we're told that – given the width reduction, room is freed up drastically where a freehub body and cassette would normal be present. This, believes CeramicSpeed, gives OEM makers and entirely new goalpost to use that space, while the radius of the rear cog can expand vertically in order to add greater range. What's more, integration of a disc break has been touted as a logical progression for the system, further shaving weight from an already much lighter package.
The pinion style drive shaft builds in 21 CeramicSpeed bearings, delivering a low friction drive with bearings transferring torque from the front ring through the drive shaft, then onto the 13-speed rear cog.
Smith added: "CeramicSpeed has proudly accomplished what many have said couldn't be done. We achieved a 99% efficient multi-speed drivetrain while eliminating the chain and complex rear derailleur. Advancements in drivetrain technology have been evolutionary since the 1920s. Driven is truly revolutionary given its unique rolling element power transfer and unmatched efficiency. The Driven concept has the ability to change the way the cycling industry views drivetrain design and drivetrain efficiency."
The original Driven prototype is displayed at CeramicSpeed's Eurobike stand B3-205.