Colin Lynch rides on Carbon – but its not about the bike
Précis and Images by Chris Keller-Jackson.
Another accolade supported by Manchester's 'Medal Factory' and the amazing infrastructure that services the athletes based around the North West of England. I have personally been fortunate to support Colin in his endeavours to attempt the Hour Record, and have gained valuable experience through several attempts, including Dame Sarah Storey, Gustav Larsson and Alex Dowsett. As supporters of Colin, Eastmond Medicomm and Pace Rehabilitation have provided the vital link between Man and Machine.
Over to Nigel Eastmond to pick up their story . . . . . . . .
On Saturday 1st October 2016, Ireland's Colin Lynch broke the existing C2 para-Hour Record, and posted the first ever official UCI C2 Hour Record with a distance of 43.113km in the velodrome at the National Cycling Centre in Manchester. This achievement was the culmination of over a year of preparation both for the 2016 Rio Paralympic Games, and a previous, and dramatically unsuccessful attempt at the Hour Record in 2015.
A key part of Colin's preparation for his 2016 endeavors was the design and construction of a new, aerodynamic carbon fibre racing leg. The previous prosthetic Colin was using was out-dated and painful to wear – a replacement was needed, but the key problem was how to fund the manufacture of a leg that costs more than most people's carbon fibre bikes.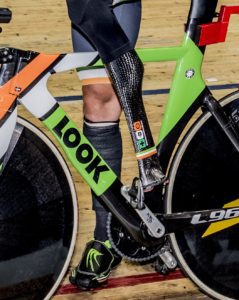 Looking for a way to fund paracycling with a view to working with prosthetics manufacturers in the field of marketing, medical communications agency Eastmond Medicomm worked with Colin Lynch to come up with the idea of a sponsored leg. Eastmond Medicomm came up with the initial funding to start the design process, more money was found via crowdsourcing, Colin came up with half the cost himself, and Pace Rehabilitation of Cheadle, Stockport also provided assistance during their design and build process.
The result has been remarkable. With a lighter, more aerodynamic, and more comfortable prosthetic leg, Colin has been able to convert his physical performance and condition into excellent race results without the impediment of old equipment. Speaking of the collaboration, Colin says, "That type of help is hard to find and makes a massive impact. When it came to the Hour, I was fortunate to have Chris Keller-Jackson along yet again to take great photos documenting the attempt. Publicity is really hard to get and having superb photos makes thing much easier! I want to thank them all personally." (Note from the Editor, I am just reporting what Colin said – will pay you the fiver next time I see you !)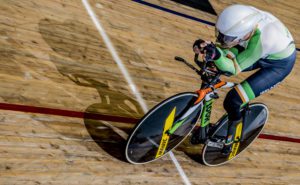 Colin describes The Hour as his hardest physical challenge to date, and one that was made possible by his conditioning for the Rio Games. While he made a significant improvement on the old Hour Record, Colin does not intend to rest on his laurels. He certainly aims to defend the record if it is challenged, and is considering the possibility of breaking his own record to create a distance that will stand for a long time. Speaking of strategy, Colin says, "The main thing is to pick a pace I can maintain and try to stick to it no matter what. This means starting off slowly, despite feeling good and not going too fast. Going too fast at the start is probably the biggest mistake you can make in an Hour attempt."
About Colin Lynch
Colin Lynch is a member of the Irish Paralympic Elite Men's Cycling team, races at the Elite International level. Colin won the 2014 UCI World Cup Race, the 2013 Irish National Time Trial, the 2013 UCI World Cup Time Trial, and the 2012 UCI World Championship. Colin competed at the London 2012 and Rio 2016 Paralympic Games, winning silver in the C2 time trial in Rio. In October 2016, Colin set the first official UCI C2 Hour Record with a distance of 43.113km.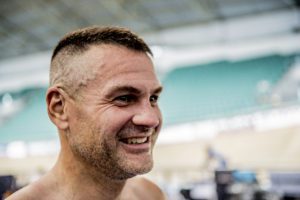 About Eastmond Medicomm

Founded in 2010, Eastmond Medicomm Ltd is a medical communication agency providing intelligent consultancy and deliverables to the global pharmaceutical, biotech and devices industries, as well as contract services to other med comms agencies. Contact Eastmond Medicomm via nigel@eastmondmedicomm.com or http://www.eastmondmedicomm.com.
About Pace Rehabilitation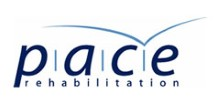 Pace Rehabilitation provides a coordinated multi-disciplinary service to individuals who have sustained limb loss and / or serious limb injury, to reclaim their lives following life changing events.
The company was established in Cheadle, Cheshire in 2003 by a group of forward looking rehabilitation clinicians deciding to pool their resources and expertise into a single organisation. The founders, with extensive experience, had a vision of creating a highly competent and experienced team that could respond swiftly to client needs.
Since then, the company has expanded, opening additional clinics, in Chesham (Bucks) in 2008 and Newcastle (Northumberland) in 2014, increasing its nationwide coverage.
Contact Pace via http://www.pacerehab.com