ConnectBike package offers bike share solution service
ConnectBike is a brand new bike-share service produced by Mobilock, a developer of smart mobility systems.
Mobilock aims to make bike-sharing scale-able and accessible to anyone through creating a bike share solution that can be deployed by businesses, universities and municipalities.
The company does not operate the bike-share service itself, but facilitates businesses and other bodies to operate the service autonomously.
The ConnectBike package includes: a bike developed by eFlow Europe, Mobilock smart lock, and an app from which the bikes can be reserved and unlocked.
The bike-share service is operated via the ConnectBike app, which is available from the app store. The app allows the user to sign in with their host (the organisation that is operating the bike share) to view and reserve the host's available bikes.
The bike-share service relies on geohubs to start and end rentals. Users will be able to identify the geohub locations on a map found on the ConnectBike app. The user can then reserve a bike from a geohub of their choice.
Once the user arrives at a geohub, they can use their smart phone to send an unlocking request via a bluetooth connection to unlock the bike's chained wheel-lock. Once the user has finished riding, they slide the pin back into the wheel-lock and confirm the bike has been returned through the app.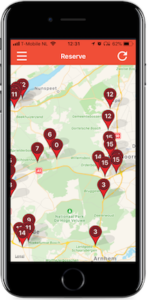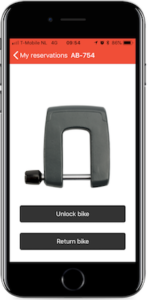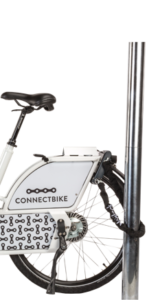 This generation of bike-share system is lock-to dockless, meaning the locks can be attached to any new or existing infrastructure to avoid pavement clutter.
The bikes are secured by the hard steel patented Mobilock which features an ART 2 certified, hardened steel chain. The lock itself is ART 4 certified, and is energy autonomous for at least three years.
Peter Biczok, bike share developer for Mobilock, said: "Mobilock is the safest and most user friendly smart lock on the market. This level of safety not only means that we can insure the bikes and reduce operators' risk, but we can also provide a good quality bike to end users."
"I won't elaborate on the general benefits of providing bicycles for employees, students or citizens. As opposed to other bike fleet providers, we provide a software-backed system, no development costs, no acquisitions, no set up costs and no risks."
The ConnectBike package costs €54.99 per month, excluding VAT, and includes: eFlow Europe bicycle, Mobilock smart lock, front-end app, management software, leasing and insurance.