Cycle safety movement Critical Mass included in counter terrorism documents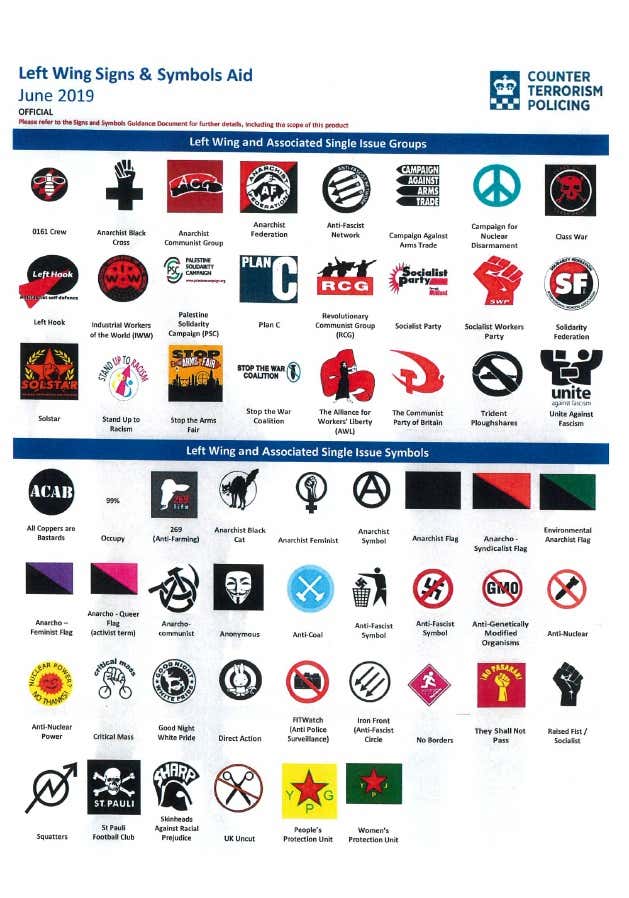 Documents published by the UK Home Office have listed cycle safety and advocacy organisation Critical Mass on counter terrorism watch lists.
Widely publicised in recent weeks has been the inclusion of climate activism group Extinction Rebellion, a decision that has come in for widespread criticism with rethinks urged.
Critical Mass is, as written on Wikipedia defined as "a form of direct action in which people meet at a set location and time and travel as a group through their neighbourhoods on bikes. The idea is for people to group together to make it safe for each other to ride bicycles through their streets, based on the old mantra: there's safety in numbers."
The Home Office supplied document on the right was issued to Counter Terrorism Policing units and badged 'official'. Critical Mass appears under a tab labelled "Left Wing and Associated Single Issue" organisations. Company kept includes web hackers Anonymous, as well as various anti-fascist and anarchist groups.
On its final page the document, part of Britain's "Prevent" strategy, encourages readers to report "suspicious activity" to counter terrorism police.
Police overseeing the matter of counter terrorism have since clarified that they do not necessarily treat all of those listed with equal importance or cause for concern; some may be listed simply as a means to help officers understand the nature of a protest.
The origins of Critical Mass bike rides date back to San Francisco in 1992, where the final Friday of the month would be reserved for the takeover of the streets by cyclists. A decade later the concept had spread like wildfire and became a regular sight in hundreds of cities around the world where vulnerable road users sought to have their voices heard. Further back still, Swedish cyclists organised mass rides in Stockholm, but these were considered large volume bike tours.
The priority of the Critical Mass movement is to pressure local and national authorities to create safe conditions for all road users, with some priority given to those who chose healthier and greener transport forms.
Participants tend not to view the movement as a protest, more a celebration of what cities could be like without motor dominance. It is this angle that has been subject to legal loophole, with organisers arguing that advance notice to police isn't required as a mode of transport cannot easily be called a political movement.
The movement is decentralised with no clear hierarchy in organisation, nor a membership. Rides tend to work in a similar way, with the leader of the pack tending to decide routes if not organised prior.
In an age where scientists across the globe tend to agree that global warming is a threat to the world's population, addressing transport pollution – nearly a quarter of Europe's greenhouse gas emissions – is seen as a priority by campaigners in the aforementioned groups. To learn more about such pollutants and the case for adopting cycling, see our library of data here.