Cycle-Specific Ceramic coating kit launched – Partner Stores wanted…
We're all used to ceramics being used inside our bikes in high-wear locations, such as BB shells and jockey wheels, in order to reduce friction and/or make a longer lasting component. Now a leading automotive company, IGL Coatings, has launched a kit to protect the outside of your bike using ceramics' resilient properties.
Ecocoat Bike is a ceramic coating kit which it says has been specifically designed for cyclists. It offers a protective coat which is claimed to repel water, oil & dirt for up to 24 months. It can coat frames & forks as well as wheels, helmets, lights and GPS units.
The kit, which is made from (soya-based high silica) natural ingredients, protects against harsh weather conditions, oil and dirt as well as against UV degradation. Described as "superhydrophobic, ultra scratch-resistant", it can be applied to lacquered frames or naked carbon, titanium or aluminium finishes and is designed to work on the finish of the bike – so it's claimed a non-glossy finish won't be changed by applying the product.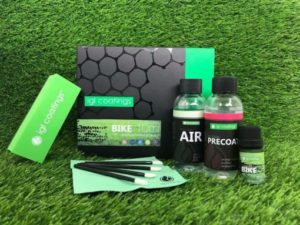 The kit includes a 10ml bottle of the ceramic coating, together with Ecoclean Precoat which provides effective decontamination and pre-application cleaning. The kit also contains the brand's Ecoclean Air product which prevents and removes unpleasant smells from the usual suspects such as bike helmets, shoes and gym socks.
The UK Director of IGL Coatings, Martin Eames said: "We're delighted to be revealing our Ecocoat Bike coating kit which we believe will transform the way cyclists look after their bikes. We wanted to take our class-leading expertise in the automotive and Marine industries and shake-up the cycling cleaning industry. Instead of spending large amounts of money on numerous cleaning products, the purpose of this product is to enrich the finish, add depth and clarity to the finish while reducing maintenance for the owner. Ecocoat Bike's coating repels dirt and grime for up to 24 months".
The product retails at £79.99 and is available to bikes stores with a trade margin. Several stores have already signed up and are listed as approved partners on the IGL site. The company offers an in-house training and certification programme for new retailers.
Consumers can install their own ceramic coat at home but a network of partner retailers is the company's long term objective. Martin added "In the automotive sector, any costumer having their coating installed at an approved centre get a 12 month warranty which we back up, we are hoping to roll out the same sort of scheme for bike stores." IGL is also talking to OEM brands about factory installation of its product.
For further information on the product, please email bike@iglcoatings.uk or visit: www.ecocoatbike.com