Ribble opens pop-up store in Cardiff
Preston based clicks and bricks retailer makes a bold move into a Cardiff based showroom.

Ribble Cycles Opens First Pop Up Showroom in Cardiff's St David's Centre
British cycle brand, Ribble Cycles, has opened the doors on its first ever pop up showroom in the popular St David's shopping centre in Cardiff's City Centre.  The 3,000 square foot showroom is conveniently located in the centre next to the Apple Store. St David's centre attracts 40 million shoppers each year, has dedicated shopper parking and is located just 5 minutes from Cardiff Central Station.
The new pop up showroom will play host to Ribble's latest range; customers will be able to see 35 Ribble bikes including select new models from the 2017 range recently unveiled at The Cycle Show at NEC last month. This display stock is set to expand over the coming weeks as additional new models land.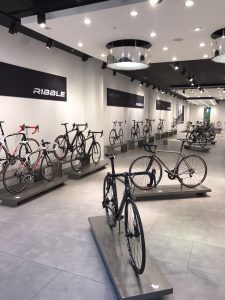 Customers visiting the showroom can see Ribble's award winning online-only bikes up close and personal, while also taking advantage of expert knowledge from Ribble's trained staff who can assist with their bike requirements.  Staff can also take customers through Ribble's pioneering Bikebuilder, a service which allows customers to spec their perfect bike to their exacting requirements. Instore service points allow access to Ribble's entire catalogue; orders placed in the showroom will be delivered either via click and collect to the showroom or direct to a home address or workplace.
Jon Owen, CEO of Ribble Cycles says: "Ribble is well known for designing and building fantastic bikes, and offering customers endless customisation possibilities through our e-commerce platform. With this exciting pop up showroom initiative in Cardiff, we're trialling ways of bringing that range to life, so customers who want to touch and feel our bikes can do just that. We're really excited about the potential."
He added: "Cardiff and the surrounding area is a perfect place for cycling.  There are a number of great clubs in the area to help introduce people to cycling and the region is known to have produced top cycling talent. We look forward to welcoming the local cycling community at our showroom.
Ribble's Cardiff Pop Up Showroom is planned to run until early 2017.
For more information on Ribble Cycles, please visit www.ribblecycles.co.uk