Debut Digibike gets of to a flying start, will be used again
Madison's virtual substitute for its annual Icebike* event, Digibike, delivered a strong first showing, pulling in 1,184 sign ups.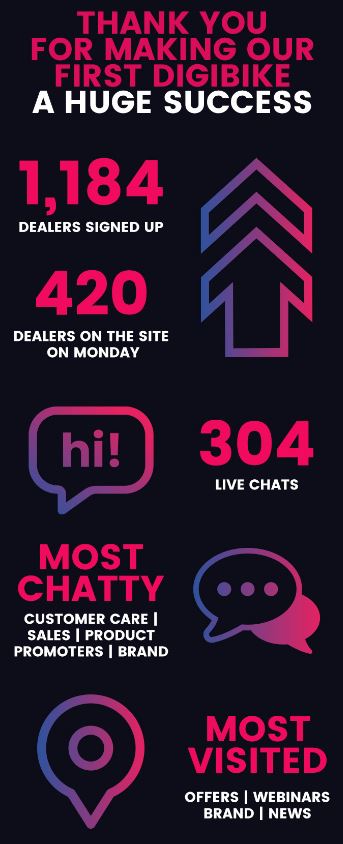 According to the cycling distributor over the four days 304 live chats were recorded, with the most popular departments being customer care, sales, product promoters and brand management. On the Monday alone 420 bike shops were live on the site.
A series of webinars proved popular, in particular educational snippets on Madison's Freewheel partnership, the Bicycle Association's Brexit seminar, a tool that showed the top 5 B2B site use tips and CEO Dominic Langan's opening welcome.
Langan today told CI.N: "We were really pleased with how Digibike went. The site was easy to navigate and we have received some really positive feedback from our customers. Hopefully iceBike will be back in 2022 but we will definitely be using our Digibike platform for future brand or key product/range launches, especially when they fall at times of the year when stores are busiest and it is difficult to get away from the store to attend an event.
"I am particularly proud of what we achieved in quite difficult circumstances and I believe we created some really great content across all our brands as well as some really informative webinars. We are all adapting to our new circumstances but business still needs to go on and with Digibike we wanted to keep communicating with our customers and stay connected with them and just try to make it as close to iceBike as we could, but virtually.
"We are further developing the platform right now, so it will be an even better customer experience next time we use it, which I hope will be quite soon."
Other highlights of the debut digital event included:
Most visited pages – offers, webinars, brand, news.
Most visited brand pages – Dynaplug, DTSwiss, Genesis, Lazer, Garmin, Park Tool, Shimano MTB, Finish Line, Maxxis, Fist handwear, Vittoria, Madison Clothing, Shimano GRX, Shimano STEPS, Elite
Most viewed brand videos – 100%, Park Tool, DT Swiss, Dynaplug, Genesis, Finish Line, Vittoria, Ridgeback, Shimano MTB.
According to CyclingIndustry.News' annual market study, 31% of bike shops are happy to log on to virtual events as a preference to attending physical trade shows. If you would like further insight into the UK bike shops channel, contact us about purchasing the study in full here.