Discussion: Are helmet standards overdue a revision?
Talking helmet safety or compulsion is a guaranteed way to stir up feelings in the cycling industry, but what happens when the experts wade in to the debate of helmet standards, usage and testing? CI.N leans on a few of the industry's giants for insight…
Few are going to thank us for daring ask whether helmet standards need adjusting, but in recent years much has changed in the world of cycling and indeed our knowledge of how the brain can be affected not just in the immediate aftermath of a bike crash, but down the line.
We have had the surge in demand for electric bikes, which naturally rise the averages of our speed and thus propensity to sustain a heavier crash. Likewise, our understanding of conditions such as CTE is developing. This previously poorly understood condition has been linked with numerous long-term side effects ranging depression, dementia and a worrying trend of suicides in people later found to have developed the symptoms of CTE. Tragically, bike industry icon Dave Mirra appears to have suffered the side-effects of CTE in the build up to taking his own life in February of 2016.
It is therefore necessary to strive to keep raising the bar for safety standards, as numerous industry brands have, in particular when it comes to defending against rotational forces experienced when the head meets the ground.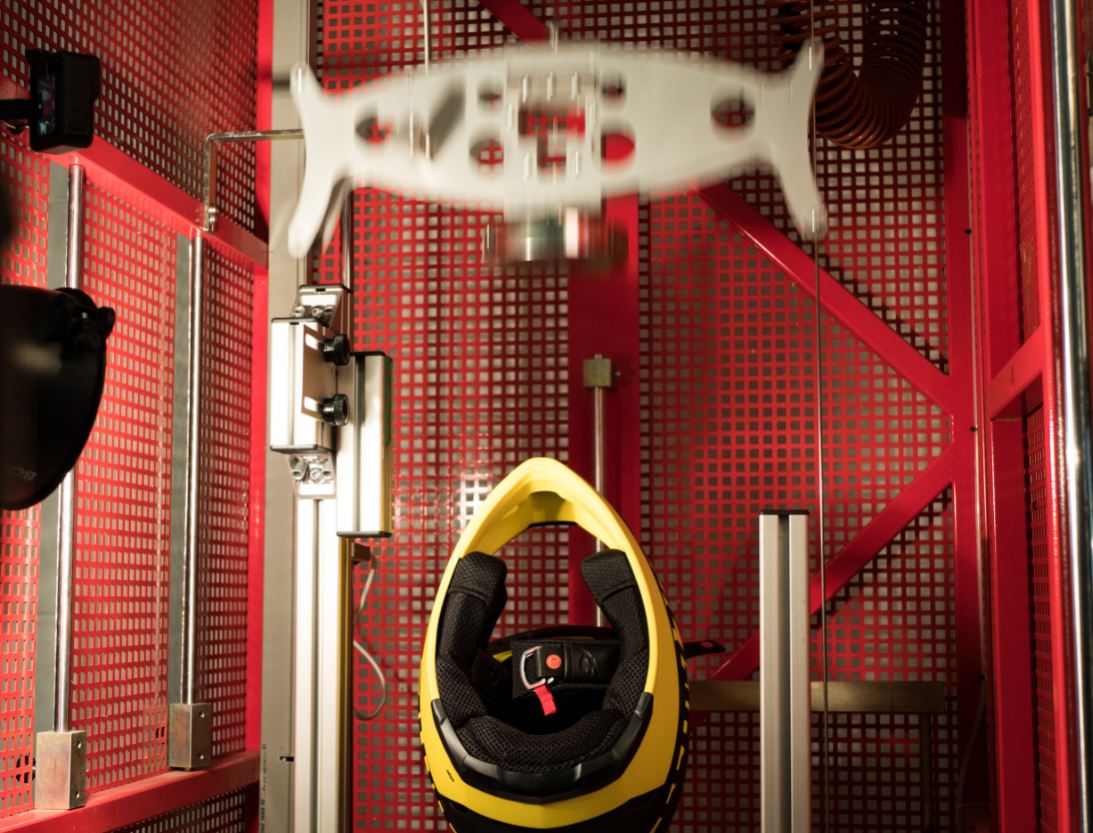 Eric Richter, Senior Brand Development Manager at Giro sets the scene for where the standards sit today.
"Standardized testing is much broader and deeper than most people realize. In addition to the wide scope of the tests, not all helmets are the same, and no two standards are the same, so different helmets require different test protocols," starts Richter. "In the last few years, greater emphasis on addressing rotational forces has had a significant impact on helmet design, technology, engineering and testing. Therefore, understanding the effects of rotational motion on the brain, and working to reduce rotational forces by integrating technologies like Spherical Technology and the MIPS Brain Protection System into helmets during the last 5-10 years is the most visible example of how head protection is evolving in response to increased knowledge."
Rather than design governing standards, the reverse is especially true for helmets. Designers goalposts have arguably never moved faster and that is much thanks to integration trends. That's integration of skeleton systems, such as MIPS, but also of other conveniences and innovations that have become sought after by those taking safety seriously.
On this topic, the obvious additions are of LED lighting, occasionally even turn signals, embedded into the shell of a helmet. These quirks are in response to ensuring the motorist's eyeline is drawn to vulnerable road users. Integration of such extras adds significant value for the buyer, particularly when it comes to urban cycling.
In recent years those additions have been made to look basic. Helmet labels have since gone one step further to integrate communications technologies. While that's appealing for the consumer wanting the luxury of answering a call hands free while cycling, it is far more apt to consider the use of such technologies in the contact of a first responder in the instance of a crash. Numerous helmets landing on the market now have sensors built in that can detect a crash and latterly contact a pre-set contact with GPS coordinates and a message for help in the instance of a crash. That, literally, could be lifesaving.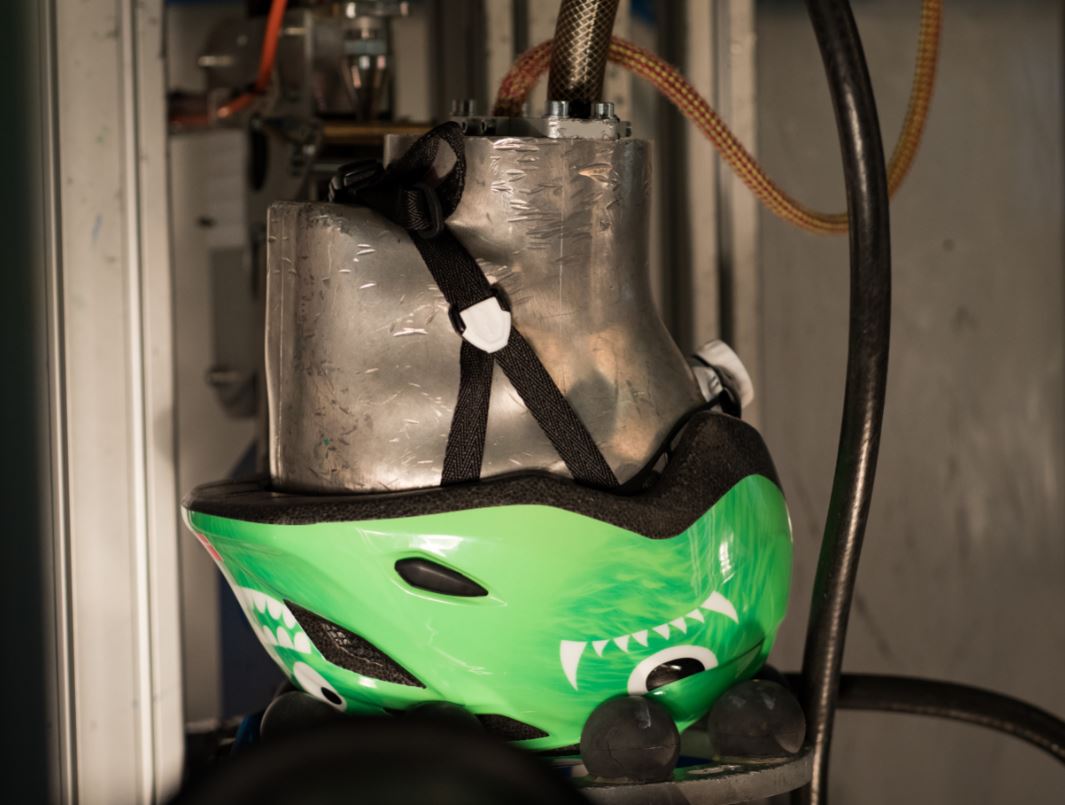 Extras aside, it is the fundamentals that matter most, argues MET's Ulysse Daessle: "New disciplines and bike categories also require new safety standards and technologies that can have an impact on the helmet design. As an example, MET have been the pioneer in implementing the ASTM F1952-15 / F2032-15 standard into lightweight full-face helmets for enduro.
"E-bikes and e-MTB riders have access to a greater range of terrain than ever before. In designing our latest MET Parachute MCR we have considered e-MTB riders more. We developed our exclusive Magnetic Chinbar Release system that instantly converts the helmet from full- to open-face, giving extra flexibility whether the rider prefers to go upwards, sideways or downhill."
On mainland Europe the discussion is well underway as to what the appropriate level of protection is for users of the more powerful speed pedelec and from these tests and consultations the quality of all helmet design stands to benefit, we're told.
Daessle adds: "Differently, Speed e-Bikes are in need of a specific safety standard too. The NTA 8776 is the world's first safety standard that was specifically created for speed e-Bike riders. Compared to a CE certified helmet, it requires 43% more impact energy and 10% more impact-tested coverage around the two most sensitive brain areas: the back and the temples. Unfortunately, this standard remains specific to the Netherlands, but we think that it could be wise to extend it to other countries."
Many will feel safer on an electric bike on the road. Able to move from the lights faster than on a traditional cycle, new e-Bike riders tend to enjoy the ability to gain balance and speed prior to having motor vehicles pull alongside. There is a common misconception among many helmet advocates that a helmet is guaranteed to protect you in the nightmare eventuality of a collision with a motor vehicle. Could helmets ever be designed to bring forth safety guarantees in this situation?
"There are many misconceptions about helmets, unfortunately," says Giro's Richter. "We do not design helmets specifically to reduce chances or severity of injury when impacts involve a car. As mentioned earlier, the number of variables is too great to calculate – the speed of the car, the mass, the angle of impact, the rider, the surface, the speed of the rider, did the driver or rider swerve a little or hit the brakes before impact. All of these variables and more are unique in every instance, and there is no way to accurately predict what is going to happen or the forces involved.
"What we do is work to make riders more visible, create helmets that provide relevant coverage so that riders wear them whenever they ride, and advocate for better infrastructure to help reduce the chances that you'd encounter an impact with a car."
There are limitations to design that are best addressed by a combination of infrastructure and visibility, then, but nonetheless Richter's team has spotted opportunities to trickledown top-end safety features to areas where they are deemed more useful.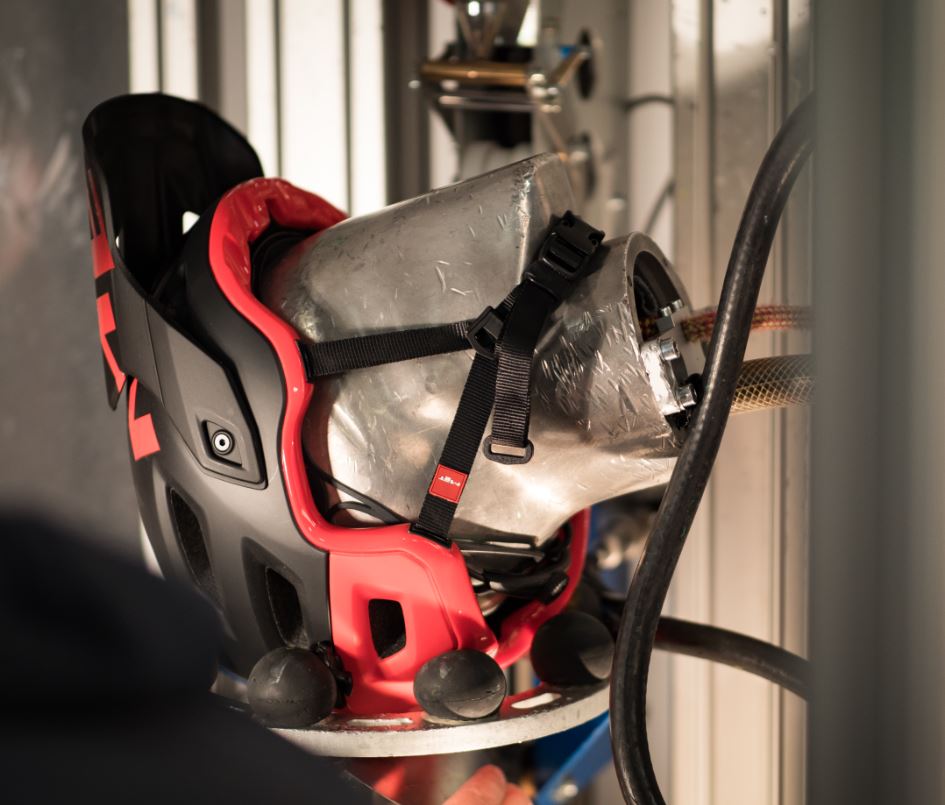 On the ever-improving design of children's helmets he says that "in addition to designing to the relevant helmet standards, such as the CPSC standard for infant helmets (which differs from the standard for adult helmets), we also offer the same types of features you'd find in our best helmets, like the MIPS Brain Protection System. We also put a lot of emphasis on fit, making fitting easier, and creating designs that are compelling to parents and kids alike, since wearing a helmet and making sure that it fits correctly are the most important factors when it comes to making sure that helmets are effective."
For the retailer, the appeal to actually wear a helmet is perhaps the most valuable sales tool. We are now spoilt for choice in technological advances and features to showcase says Daessle.
"We offer unique features that make our helmets more comfortable and provide a secure fit (360° retention system, adjustability), but also features that are at the cutting edge of the safety technologies (ASTM certified full face helmets, flexible visors in mountain bike, MIPS option). The best tip is to show the products. It's easy for a customer to be convinced by the construction of the Trenta 3K Carbon (road), the exclusive Magnetic Chinbar Release mechanism of the Parachute MCR (MTB) or the clever fontanel protection on the Elfo/Genio (Kids)."
While scare tactics are not a necessary tactic for the salesman's artillery, education of the risk of even a light knock to the head cannot be overstated. The discussion around CTE relates to just these sorts of knocks, often repetitive and over time. It needn't be one particularly bad crash that causes the damage, researchers have found.
"There's still a lot to study on CTE and concussion consequences in relation to the sport of cycling. It's very important that after an impact, at both high or low speed, the helmet is replaced, even if it appears undamaged. Damages cannot be always visible to the naked eye and a helmet cannot assure the same protection as originally after an impact," says MET's marketing man.
That's echoed by Richter, whose team at Giro has collaborated with American football head injury experts, football helmet manufacturers and participated in Duke University's football helmet research task group.
He says on the evolving understanding of injuries small and large: "We are mindful of the different types of brain injuries including CTE, and ongoing advances in understanding them. But the common factor in brain injuries is force transmitted to the brain. That common factor is the realm where we have potential to make a difference, and it does not change over time. Therefore we emphasise a simple, unwavering mantra: Less energy to the brain is better protection. On the other hand, the understanding and emphasis around various types of head and brain trauma will continue to evolve, and the effects from an impact or multiple impacts are unknowable variables due to the fact that each impact is a unique event and every rider is unique and changing over time. So, by keeping our primary focus on reducing energy, we keep moving ahead in a way that can theoretically benefit every rider in every impact."
With so much to consider it is how far beyond the minimum helmet standards many companies choose to test that raises the question of whether a tougher set of rules would be better for the overall market. But what does a typical test look like?
"We are one of the few brands that have a fully equipped testing facility in-house," says MET's Daessle. "We can simulate any kind of impact either by following the certification standards, but also running our own tests. We also have a testing equipment to perform the rotational impact testing. This allows us to run a large quantity of tests that we couldn't do without. However, this is the last step of our testing procedure. During the helmet development, we first control the helmet performance by virtual impact to validate the helmet design. To give you an example, we've run 700 impacts on the Legit Carbon before it was sent to the certified laboratory for the official certification. In addition, we are running voluntary testing on every production batch in our laboratory. Our in-house laboratory offers us unlimited opportunities to grow our knowledge on impact consequences."
Meanwhile, over in Scotts Valley in the USA, Giro's Dome test lab has three different rigs that can perform tests just for rotational forces, including: an angular drop test; "the Sled" test developed by MIPS; and Giro's own unique fixture called "BRAD" that was developed with consultation from an engineering firm that specialises in crash re-creation testing.
Understanding the minute detail of helmet standards and how they are met isn't necessary to sell a helmet, shop staff will be pleased to hear, but there are some essentials to convey to the customer.
Richter says that shop staff need to be clear not only on the correct sizing, but ensuring the lid is worn correctly.
He concludes: "When it comes to explaining helmet standards and helmet technology, it's important to be clear on what each part of the helmet does, and doesn't do, because the sum of the protective capability is based on how each part works in relation to the whole. This can also help to address questions from the customer about specific aspects of the helmet, help staff to guide customers to the best choice for their riding style, and help staff to better communicate the value of a quality helmet.
"When it comes to selling helmets, expertise and engagement count for a lot, and good merchandising enhances everyone's experience. There's no better way to demonstrate expertise than with a proper fitting. There's no better way to build trust and engagement than by asking a few questions to find a helmet that fits their most important criteria (what/how they ride, what kinds of features or concerns they have and what they're willing to invest). And finally, good organized merchandising will help you both quickly select the best helmet, saving everyone time."
Further reading:
Independent test lab marks 27 industry leading helmets on merits.
Hedkayse advocates for tougher helmet standards for cycling industry.