Hedkayse advocates tougher tests for the helmet industry
Not short of disruptors, the helmet market is at the present time undergoing a renaissance, with the definition of true protection under the microscope. CI.N talks to Hedkayse about its pitch to potentially become the GoreTex of the helmet world.
When it comes to bicycle products claims of innovation can fall flat with anyone who's been on the scene more than five minutes. Yet arguably we have now entered a period where a long unchanged formula is once again moving beyond marketing jargon and into another spurt of material and technological advance. In the protective gear arena we're not short of brands laying down claims of meaningful advance.
You might have spotted HedKayse on the TV; notably on Dragon's Den and The Gadget Show. For a helmet that's among the market's more recent innovators, founders Tony Walker and Andy Creak have certainly had their product under the spotlight.
The Gadget Show, in its typically crude testing fashion, really demonstrated Hedkayse's USP; the claim that the helmet will happily withstand multiple impacts and still pass the required safety standards. Multi-storey drop tests, a drive over by a 13-tonne JCB and a digger dropping rubble on the helmet formed part of the TV segment's approach to testing, but the helmet passes more sensible tests too, we're told.
"The helmet is currently approved to EN1078 standards with the testing undertaken by BSI. It therefore conforms to the standards all helmets are assessed by in Europe. But these tests are binary, they require one impact on a number of helmets to be within prescribed levels and there is no good, bad or indifferent categorization," explains Hedkayse's Kate Thomas. "We are advocates of seeing the tests become harsher, include some durability element and maybe adding some rating system (think energy usage for white goods) but this will take time to adopt."
The reason for Hedkayse's advocacy for yet tougher tests is its unique composition. Made from "Enkayse" material made under exclusive licence exclusively for the brand, the assembly of the helmet is undertaken by specialists from the shoe and clothing industry.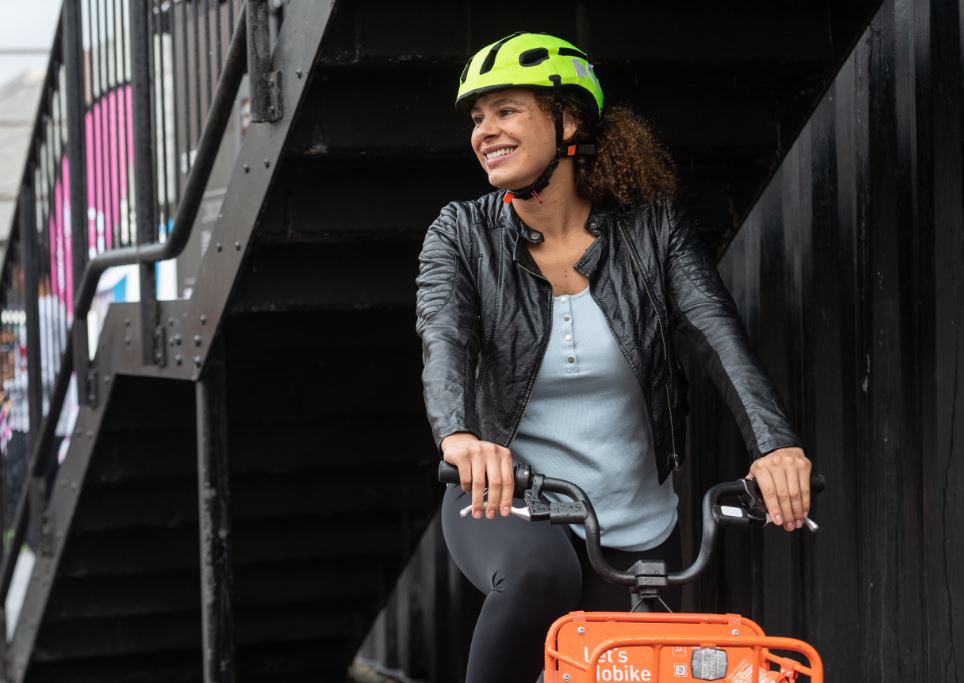 When confronted with abuse, Enkayse is particularly resilient and able to bounce back and maintain its integrity after multiple impacts. That, among other points, justifies its £150 price tag, believes the brand. After all, what could be more important than your customer's safety in the unfortunate event of a crash?
"We are further carrying out some independent research with Loughborough University to assess the voracity of our claims; the testing we have undertaken to state our claims has used the approved test equipment, but independent research is always more valuable. Thus far it shows Hedkayse to live on well beyond polystyrene helmets," says Kate.
The firm's patents are not limited to safety, with another selling point relating to the helmet's ability to pack down for the commuter's messenger bag. Reducing in size by nearly 50%, Hedkayse's construction sees the space occupied by what would be considered venting filled by simply removing the helmet and pushing inwards.
From a retailer's point of view, this means another USP; less SKUs. One size is said to fit all heads, even the larger noggins out there, as demonstrated by Peter Jones on Dragon's Den.
Assistance of bicycle retailers is the next step for Hedkayse as it bids to sell units to the diverse audience it has managed to present to.
"The next time a consumer sees an article, an advert or another TV programme the reinforcement of the previous message is made. When the consumers see them in the flesh this is the next positive reinforcement. We have evangelists with the helmet, people are seeing the reviews, adverts and the shows and now the Hedkayse will be available in stores to be seen, touched and bought," says Kate, adding that retail accounts are ready to go live.
"We offer an innovative range of partnerships with retailers, helping them best manage their resources and profits, just contact us to discuss a package to suit you. We believe an innovation like Hedkayse|ONE should be displayed the "right way" so we love to discuss how we can help best display our helmet in your store."
To enquire about becoming a stockiest simply email info@hedkayse.com.