EU patent on Missing Link suspension system granted, partner sought
Having already obtained U.S. patent protection, Brian Berthold's Missing Link suspension has now obtained the EU counterpart.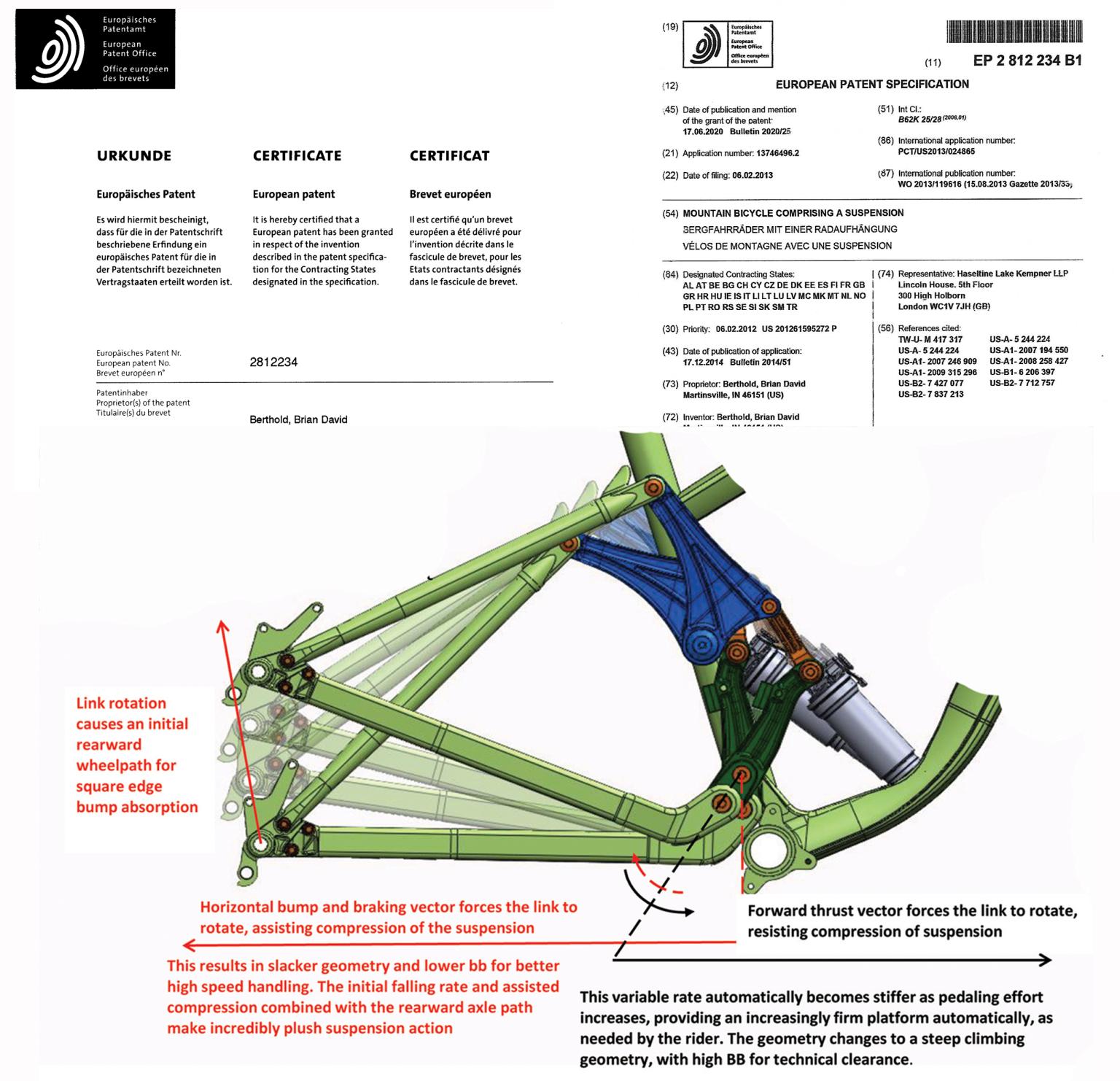 Berthold said: "I received notice that it would be some months ago, but now it is official. I currently have France, Germany and the UK selected for validation. I think I will add Italy and Spain. Combined with the already granted U. S. Patent, that's a pretty good coverage."
The system has currently been deployed on Berthold's own Tantrum Cycles bike label, for which the next production batch is in the works.
The scope has been thrown wider, however, with Berthold stating: "I'd really like to license the patent to a company that can do it justice. An E-bike version would increase the benefits."
The Missing Link Suspension system has been well received by consumer press editors to date, with Pinkbike's Richard Cunningham writing that "Brian Berthold's Missing Link is proof that there actually is significant room for improvement among the present crop of all-mountain trail bikes."
Berthold has form both inside and outside of the bike industry, bringing know-how from Indy car racing design and pairing it with his enthusiasm for downhill mountain biking.
Having founded a brand called Therapy Components, his first notable product was an inverted dual-crown downhill fork. With the same label he also developed a floating disc brake design that ironed out some of the unwanted kinks attributed to suspension designs on earlier mountain bikes.
It was later on that his ideas in suspension caught the eye of the wider bike industry. With the creation of a system dubbed 'Magic Link', Kona came on board as a partner. This system's key benefits were a shortening of the rear travel when pedaled, in tandem with an increase in spring rate. These features reversed when the trail got lively, opening up 150mm of travel and softening ready for the bumps in the trail.
The Missing Link, in an age of longer travel all mountain and enduro bikes, has met evolution with evolution. It is, according to Berthold, a modernised version of the Magic Link that has the same goals in mind to provide traction when on the pedals and uncompromising suspension performance on descents. All of this is achieved by actually simplifying the design, removing the prior spring-loaded mechanism entirely in favour of a system that utilises the swingarm to either bring the suspension into play or lock it down.
Rather than have us explain how it works, Berthold has created a video explaining the intricacies of the design below:
Previously, the brand saw a $100,000 investment from Olympian Shawn Johnson having appeared on an American TV show called Adventure Capitalists.