Eurobike Media Days: 2018 bikes for the wind cheating customer
Got a customer with a penchant for turbulence dodging? They're in luck when it comes to MY18 launches, as numerous brands are already lifting the lid on new flagship bikes crafted around experience in the wind tunnel. Here's just a handful from the recent Eurobike Media Days event:
Stevens' Volt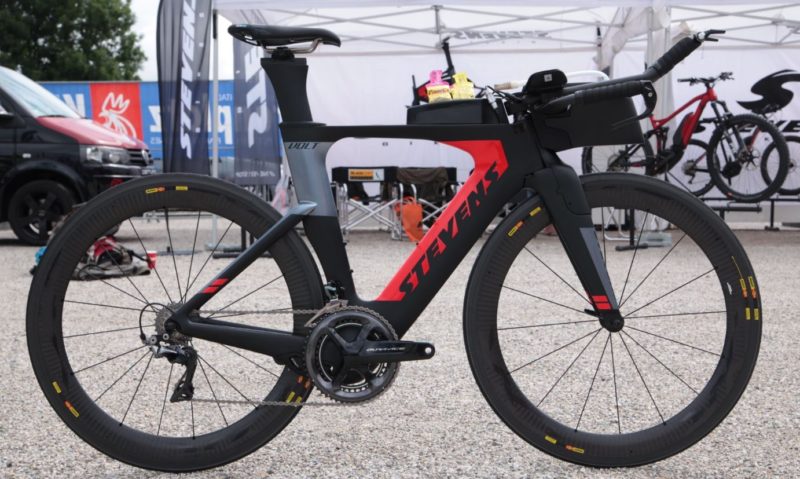 Brand new in the Stevens portfolio for the Triathlete is the Volt, available via the brand's custom program with fitting options including extras from spec-partner Profile Designs.
From the voluminous bottom bracket area built solely with lateral stiffness in mind to the flattened aero-sections of the frame, the Volt is built to slice through the air like a warm knife in butter. Further specced with a unique slim seatpost and deep section wheels that can be selected from the Stevens Custom Program, the rear wheel sits as closely to the seat tube as possible ensuring minimal drag. The rear brake from TRP is integrated directly into the chain stays and the front brake hides behind a cover to reduce air turbulence.
The new Volt is however delivered currently without UCI approval and is solely dedicated for triathlon use. A relatively short top tube and tall steerer tube make long-distance mile eating a breeze.
The Volt is available in frame sizes XS, S, M, L, XL in the Stevens Custom Program with numerous spec choices and fitting options to match it to personal measurements. These include the Aeria Ultimate handlebar series from Profile Design. The fitting specialist also supplies the foodbox which is part of the frameset, the hydration system integrated into the handlebar and the saddle-mounted bottle cage.
Simplon's Pride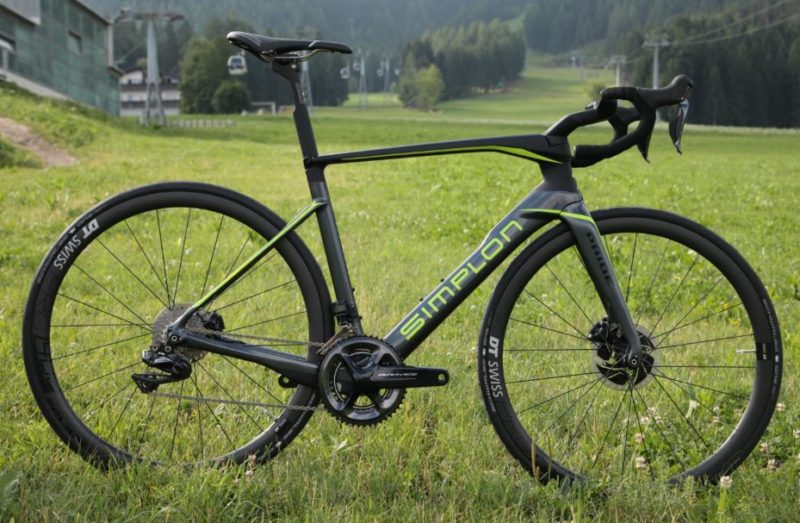 Due in stock from September, Simplon's Pride is a real eye catcher.
Before we get too deep into spec, there's a few notable innovations on this build, one of which a new patented thru-axle system that when pulled out stops at the dropout, allowing removal of the wheel, but without any potential to accidentally misplace the axle. Should you need to fully remove the axle a red button the other side will allow users to do so.
Then there's that twin pronged stem and handlebar combination, something that will be on offer in a range of widths and stem rises. Standard cockpits can still be installed, but why would you? For those concerned about Garmin connection an out front mount is planned shortly.
When it comes to clean lines things get better at the frame and fork, which boasts an almost entirely cable free design. Aero qualities are further bolstered by a sculpted head tube and bottom bracket area, both shaped for maximum drag reduction.
Another subtle yet attractive detail is the method used to clamp down on the seatpost; Simplon has cut a frame-blending two-bolt design. Again, the frame is compatible with other posts, if desired.
Pricing for a complete build will come in at around £4,600 or €5,299 for an Ultegra Di2 build, we were told.
KTM's Lisse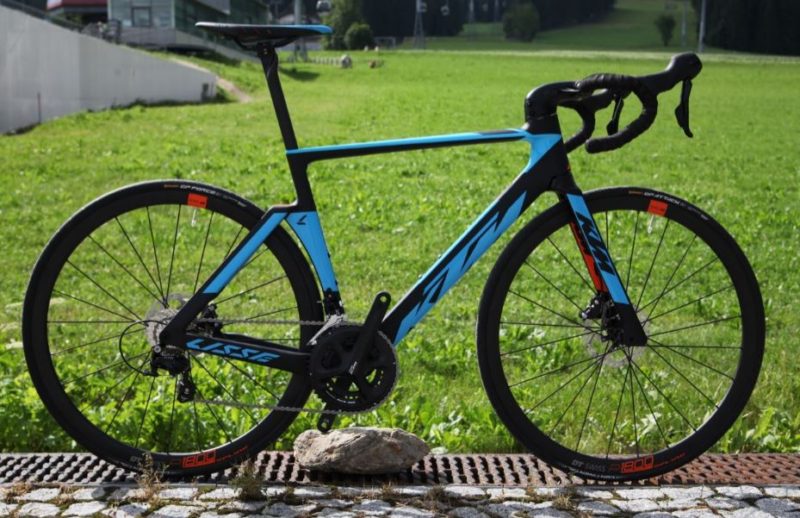 First seen at Eurobike last year, KTM's Lisse has entered production.
Another to fully hide away the cabling, the Lisse draws on knowledge from across the business, with much of the effort focused on fine-tuning the bike to perform brilliantly in cross and headwinds. An integrated stem does an immense job of hiding away the routing.
Meeting UCI regulations the frame is carefully considered to deliver stiffness, a low weight and shock absorption in decent measure.
Dropped seat stays paired with subtle details like specially shaped headset spacers further reduce drag. The latter combine to deliver five different angles, allowing the rider to fine tune their cockpit to their preferences. Furthermore, an asymetric bottom bracket shell channels air to the non-driveside of the frame further reducing even the most minute resistances.
Merida's Reacto III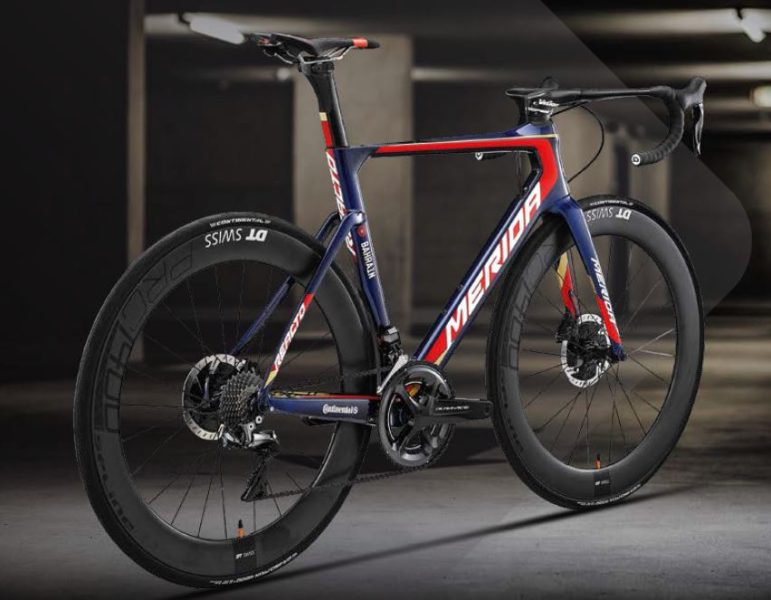 Soon to be available in seven build options, Merida's Reacto platform is engineered to be both incredibly advanced on the tarmac, but with nothing too unfamiliar for the workshop technician.
Originally a bike launched in 2011, the 2018 Reacto is completely overhauled. The result is a further 5% reduction in drag with an added reduction in weight thanks to a new carbon layup. To put this in perspective, Merida claims that if you do a solo ride with the new Reacto over 100 km, you save as much energy as riding the same distance with a traditional round-tubed road bike but drafting 30 km of the whole distance.
Features seen before on other models now carry over, including Merida's own disc cooler technology apearing for the first time on the Reacto. Placing a forged aluminium component under the front and rear caliper, this allows heat to dissipate through CNC-milled cooling fins. Tests show that temperatures are reduced by around 35% and cooling times are reduced, optimising the performance of the brake.
Simple cable routing means no over-complicated cockpit design, while standard brakes won't give the mechanic a headache.
Related: Check out 3T's new Strada, now available via Saddleback in the UK.