3T's UK distribution shifts to Saddleback, aero Strada launched
3T cycling products will now be found with UK distributor Saddleback, CyclingIndustry.News has learned.
UPDATED: The brand will be available via Saddleback from August 1st, 2017.
"We couldn't be happier that 3T has chosen to partner with us and look forward to working closely with the 3T team as the brand enters an exciting new phase of product launches and development," says Richard Mardle, Saddleback's brand director. "Having that famous 3T logo on your bars is the mark of a real cyclist. The brand is synonymous with the sport's heritage and is one of the most innovative companies in cycling."
"We're excited to start working with Saddleback," says Nicola Lazzari, 3T's COO EMEA. "We feel this is going to be a great match and are confident that our partnership will strengthen the 3T brand, increasing visibility across UK and Ireland while also giving significant exposure to the more technical products of our range, such as the Zero25 seatpost, Revo aerobar and of course, our new Exploro and Strada framesets."
Saddleback's Autumn House Show, taking place on 12-14 September, will be the ideal opportunity to get up close to the new 3T range and discuss products with staff from Saddleback and 3T, who will be on site to get to know dealers.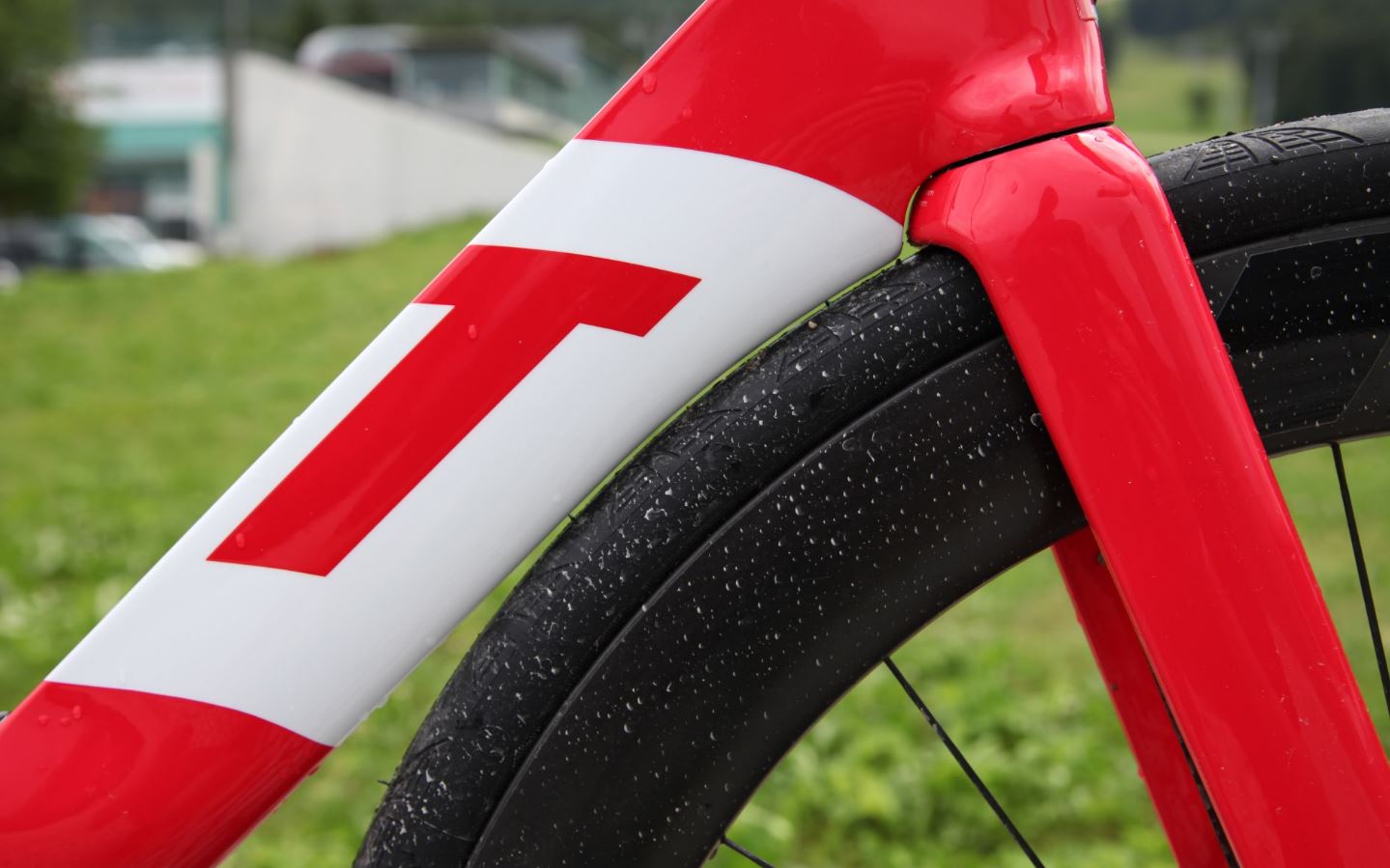 Complimenting the distributor's portfolio of high-end brands such as ENVE and Chris King, 3T has made headlines this week debuting the aerodynamic Strada.
Built from the front 28c tyre backwards, the Strada is designer Gerard Vroomen's re-entry into the world of aero bikes having formerly been pivotal in shaping Cervelo's bikes. Up to a 30mm width tyre will fit in with the frame-hugging aerodynamics, if desired.
"This is a bike that i've been thinking about for some time. The brief was simply, 'what will a road bike look like in five years'. That's what I feel we have delivered in the Strada," said Vroomen at Eurobike's Media Days press camp.
Notably, the design does away with the front derailleur in a bid to be uncompromising in its offering. Therefore it's also no surprise to find that this is a disc brake only affair. Pairing with the 1x setup will be a soon to be produced Strada-specific cassette, something that we are told will deliver a deeper selection of gears than you'd typically find with a 2x at 11-28 and with a 350% range.
The Strada will be available worldwide starting early August (exact timing depending on location). It will be offered as a frameset (frame, fork, seatpost, headset) for USD 3,800 / EUR 3,800.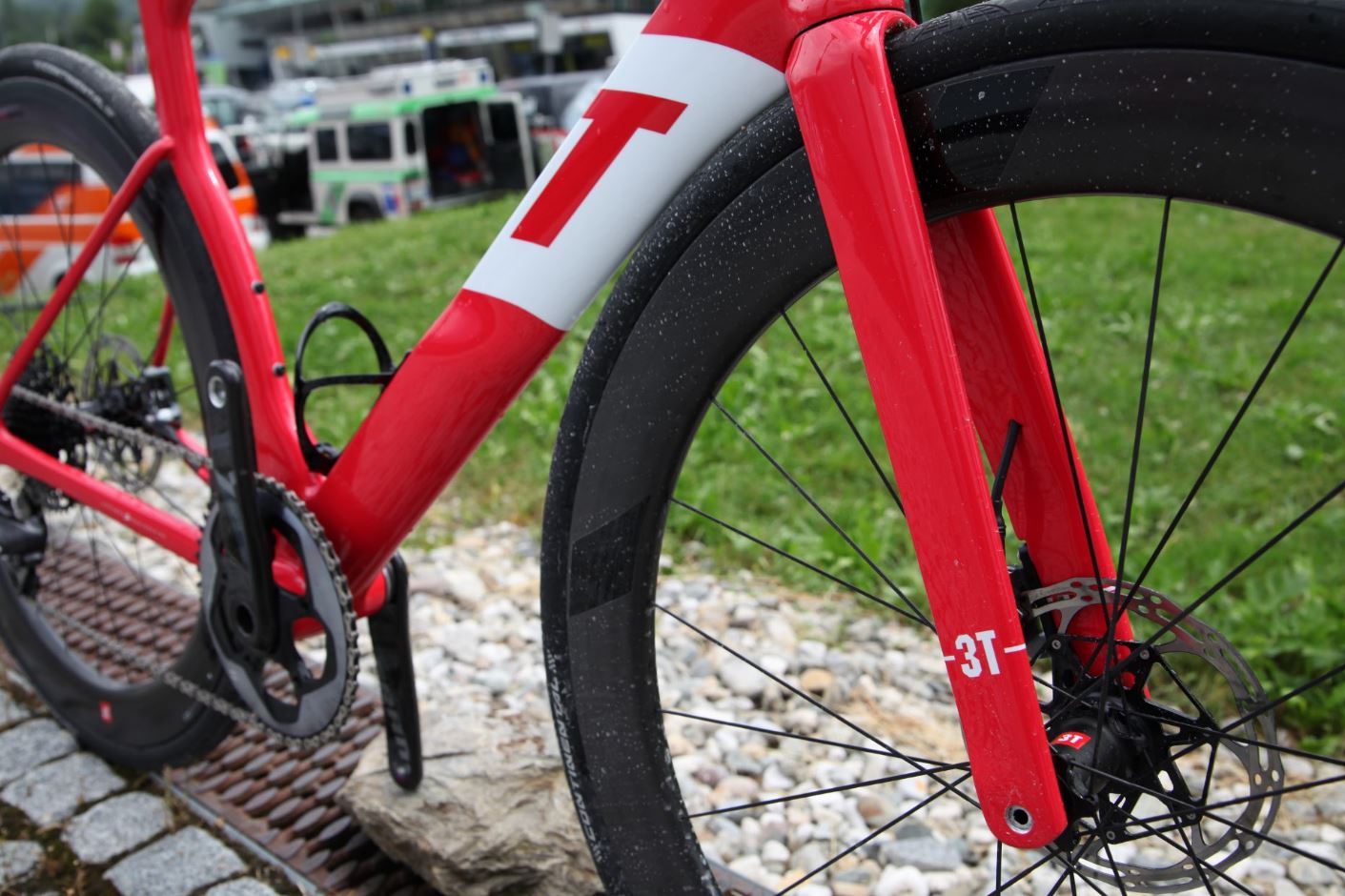 In its announcement to the press, the brand added on its tube shaping:
"At 3T we design for real world aerodynamics at realistic speeds. Sometimes that clashes with conventional wisdom, even on something as fundamental as aero tube design. Aero tubes are designed based on a series of flat 2D cross sections that connect together into a tube shape. But in the real world, the air flowing over a tube doesn't follow a flat path, it follows an arc. So we built our Arcfoil tubes as a series of curved instead of flat Sqaero cross sections. These exactly mimic the arc of the actual airflow at several points along the tubes and substantially lower the drag (the arc of the downtube logo pays homage to exactly the airflow and cross section arc there).
"The Sqaero airfoil sections of the seat tube arc for a different reason, to perfectly cover the rear tire and reduce the turbulence. Seatpost, headtube, even the seatpost clamp and dropouts are optimized aerodynamically in sometimes unexpected ways based on our real-world analysis (for example you may wonder why the area behind the lower headset isn't faired; the answer is simple, because the air doesn't flow horizontally there but spins off the front wheel almost vertically, so a horizontal fairing shape is counterproductive as it blocks the upward airflow).
FUNDI AERO FORK
The Fundi is a disc-brake-only design, without any provisions for a rim brake version. This has allowed 3T to really optimize the design, for example with its minimalist crown, which combines space for wider road tires with a lower crown height. Where the crown on a rim brake fork (or a combined rim/disc brake project) by definition has to be bulky and unaero, the Fundi's minimalist crown improves stiffness. It also moves the front wheel closer to the downtube, creating a perfect transition for the airflow. This makes not only the Fundi itself very aero, but also helps the front wheel and frame become more aero.
The crown smoothly transitions into the Sqaero profile of the legs, combining aerodynamics with better stiffness properties. The Fundi supports flat mount disc brakes with the 140/160 mm disc adaptor completely integrated into the fork leg shape. The kinked left leg connects all the relevant points in the most direct way possible, not only a visually striking design but also key to achieving a low weight and a minimal frontal area.
Catch our exclusive interview with Vroomen in which he declares the "future for the taking by small businesses" here.
If you're interested in becoming a 3T dealer, please get in touch with your local Saddleback area sales manager:
North
Michael Fish – 07917462223
London and south east
Justin Hoy – 07917462224
South west, Wales and Channel Islands
James Wellman – 07769 682429