ExtraEnergy maps the market share of the e-Bike Biz
A trio of surveys of consumers, dealers and manufacturers by ExtraEnergy has mapped the real and perceived market share of the largest players in the e-Bike biz.
Though the results are preliminary with more research to be completed, ExtraEnergy has released a number of snippets that will be of interest to the trade; including the statistic that the ratio of electric bikes to standard bicycles was 60:40 at the Eurobike trade fair in Friedrichshafen.
This mirrors a trend in parts of Europe where electric models are now out-selling pedal cycles. In 2018 bikes classed as pedelecs rose to 409,400 units sold, a 38% rise on the prior year.
As reported earlier on CI.N, the annual global value forecast for the segment is surging at a forecast CAGR OF 6.39%, meaning by 2024 we should expect a value of $18.65 billion in sales.
Having bolstered its findings on the show floor at Eurobike, ExtraEnergy found that of the drive systems exhibited:
Bosch represented a third of all exhibitors with e-Bikes.
Shimano made up 19% of bikes sporting motors.
Bafang, which recently opened a large scale production in Poland, comes in third at 16%.
The top five were rounded out by both unbranded (6%) and Brose drive systems.
Retailers surveyed gave their feedback on their sales in store, detailing which motor systems they had most commonly sold. The make up of respondents saw 33 German stores, 2 Austrian and one UK.
69% of sales carried a Bosch motor.
Surprisingly, Yamaha topped Shimano delivering 9% of dealer sales ahead of Shimano's 8%.
Brose represented 5%, Panasonic 4% and Impulse 3%.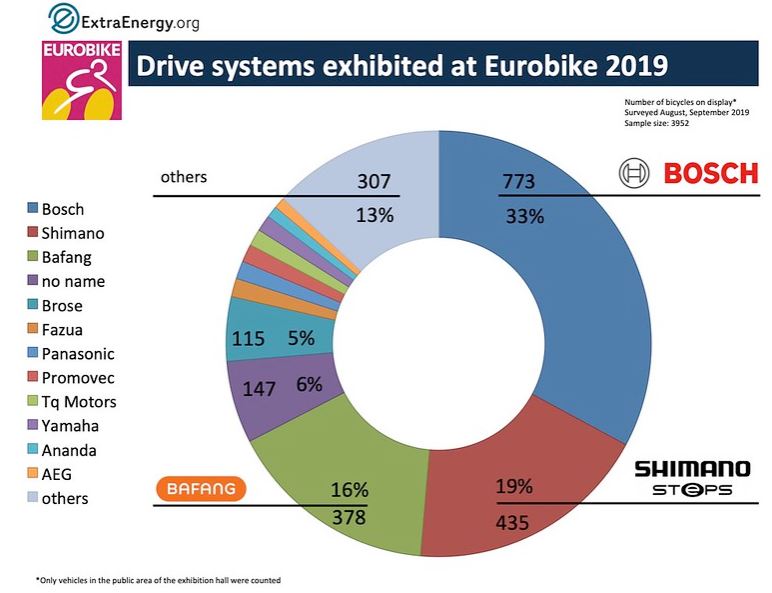 Sticking with the bike shop survey, the most common responses for units sold per annum were both between 100 and 149 and between 200 and 399.
When it comes to backup from the brands in the e-Bike biz, Bosch again leads the pack with 97% saying they had access to training if needed. For Shimano that figure sat at 73%, Yamaha and Brose 38% and Panasonic 32%.
Panasonic fared better in access to spares, coming only behind Bosch for spare parts supply and levelling Shimano on 43% of respondents.
Looking to the future, 100% of dealers expected Bosch to have great market significance in 6 years' time and 92% Shimano. Thereafter Yahama were on almost half of dealers minds and Brose just shy of a third. Panasonic and Bafang were seen as important players in the future e-Bike market by around a fifth of shops.
When it comes to the end user, Bosch is again the most recognisable name associated with electric bikes with 324 German consumers naming the firm first. Another household name, Panasonic, was named by 87%, while BionX, Shimano's Steps system and Yamaha drives rounded out the top five.
All of that recognition for Bosch is highly likely to result in sales, it seems. Asked "If you are to buy an electric bike in the next two years, which motor would you prefer?" the vast majority (145 in 324) said Bosch. The next most sought after was Brose at 35, while Shimano sat in fifth place.
ExtraEnergy are to continue the research in a bid to strengthen its data on the e-Bike biz. It is not known if a trend for integration may have played a part in some brands under performing in the recognition stakes!
Likewise, CyclingIndustry.News is also surveying the UK market in a bid to provide data for the industry; but we need your help. Those UK independents taking the time to fill in our ten-minute survey stand to gain freebies and exclusive insight. Take part here!