Injection molded and integrated e-Bike cuts assembly times and cost
Monaco's Stajvelo is to mass produce what it says is the world's first parts integrated e-Bike built with advanced injection-molded composite materials.
Partnering with Brussels-based advanced material and chemicals specialist Solvay, the Stajvelo RV01 bike utilises a trademarked long-fiber dubbed Xencor polyarylamide (PARA), a compound noted on its ability to meet stringent structural, mechanical, and aesthetic requirements.
Xencor PARA significantly extends the performance capabilities of Solvay's Ixef PARA compounds, which have successfully replaced metal in medical devices, automotive exteriors, and small appliances where a highly aesthetic surface finish is required.
Those qualities translate well for bicycle frames, says Thierry Manni, Founder and CEO of Stajvelo.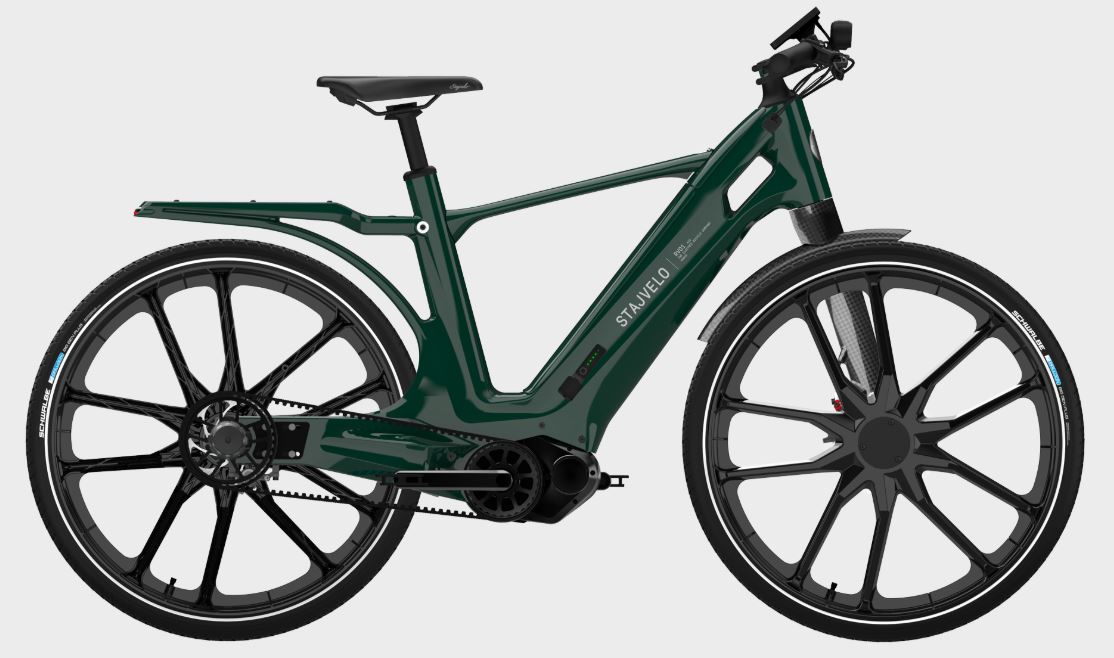 "Stajvelo's e-Bike design embodies the hard-to-achieve balance between form and function, due in part to Xencor PARA's unique combination of properties. Thanks to Solvay's polymer expertise and processing technology support, we were able to design a manufacturing process with optimal function integration and time-saving assembly operations," said Manni.
As far as ride quality benefits go, the finished product is noted for its strength, with an entangled 3D fiber skeleton set within the final molded part. This adds immense strength from the desired directions, as well as impact resistance, while allowing for flex where needed.
On price the RV01 is said to be "competitive" against the market's aluminium models, but the real bonus comes in production and assembly where gains can be made.
"Mass production of an integrated e-Bike product is absolutely not a problem. The injection-moulded technology is well known for its fast cycle time, direct function integration and mass series production," said Manni. "Xencor™ compounds are designed to replace metal in semi-structural applications that require greater performance than is attainable with SFT products and where metal is not a desirable option due to weight or per-part cost.
"Advantageously, the integration of various functions directly in the process limits to the minimum the post-operations conventionally needed with traditional Aluminium manufacturing methods, such as drilling, soldering, part assemblies," concludes Manni.
Solvay's Xencor LFT compounds typically contain between 30 to 60 percent fiber reinforcement, depending on the polymer and grade. The fiber constitutes a critical structural element by creating an entangled 3D fiber skeleton within the final molded part. The strong fiber skeleton provides vastly superior structural properties and dimensional stability compared to traditional highly-filled, short-fiber reinforced polymers.
Back in 2017, an Austrian plastics innovator came up with an injection molded "bicycle of the future", capable of manufacture in just one minute.