Five completes relocation of electric bike manufacturing to Bologna, Italy
Electric bike maker Five has invested €10 million in relocating its manufacturing to Italy from China.
In the pipeline since 2013, the completion of new production lines for bicycles and battery assembly officially opened on May 22nd in the presence of the Italian minister of the environment, among others.
The new facility measures 7,100 square metres and absorbs part of the former Bruno Magli factory. 50 jobs will be created, of which 39 will be industrial roles. A capacity of 35,000 electric bikes per year has been outlined, some 160 per day. Meanwhile, an automated warehouse will streamline logistics for some 3,200 stored e-bikes set to be shipped.
The build is said to be "earthquake-proofed" in response to former natural disasters that have stunned the region. The entire build is also powered by renewable energy, with double photovoltaic system installed on the roof able to produce 238,600 kW/h per year, sufficient enough energy not only to ensure the lighting and comfort delivered by Mitsubishi Heavy Industries heat pumps, but also to guarantee the industrial production. The surplus of 24,800 kW/h per year will be networked.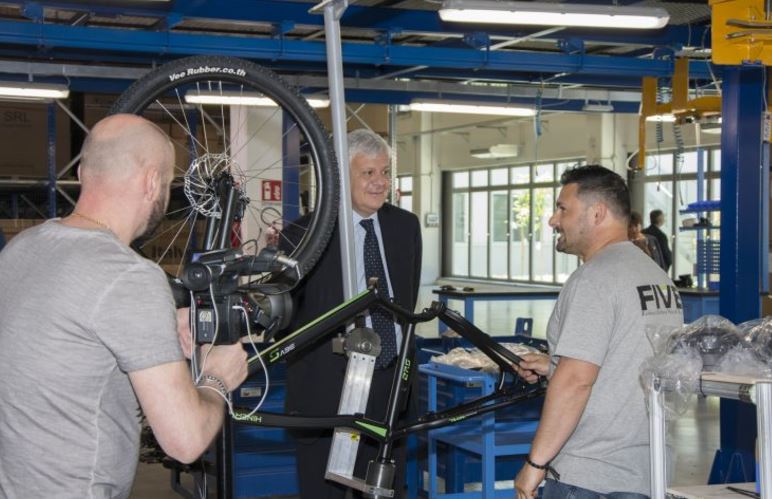 "The new Five factory in Bologna," says minister Gian Luca Galletti, "is a great sign of confidence, not only for this territory, but for the whole country. Here the industrial relaunch speaks Italian and chooses, above all, the language of the sustainability. When entrepreneurship sees in the environment and in Made in Italy the true competitiveness vehicles, it means that it is clear the potential that the green economy together with the Italian excellence can activate. In Five there is a huge innovative investment in sustainable mobility, a frontier of the global environmental challenge and an essential tool to improve our cities: we need it everywhere, but especially here in the Po Valley".
Within the next three years the firm has further outlined that it will develop its brand's overseas presence.
"We believe entrepreneurship is made of experience, vision and far-sightedness," explains Giorgio Giatti, President of FIVE. "As a company, we have felt the need to have a total quality control over production, guaranteeing the Made in Italy excellence and a production timing suitable to the seasonality of our brands. The sum of these factors adds to the fact that an Italian production 4.0 has the goal of being more competitive also from the economic point of view. All this has led us to look to the future and to think in a big way: to oppose the current trend and to return to Italy – developing opportunities and jobs in our country – and at the same time doing it in an eco-friendly and virtuous way, with a factory in line with the international green buildings."