Flectr – a functional new take on reflectors – doubles Kickstarter goal in 48 hours
A new take on the spoke reflector, The Flectr, has more than doubled its Kickstarter goal in 48 hours.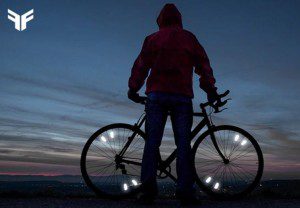 Weighing in at a featherlight 0.7 grams, the stick on unit is designed with a similar aerodynamic drag to a dart's flight thanks to its narrow profile. IN fact, the Kickstarter suggests that, in testing, the design has passed flow velocity tests of up to 100 mph without flapping or noise.
Hailing from Munich in Germany and the brainchild of Kai Wiehagen and Jorg Neugebauer, the simplistic reflector lights a bright white when hit by headlights.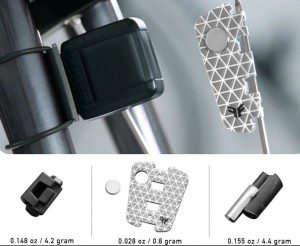 Interestingly, further development is underway already with a wheel magnet edition due that will talk to your cycle computer. Just a 0.1 weight gain is contributed on the prototype. These will work with current sensors on the market, says the firm.
Production and shipment is scheduled for June.
With 27 days left to run, you can get hold of a six piece set for 16 euro here. Bike shops can buy in bulk, with ten six-piece sets costing 138  euro.