Schwalbe launches dedicated MTB tyre tread cutter
Schwalbe has launched its first dedicated tread cutter for mountain bikes, landing with distributors at the end of the month.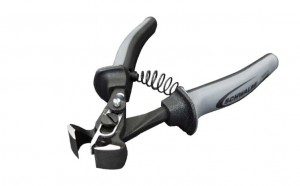 The clippers sport an exact height adjustment to ensure the trailside mechanic cuts only the right amount.
"Although we offer a suitable tread for every type of terrain, sometimes unpredictable trail conditions require a unique tread to find the perfect balance of rolling and grip", says Michael Kull from Schwalbe Marketing and Race Support.
"With the tread cutter, riders can adapt the tire tread even more perfectly to the respective situation."
For example, the sturdy center lugs of our mud-terrain tire, Dirty Dan, can be shortened for easier rolling. Or, as with Hans Dampf, the transition lugs in the shoulder area can be trimmed, giving more free space, and making the tread more aggressive. Lugs that have been worn "round" can have a straight edge again.
Kull concludes: "This is the first tread cutter developed specifically for MTB tyres. With it, you can cut the lugs off with a smooth edge and – thanks to the cutting-height adjustment – to your exact required height."