Goodyear launches new sealant range in 150ml bottle size
Designed to compliment the brands range  of Tubeless Complete™ bicycle tires, Goodyear Bicycle Tire Sealant will be available late September in 150ml bottles and sold to shops in boxes of 12. The branded shipper box is designed for counter top siting, promoting regular purchases.
The 150ml bottle was a carefully selected size — larger than most single-serve bottles — to meet the needs of the modern rider, offering enough sealant in a single bottle for two 29×2.6" mountain bike tires or four 700x25mm road tires.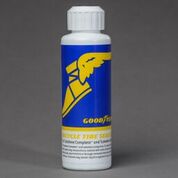 When paired with its off-center spout for ease of use, Goodyear Bicycle Tire Sealant is an easy to use puncture prevention tool. The sealant was designed to prevent punctures up to 6mm while effectively operating in temperatures as low as -30ºF.
All tire sealants have a limited lifespan and Goodyear wants to be sure that users are getting the most from their sealant, which is a part of the impetus behind the single-serve bottle. Goodyear Bicycle Tire Sealant has a shelf life of up to 18 months and an optimum operating effectiveness of up to seven months.
UK and Ireland stores can contact Paligap on +44 (0) 1454 332 110 and order the range shortly at www.paligap.cc The distributor expects to receive it's first stock within the next 2 months.
North American retailers interested in purchasing Goodyear Bicycle Tire Sealant or any Goodyear Premium Bicycle tires should inquire with their Hawley-Lambert Cycling representatives or at goodyear@hlc.bike.
Any other International bicycle retailers and distributors should contact sales@goodyearbike.com.