Halo launches new 'Carbaura' Road wheelsets
Ison Distribution house wheel label Halo are launching a new family of road wheel-sets to market today under the Carbaura banner.
Hand assembled in the UK, the line-up comprises four options. The Carbaura RC is Halos' rim brake model, and the Carbaura RCD is the disc brake model. Both wheel-set models will be available in two depths, 35mm and 50mm. The Carbaura RC will be available from stock at the launch date, and the Carbaura RCD is scheduled to arrive in stock this autumn.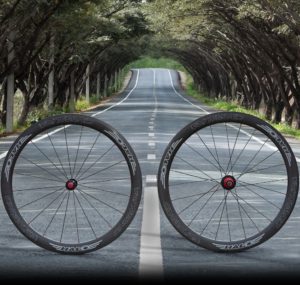 Compact Range
Pricing starts at £999.95 for the Carbaura RC in a 35mm depth, with the 50mm option coming in at £1,049.95 The disc options are fractionally more at £1069.95 for the 35mm option and £1,099.95.
Jordan Lunn commented "We've priced all four variants within a £100 price bracket and kept the Shimano and Campag freehub options at the same price. This makes a straight-forward range for stores looking to offer their consumers a great value wheel upgrade."
Alongside these 8 SKUs, a further variant to support SRAMs' new XDR will be added at a later date.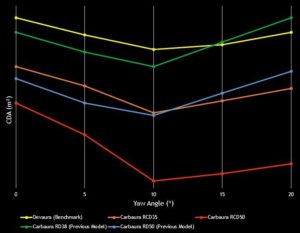 Aero Dynamic
The Torayca T700 carbon rims wheels have been optimised by Computational Fluid Dynamics to provide an aerodynamic profile with low weight, linear compliance and lateral stiffness. Tested against previous Halo wheels, the Carbaura RC50 are their most efficient wheel-set to date, saving an impressive 29secs over 40km when compared to the Devaura in drag alone – before taking any weight savings into account. Optimised for aerodynamics without compromising handling, the RC35 is similar in drag to previous 50mm depth rims, but better at increased yaw angles.
A complete package – Hand Assembled in the UK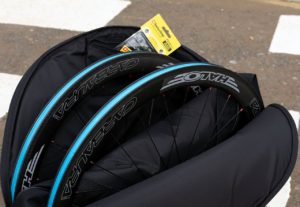 To deliver enhanced comfort and grip, as well as reducing rolling friction, the Carbaura RC wheels use 19mm internal and 25mm external rim widths. The wide profile rim is ideally suited to tyres ranging from 25 to 35c. Both the front and rear hub use Japanese made, fully sealed bearings and 6 individually sprung reversed pawls, mounted into the hub shell, that simultaneously engage into the 30-point freehub.
Hand crafted with lightweight bladed aero spokes and widely spaced hub flanges for strength, the Carbaura RC wheel-sets have been built to reduce lateral flex and increase power transfer. The rear wheel uses a 16/8e lacing pattern to balance spoke tensions and withstand torque forces, whilst the front wheel uses radical lacing to reduce weight and further improve aerodynamics.
The Carbaura RC wheelsets underwent wide-ranging lab testing in areas such as; impact tests, wheel rotation accuracy, extreme tyre pressures, prolonged imperfect road surface rolling, static stiffness, spoke hole strength, brake heat dissipation as well as the above drag coefficient tests. The complete wheel-set is supplied pre-tubeless taped with SwissStop Black Prince pads and a padded travel bag.