havebike delivers 18 Cycle Responder bikes to St John's Ambulance
havebike, a mobile bike mechanic company and provider of pedal-powered 'ambulances', has delivered 18 custom-built Cycle Responder bicycles to St John's Ambulance.
havebike was first awarded the contract with St John's in 2010 to supply the organisation's Cycle Response Unit nationally with a bespoke fleet of ambulance bicycles. The bikes were required to withstand the rigours of daily operational use, carrying medical equipment, including oxygen and a defibrillator, weighing in excess of 40kg, as well as medically-trained personnel in full uniform.
These Cycle Responders are deployed at community events up and down the country, such as the Virgin Money London Marathon, Wimbledon and the Prudential Ride London.
The strategic partnership between havebike and St John's sees the company continue to support the CRU's annual fleet replacement and enhancement programme, as well as delivering maintenance services across the country for the CRUs.
Managing Director of havebike, Nick Brown, said: "It fills us with immense pride that our bicycles help play a key role in making public events a safer place to be, by providing first aid to those who need it working alongside St John's Ambulance volunteers, staff and their NHS colleagues."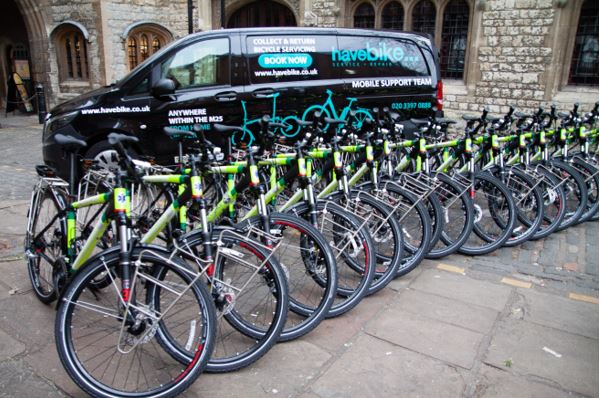 The newest fleet of Cycle Responder bikes, delivered to St John's in January, are based on the latest 650B wheel size Saracen mountain bike, but have been heavily customised to meet the needs of the organisation.
Ashley Sweetland MBE, National Cycle Response Unit Officer for St John's, added: "In 2019, St John's Ambulance celebrates 15 years of cycling to save lives and make a difference to patient outcomes. Having a trusted partner to meet our ambulance bicycle fleet requirements is absolutely vital. We are proud to have worked with havebike for many years and have been impressed by their work on our behalf and the value they've bought to our charitable activities."
As well as serving the needs of St John Ambulance, havebike is now the only company to service all of London's 999 blue light cycle response teams, including the London Ambulance Service, City of London Police, British Transport Police, London Fire Brigade and over 2500 police bikes used by the London Metropolitan Police.