Highway to health: how people power turned an IBD around
Like so many independent bike shops that have endured decades on the High Street, Highway Cycles has ridden the market's highs and more recently the lows that claimed so many long-standing reputable names. Len Simmons, owner of the business since 2019, tells the story of a remarkable turnaround…
There is often said to be two schools of approach in modern bike retail; those coming to the front line with untamed enthusiasm and those who come to the trade with business acumen, but perhaps with less of a grip on the jargon that so often baffles all but seasoned riding enthusiasts.
Highway Cycles' new owner, who took an active role in April of 2019, comes with a firm grounding in business, at one time employing over 450 in an engineering business, taking the firm to the brink of a stock market listing, then eventually guiding it through an MBO. Today, having essentially retired, you'd think life for Len Simmons would be pootling along at a slower cadence, but that's not the case. New to the cycling business, but by no means new to cycling nor business, a reinvigoration of energy is evident not only in Simmons but in his local bike shop. In just 18 months Highway Cycles has turned its fortunes around a full 180-degrees with little more than a management change, a fresh and structured approach to daily business and some investment to make the shop a brighter and more inviting space.
"My speciality is tapping into the full potential of people; it's been a theme of my working life," starts Len. "Before taking full control I was a minority investor in the business and sooner rather than later I realised the accounts were not in good shape; they were all on paper too. I came to see the business was losing money quickly. Enlightenment of the true state of the accounts meant I had to take full control in order to continue to invest. A deal was agreed shortly afterwards."
Simmons very much fell into the bike business, again in part down to a passion for cycling paired with the ability to spot an opportunity. It was his own search for a Riese & Müller that sowed the seeds for this interest. Back in 2018 he decided to get back into cycling regularly and opted to buy an entry-level e-Bike.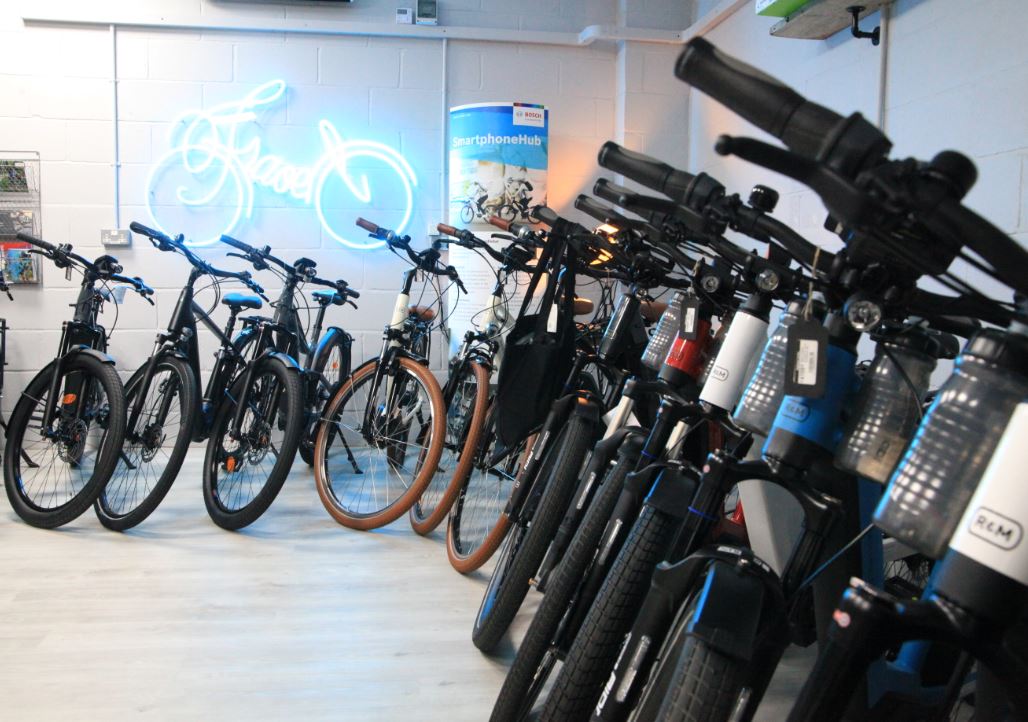 "I had that bike for four weeks before I realised my love for cycling was reignited. Unfortunately, I had range issues with the inexpensive bike I had bought. In researching the market for the level of quality I wanted I found Riese & Müller. At first, I looked over a 30-mile radius for a supplier, eventually visiting Flat Earth in Codicote. At the time they couldn't offer me a test ride and the same applied with a Cambridge store I visited."
Len pondered the experience for a while before calling Riese & Müller directly to organise the test ride he'd sought, opting to purchase the Delight, for which his sale was directed back to Cambridge.
"These are bikes of many thousands of pounds and I didn't feel like the local stores had the purchasing experience I had sought. I spent six months researching as many bike shops in 50-mile radius to see if any needed partners. I rung each of them or walked in and asked if the shop was for sale. At the time, given the market was not doing so well it staggered most people."
Fast forward just 18 months from the takeover and the business, a local to CyclingIndustry.News HQ, has transformed in a way we've seen few others achieve. Since taking a ​premises on the edge of town in Hertford, adjacent to a large green space where locals congregate to enjoy the sun and play sports, the business has reshaped to become one of Hertfordshire, and arguably the south east's, leading electric bike specialists. Very recently it became the latest Trek Project One studio too.
The industrial unit which the shop occupies has been extended, merchandised in a clear and inviting way, now features a dedicated e-Bike showroom, presentation and seating area, as well as workshop front of house that is always busy. Bike fitting is soon to become an additional part of the recipe, as is a not-for-profit extension likely to neighbour the business. This will refurbish bikes as a social enterprise, enabling the business to service the enthusiast customer and the enterprise to deliver cycling's benefits to those less able to allocate significant spend.
It's not a typical business model by bike industry standards, but it's one that Simmons says leaves nobody excluded, and part of his goal is to "give something back."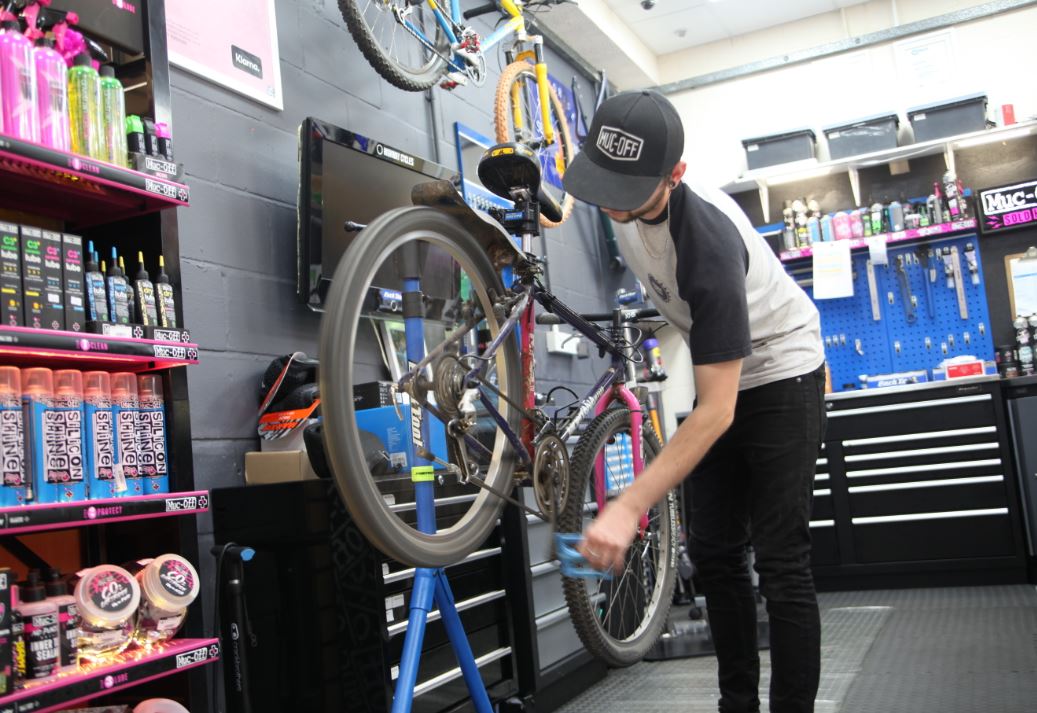 It is in the background that something special is cooking. With Hertford Cycle Hub the intention to get more people on bikes will not only be delivered by the renovation and distribution of cheaper bikes, but with active skills sessions and led Breeze Rides for women.
Furthermore, the team are working to build funding for local initiatives designed to bring through the next generation of riders. These range an ambition to bring about a pump track to accompany the local skate park, talks of having a few cargo bikes available to lease to those looking to ditch the car in favour of more sustainable journeys and admittedly at times slow-burning discussions with local authorities to develop the local cycling infrastructure. The bigger picture of growing cycling's local modal share is, therefore, the primary ambition, while the business may stand to benefit later as a result.
Audience growth and new customer acquisition has been a crucial part of the revamp of Highway. Creating and updating the websites and reaching out to the community has been the task of Charlotte Corbett, who has achieved a 500% uptick in exposure across key social media platforms since taking them on. Interestingly, Simmons and Corbett have utilised LinkedIn to reach local professionals with material that hints at a change of transport habits, apparently with some success in converting sales.
"We have no desire to sell you a bike, we desire to sell the right bike for you, that's the motto," says Simmons. "Our process is to run an exhaustive review of the bike with the customer so they understand the options as well as we do. Some people may say you're confusing the customer, but at the end of it we're creating somebody who knows what they're buying and why they want it."
This is one pillar of a rigid structure that has transferred from Len's past life and as he recounts the daily routine he shows a copy of the weekly meeting notes, several pages worth. Each goes in to fine detail, identified weakness in the business, who is best placed to solve it and a deadline to work towards. This forging of a team effort to strengthen the business constantly, says Len, has been crucial to the turnaround in trade and helping staff feel invested in the business.
"And they are invested in the business," we're told. "It has been commonplace in my business background to have share option schemes, so we're going to do that here so our staff can literally be invested in the business. Staff wages were raised straight away when I took over and it's under constant review, of course, but our performance shows our staff are embracing our vision."
Highway is now on its way to quadrupling its prior revenues and by the time of publication will presumably have hit some incredibly impressive milestones for an independent bike shop. Attributing some of this to the Coronavirus induced rush on bikes, Simmons estimates trade rose by around 250% to 300% compared to normal early summer months.
This, Simmons says, may well just be the start of the journey. With the store's newly-earned reputation as an e-Bike specialist the average sale price attached to sales has been rising, as has volume.
"We do tend to sell pairs of e-Bikes, as lots of shops do now, but I think we'll also get to a point where people are happy to invest between £3,000 and £5,000. We've introduced Klarna as one means of finance. I'm mulling over a method of leasing e-Bikes in the future, which would open the door to a few new customers," speculates Simmons.
However, by volume, the trade does remain two thirds dominated by pedal powered machines, with what is described as a "full cradle to grave" offering starting from just £150 for kids bikes and £450 for adult bikes. With the signing of the in-store Project One experience, the upper limit is now whatever the customer desires it to be.
The focus on deciding where to invest and where to cut back has all been centred on two principles, profitability and ensuring the shop doesn't leave any customers with the same experience that prompted Simmons' investment in the first place. With profitability in mind, cycle to work schemes have been badged "untenable" at rates north of 5%.
In order to maximise the workshop's turnover investments have been made to provide a modern clean working environment with the correct tools for each job and a daily work schedule. The installation of smart ePos systems and smart click and collect ready eCommerce has likewise drawn a line between the business of old and the new.
"Although the business has to be profitable the main driving force for me in any business has always been to make it successful and the profit will come. Don't chase the money, push the business and don't worry about what competitors are doing as you've always the chance to do better if you are focused and have a structure of your own," says Simmons.
On the way out we ask Len what he perceives the greatest challenge to independent retailers is at the present time and his answer skips over all of the micro-complaints that so often fill industry forums straight to the bigger picture.
"It has to be bike security concerns and infrastructure that are the greatest challenge to success for shops like mine. The vision of upping modal share for cycling in the UK is absolutely key for all of us on frontline retail – that's where we have to work together. Trying to be everything to everyone is where I see a lot of businesses lose ground," he concludes.