Hope delivers solutions to non standards, keeps bike shops sane
Barnoldswick's HopeTech has revealed a handful of new products to combat the increase in proprietary standards.
Alan Weatherill at Hope said: "Every week, with a new "standards" being launched the bike industry seems to be moving more and more towards proprietary systems. We realise this can prove very difficult for shops, however at Hope we like to try and keep things as simple as possible and maintain existing products compatibility, although not always easy."
SRAM Torque Caps
With the growing number of Rock Shox forks available featuring Torque Cap compatibly, Hope has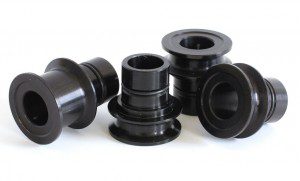 produced 31mm oversized spacers. These are retrofittable to Pro 2, Pro 2 EVO and Pro 4 hubs. The spacers are available in two variations:
HUB485        15mm – Pro 2/Pro 2 EVO/Pro 4 – O/S Spacer Kit
HUB486        15mm 100 to 110mm Conversion – Pro 2/Pro 2 EVO/Pro 4 – O/S Spacer Kit
Retainer Rings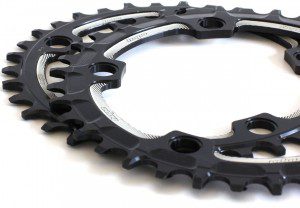 The UK producer has also added more sizes to its 110 BCD rings by adding the smaller 34 and 36 tooth rings to the existing 38, 40, 42 and 44 tooth.
Also, now that both Shimano and SRAM are embracing the 1x setup, Hope has produced rings to suit the 96mm offset BCD on XT-M8000 and MT700 cranks. These are available in 30, 32 and 34 tooth.
Additional Headsets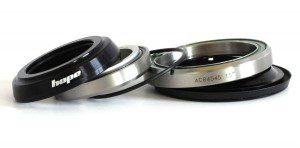 Finally, Hope now has an integrated headset to fit, among others, the new Santa Cruz Hightower, Highball and existing Stimata Frame. The top is known as a no. 7 (HSC7) and the lower a J (HSCJ). The top is available in all six colours, but the bottom, since none of it is visible, is only available in black.
All of the above are now in stock and available to order.
To learn more about Hope's diversification into carbon, including the launch of the seatpost, click here.
In other UK manufacturing news, Brooks is celebrating 150 years trading with this very special Brompton link up.