How the bike dealer stands to benefit from Magura and Bosch's ongoing collaboration
The past few years have seen a string of collaborations for the Magura business, from automotive drive giants to Bosch – an industry go-to for e-bike drives. CyclingIndustry.News speaks to Tony Barton of Magura Bike Parts UK Ltd about what such partnerships higher in the chain offer the bike dealer…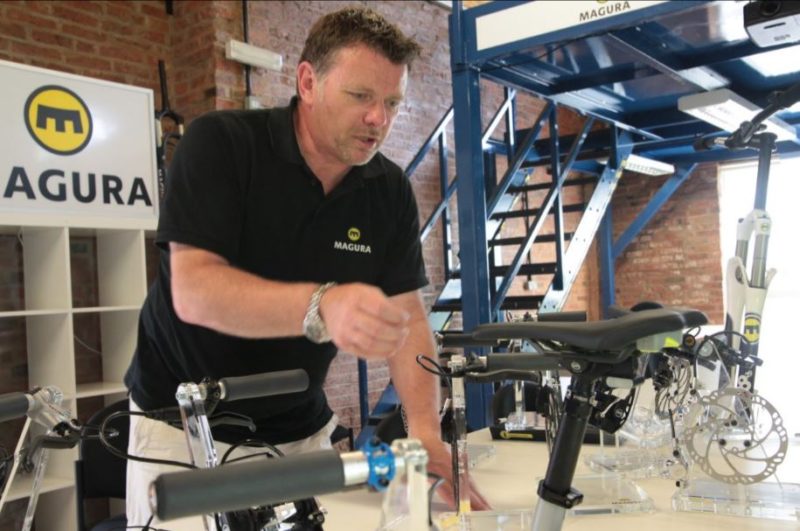 The Bosch Magura partnership has borne plenty of fruit since the two German neighbours began to forge global links a handful of years ago. Most recently, as detailed on our digital platform, we saw what was touted as a world first in bringing ABS technology to bicycles. Though a model year 2019 product, trials are underway on fleets of hire bikes in Europe to better understand the real world applications. Undoubtedly the development is a sign of the times and emphasises the weight with which the pairing is throwing itself into innovating for a future where the electric bike will be at least as prominent as the bicycle.
As Claus Fleischer, CEO of Bosch eBike Systems, explained at the launch: "In order to establish this modern form of mobility for the longer term, safety is a pivotal factor for eBikers and their environment."
It is for that reason that the pairing of power and ability to effectively stop it makes perfect sense and why you'll now find both in the USA and the UK headquarters that house and service both labels. Domestically, the UK's 2,500 square foot facility has been operational in the Leicestershire countryside for a year now and is the dealer's first port of call with any Bosch (or Magura) questions, warranty issues, and dealer training for both labels.
"The pooled resources of the e-mobility giants and the collaborations with other experts in the field will result in sped up research and development, so it's an exciting time to be serving this fast-moving market. By opening a UK centre we've reduced the former week-long lead time from Germany. We're now capable of offering next day delivery and a reduced cost to the dealer," explains aftermarket sales and service manager Tony Barton.
Indeed, in June of this year, Magura partnered one of the automotive world's largest drive manufacturers ZF of Germany, as well as BrakeForceOne and Unicorn, a partnership that will focus on development of electric bike drive systems. This collaboration, it is hoped, will "redefine electromobility," something which the bike dealer stands to benefit from.
1,200 bike shop accounts now have swift access to both Bosch and Magura via the Midlands headquarters, which comes ready to deliver both in-house dealer training, as well as offer visitors quality riding right out of the front door. Those with an account also gain access to third-party brands including Fahrer, Miranda, Busch&Muller and Miche, among others. This is all part of the plan to become a "one stop shop for electric bike goods," explains Barton.
"We hope to have a team of around five by the end of 2018 to align with the projected growth in electric bike sales. There's a new demographic coming through, it's no longer just the elderly couple looking at a pair of bikes, you now see all types of customers spending serious money on eMTB's and the whole off road market is beginning to shine."
A case for Magura
Marking the 30th anniversary of the legendary Hydro Stop (HS) Series, visitors to Eurobike will have spotted the new HS22, now available at an incredibly accessible £75. Encouragingly, that's far from the limit of accessibility to Magura on a budget.
With a new low entry price point of just £46 for Magura's MT2 disc brake the firm is far from just going after the performance market. With the very same five-year leak proof warranty, dealers are able to offer customers immense peace of mind and performance on a budget. What's more, having benefitted from trickledown dealers too benefit from the same ease of servicing from higher in the range.
It's little surprise to learn that careful consideration of the price points has assisted Magura to its best ever year of aftermarket sales in 2016 Globally and "2017 is already up on last year," adds Barton.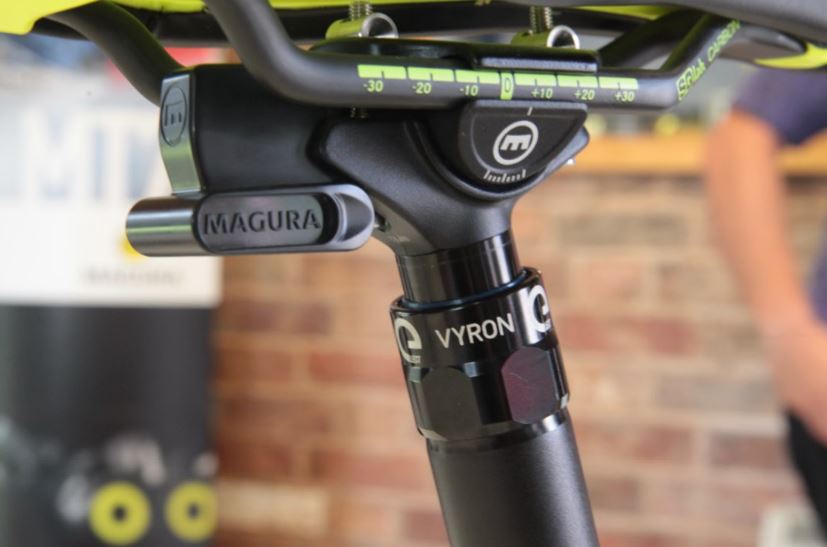 "People have always been really tuned in to Magura's braking catalogue, but I think the 2016 launch of the Vyron Dropper post generated a fresh buzz that's lasting today, certainly now you can get hold of one for a similar price to a Reverb. Having Danny MacAskill on board with Magura originally using HS33 rim brakes has brought enormous kudos to the brand. His signature MT7 sold its 1,000 units in record time. He's liked immensely, even by non-cyclists and everyone wants to know what brakes he's running," says Barton.
Awareness of Magura's e-bike specific solutions is growing fast too and the firm is growing volumes quickly. At OE spec "rim brakes, in particular the HS11 and HS33s, are specced to city bicycles, we're told.
So, what's available for dealers committing to Magura?
"We offer a very strong margin at standard trade and further discount options for Pro Shops, which is our equivalent of Shimano's Service Centre status. Opportunities here are normally limited to one per county in UK, but it is well worth a dealer's consideration if they desire to become the local specialist. Retail prices have generally reduced now we're direct to dealer too.
"We're big believers in replenishment and so recommend starting with some service replacement stock like the MT2 at SRP £46, a top quality replacement brake that will satisfy many customers' needs and sell year round. Boxes of five brakes come at a slightly reduced rate for dealers to bolster their margins."
Considering Hope to be the "benchmark" for UK service, Barton's team aspires to deliver industry-leading back up. With that in mind courses are offered throughout the tail end of 2017 and into 2018.
"We don't let a dealer leave here without having serviced a brake just to get to grips with how simple the system is. Everything's mineral oil based too, all three pad compounds are organic and each system modular, so it's a really simple product for the mechanic. The MT2 through to the MT8 require the same skillset," concludes Barton.
Contacts
Bosch Service Centre
Tel: 02036 844877
Magura
Tel: 01455 823303
Email: service_uk@magura.de