Independent retail openings begin to flatline in 2015, show new stats
An analysis of the UK High Street has concluded that the number of independent stores opening is beginning to flatline.
In the report of 500 British town centres, the Local Data Company and BIRA study highlights a rapid decline in growth in the past five years. In 2015 a total of 68,100 Independents either opened (34,288) or closed (33,812), down on 2014 where 69,207 opened (34,883) or closed (34,324).
The figures reveal a net change of 476 independent shops in 2015, compared with 559 the year before, the lowest figure since records began in 2009.
Overall, a year on year increase of just 117 new independent openings took place in 2015, a 0.11% growth. Just five years ago that growth rate was 4.01%, or +3,949 stores, meaning there are some 3,832 less openings annually in just five years.
Independent stores account for 65% of stores in the UK, a percent decline from 2014.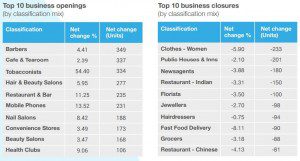 Though not pointing specifically to the cycle market, the study does talk about the growth of out of town retail parks, increasingly popular with multiples getting into cycling. These saw an occupancy rate rise of 0.31% against the High Streets' falling YOY tally of 0.37%. Shopping centres posted the largest growth, with net occupancy up 1.41% in 2015, something that the study says points toward centre owners seeing the value of independent retail.
Perhaps predictably, it's Greater London where the decline in independents is hitting hardest, with-347 units (-0.51% versus -0.34% in 2014). As revealed in our profile of Brixton Cycles – the bike shop that crowdfunded its survival – London landlords are making life particularly difficult for small business at present.