New rotational injury standard for helmets in the works, says Lazer
Quickly following our discussion piece on helmet standards, Mike Smink of Shimano-owned protective gear brand Lazer has weighed in on the subject, revealing the brand is on a committee tasked with creating a new EU rotational injury benchmark…
Some would say we are in a period of innovation for the helmet market – what in your opinion has been the greatest stride forwards?
Even in a period where helmet brands, including Lazer, launch new and innovating features, the greatest stride forward made since helmet wear became obligatory in road cycling is the (enormous) leap in
Safety: just compare the original sausage helmet with any bicycle helmet available in the market now and the difference is clear. The knowledge on impact of crashes on the human brain has grown largely, which led to a clear and giant increase of impact force distribution and therefore protection of cyclists.
Comfort: where first bicycle helmets were made in a way that heads needed to fit the helmets, nowadays helmets have many options to enhance fit (like our Advanced Rollsys system) and comfort (our Genesis helmet is only 190 grams and offering more ventilation versus riding bear headed). Helmets need to fit heads, not the other way around.
You spoke of developing a standard to measure rotational injury – what work has Lazer done in this area and how do you propose creating a standard?
As a bicycle helmet expert and being located in Belgium, Lazer is a representative of Belgium within Technical Committee 158 of CEN that focuses on the description of a CE standards for safety helmets. More specifically, we are involved in work group 11 that is now describing a test method to quantify oblique impact of sports helmets. The group consistent of experts throughout Europe and has a mixture of industrial and academic partners. The challenge is to balance realistic test conditions, that mimic real world accidents and the mechanics of the human brain with a practical test process that can be employed within industry.
Currently, nearly each research group active within helmet safety has its own definition of helmet safety. A standard that allows quantifying oblique impact will provide a more objective framework of helmet safety as it will combine the insights of the different experts. This will also be helpful towards consumers.
Update: Mike has clarified that Lazer are not working alone in this objective and that it is a common goal for many on the Committee to develop this new benchmark
To what degree has out understanding of brain injuries developed and influenced helmet design in only very recent memory?
Until now, official standards for cycling helmets only test direct impact. In reality, both direct impact as oblique impacts occur. Oblique impact may results in different brain injuries as compared to direct impact so we need to evaluate both. Nonetheless, also traditional helmets, that do not have specific measures to protect cyclists from the effects of oblique impact, will protect a cyclist again that type of impact. Lazer recognised this in an early stage and belonged to the first group of brands to integrate MIPS solutions to its helmet offering. This system provides additional protection by reducing rotational energy that is the result of oblique impact. Next to MIPS, also other brands have come up with different alternatives afterwards.
Have the discoveries around CTE led to a rethink in design?
Designing helmets and safety solutions requires a continuous rethinking. Not only with CTE, but data gathered globally through crash evaluations, partnering with brain specialist and joining up with several universities. This provide us with actual insight and improved knowledge that helps us to define future products and safety solutions.
How do you test your own helmets and how far beyond current standards?
All helmets are being simulated for safety and tested for safety in-house prior to sending them third-party test labs. These external agencies are the only ones that can approve meeting the official safety standards before helmets can be offered commercially. As being part of the Shimano group, Lazer has to commit to the highest industry safety and quality standards.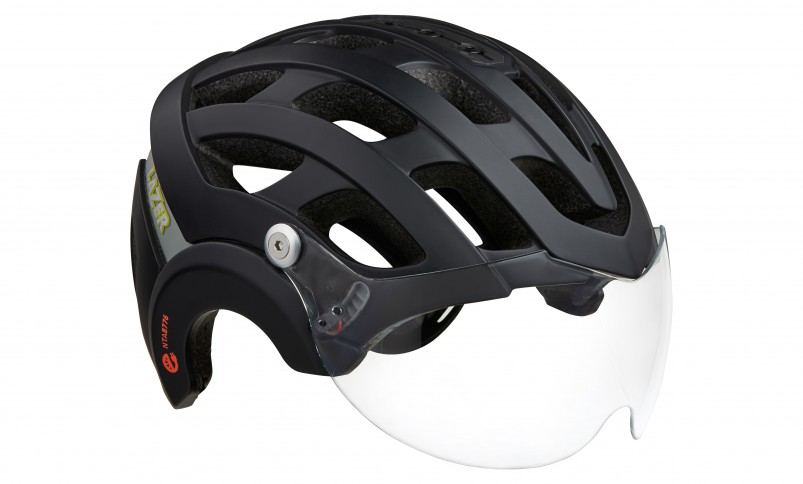 With the electric bike becoming more prominent, does the bicycle industry need to consider strengthening existing standards, or working to new levels?
Current standards are proven to supply sufficient protection for users of electric bikes (25km/h). On the other hand, Lazer is part of CEN work group to define a European standard for electric bikes capable of up to 45km/h. Having different standards within different regions is not only confusing for consumers (brain protection could be similar globally in stead of having different standards), but can potentially slow down innovations due to the many standards helmet brands have to commit to.
There is a perhaps common misconception that a helmet is designed to save you in a collision with a car – has Lazer undertaken any work specifically to address that point in its transport and leisure helmets; or is that too big a challenge given the physics?
Within Workgroup 11 CEN TC 158 we aim to design a test method that mimics realistic impacts as much as possible, while being practical. Unfortunately, today it is still not possible to design methods that allows us to account for all possible type of impacts without impacting the physical comfort of cyclist as well. Nevertheless, next to the work within this group, we continuously evaluate impact conditions as they occur in reality. Within this framework, we look first to the impact conditions with the highest occurrence during cycling accidents.
What about children's helmets – with brains developing at a young age, what extra work is now going into the design of helmets for young people?
As known, skulls of kids in growth are extremely vulnerable. Lazer's emphasis is to foresee additional safety margins when designing helmets for children. This accounts to rear protection, but also for the addition of soft spots on the position of the fontanel. Unfortunately, we still see many young aged kids on bikes or in bicycle seats wearing no helmets. This still requires clear information to parents, that must have priority to protect what they value most. Better safe than sorry.
For the retailer – what tips have you for staff selling that will help them explain and sell the technology in your helmets?
Selling helmets is way more that explaining design, size and colour. Retail staff can make the difference in advising the right helmet for the right user, based on head shape, usage and individual preferences. Explaining the right fit, the correct position and how to adjust a helmet (straps adjustment, closure, head basket height adjustment) is unfortunately not part of many sales conversations; but is an essential part that will secure the safety of the user.
Lazer has some do's and don'ts for users, that can be used by retail as well. One commercial tip: if each cyclist would replace their helmet every 3-5 years, it won't just secure protection for cyclists involved, but will increase helmet sales and inventory turnover rate.
Good helmet practice 
Before you buy a helmet, consider what is important to you: speed, comfort, weight, design and / or ventilation.
Always fit a helmet before you buy it. Make sure that the helmet fits your head, so your head does not have to adapt to the helmet.
Wear your helmet low at the front, just above the eyebrows, to protect the forehead.
Fasten the buckle, tighten the chin strap and tighten the adjustment system.
Check the adjustment of your helmet before every ride.
Replace your helmet after a fall, even if you don't see any damage. Use the Lazer Crash Replacement scheme.
Let your helmet dry in a ventilated area and keep it in a cool and dry place.
Replace your helmet every three years, long-term exposure to the sun's rays can weaken plastic.
Do not!
Never wear a helmet with which you have had an accident, even if you see no damage.
Never wear someone else's helmet.
Never wear a helmet without the buckle fastened.
Never wear your helmet back with your forehead uncovered.
Do not expose your helmet to high temperatures for a long time, for example in the trunk of a car.
Never clean your helmet with chemical cleaning agents.
Never take unnecessary risks, despite wearing a helmet.
A bicycle helmet is not designed for use on a moped.
Do not make any changes to the helmet. Do not apply paint, varnish or stickers.
What developments do you expect to come to fruition in the helmet market in the next five years in terms of design, integration of tech, safety and standards?
In addition to those touched upon, safety and comfort solutions will always go hand in hand when designing new helmets.
Beside the alignment of standards designed to secure clear and independent information towards consumers on protection rating, innovations will be aimed at offering ways that enhance the protection and experience of specific cyclist groups, without or even reducing the impact on the physical comfort experience. Perfect head protection is not just safe, but also offers a high level of physical comfort in terms of fit, weight and ventilation.
————————————————————————————————————–
In case you missed it: Mandatory cycle helmet discussion raised in Irish parliament.