Lid lifted on Ritchey's 2018 Heritage Edition Road Logic frameset
Reacting to public demand for the return of its iconic red, white and blue fade painted frames, Ritchey has lifted the curtain on its 2018 Heritage Edition Road Logic Frameset.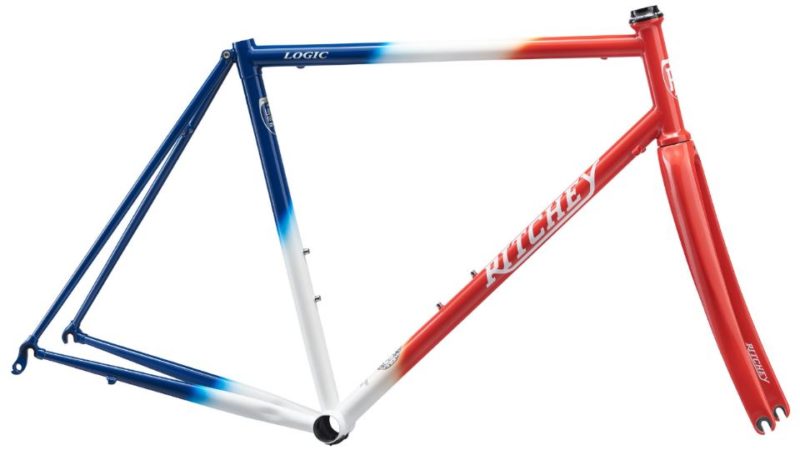 Limited to 100 numbered steel frames, the Tom Ritchey designed frameset is an exclusive offering for fans of the brand seeking a frame capable of hosting up to a 30c tyre..
"At least once per week we receive a request to produce a frame with the legendary red, white and blue fade paint. The chorus of demand has grown to the point where we decided it was time to bring this aesthetic to our Road Logic road bike," says Jeff Lockwood, international marketing manger.
The Ritchey 2018 Heritage Edition Road Logic frameset shares the same details as the current Road Logic frameset—the special paint and limited production run are the only differentiating features. The frame is built with heat-treated and triple-butted Ritchey Logic tubing and features aggressively short-butted sections optimized for TIG welding that save weight and improve ride quality. The frameset also features a Ritchey WCS Carbon road fork.
"The Road Logic is the ideal candidate in the Ritchey line-up for such a project," explains Lockwood. "A staple Ritchey offering for the past 30 years, the Road Logic embodies the legendary ride experience Tom Ritchey creates in each of his bikes. An icon of road cycling in America, wrapping this bike in red, white and blue galvanizes the ethos and history of the frame."
Pricing for the Ritchey 2018 Heritage Edition Road Logic frameset sits at €1399/£1199 (VAT inc), and is available globally for sale now with delivery in mid-March. Consumers can order by visiting their local Ritchey dealer, each of which is listed here.
Ritchey bikes and frames are exclusively available to dealers from Ritchey directly. Dealers interested in selling Ritchey products, or to open a B2B account, can email ri_sales@ritcheylogic.com for more info.