Lightspeed partner Silveredge for all in one bike shop system
Having entered the European bicycle market earlier this year Lightspeed has partnered Silveredge to offer an all in one cloud based point of sale package.
The SilverEdge Preferred Bundle enables businesses to receive all of the hardware required to sell in-store; the software and analytics to run a successful business in-store and online; and 24/7 customer support in one package, from one vendor, for one price.
What's more, Lightspeed has 700,000 SKUs and growing pre-loaded to its back-end software, with easy purchasing from the likes of GBP and Giant, among others pre-programmed.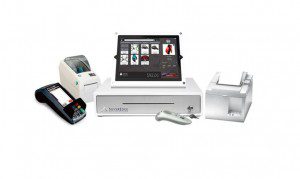 "Lightspeed is helping small and independent retailers thrive by providing them the tools and insights they need to run a successful business and create an incredible experience for their customers," said JP
Chauvet, president of Lightspeed. "With SilverEdge, we are making it easier than ever for merchants to open their first store or add new locations by providing everything they need to build, manage and grow their business in one place."

The bundle includes:
Lightspeed's retail management software
All required hardware for in-store selling: an iPad and iPad stand, wireless card terminal, cash drawer, barcode scanner, label and receipt printers and more
Easy check-out with EMV chip card and NFC mobile payment compatibility
24/7 customer support line for personalized support during installation and inventory building, and available in less than 30 seconds anytime during the lifetime of the product
SilverEdge terminals and Lightspeed software are equipped to accept any payment type, including EMV chip cards, Apple Pay, Samsung Pay and Android Pay, so merchants have plenty of flexibility in making a sale.
"This new relationship with Lightspeed further demonstrates SilverEdge's commitment to only providing best in class solutions that help our merchants operate and grow their businesses," said Ken Salazar, President and CEO of SilverEdge. "There is no doubt that our experience with innovative point of sale systems combined with Lightspeed's powerful software provides an excellent customer experience."
The system is particularly recommended for merchants who are opening their first store, since they'll have everything they need to build, manage, and grow their location right from this package. The SilverEdge Preferred Bundle with Lightspeed software starts at $89.99 a month and interested bike retailers can read more here.