Mario Cipollini posts a picture of himself, naked, BUT wearing a helmet – Asia made quality debate rumbles on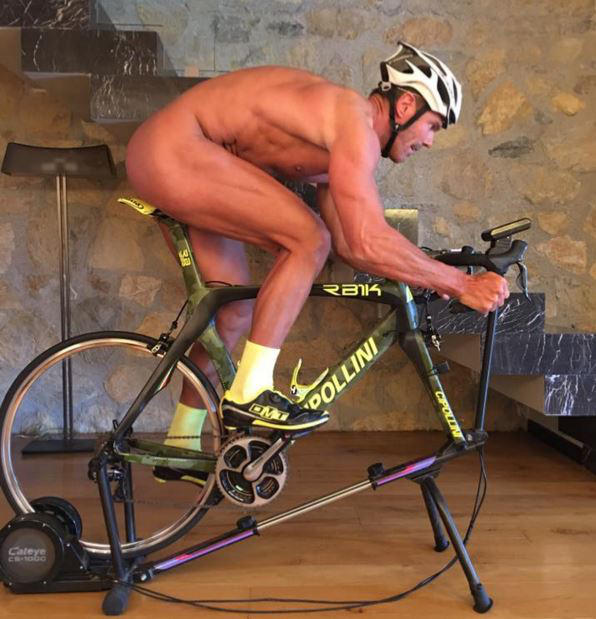 Mario Cipollini has posted a controversial photograph on his official Facebook page that's really making a splash in social media all over the world.
Mario Cipollini, aka the "Lion King," (born 1967) is not new to these kind of episodes. In his professional cycling career, he has worn an incredible variety of cycling suits, including a zebra-print one, and collected fines from the biggest race organisers and the UCI.
The reason behind the picture is a piqued reply to a fan's comment. Two weeks ago Cipollini posted a picture of himself riding on one of his eponymous bikes and wearing no helmet.
"Cycling in Versilia!," said Cipollini. "Today I'm riding my Nk1k …. What a sensation and particular feelings this bike's giving me! ….. I don't think the bikes produced in China (or Asia) would transmit the same sensations!"
This strong statement of his got several replies about the quality / non quality of Asian made bikes, though the most liked comment reads: "Mario Cipollini, if you'd wear a helmet maybe the sensations that you'd transmit to the young people would be even more exciting".
Apparently, Cipollini didn't like the comment. The recently posted picture of him, riding on rollers, completely naked with the exception of the helmet (and socks/shoes) reads: "Indoor training … Dedicated to all "legal advisors" commenting my posts. I put on a helmet while on the rollers too! Thank you for your pieces of advice in regards to my safety!"