Mechanic Monday: Kenneth Wee on running two Singapore bike schools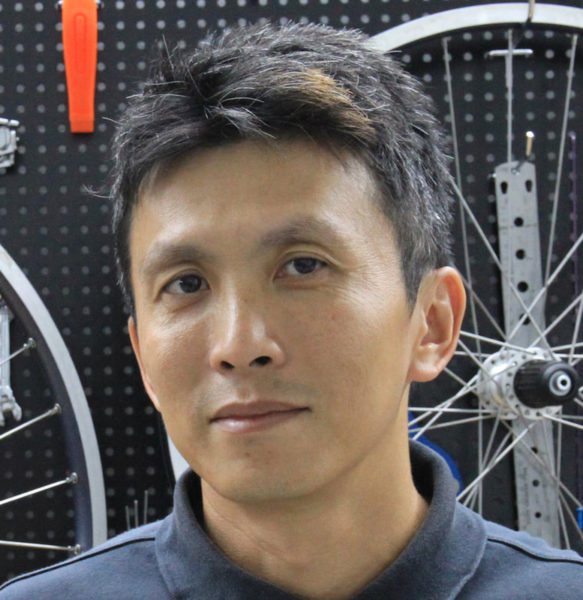 Wherever you are in the world, you can nominate a mechanic worthy of our Mechanic Monday profile. Simply head here. The Mechanic Monday series, produced by the PBMA, will eventually culminate in one lucky participant receiving an all expenses paid trip to the 2019 North American Handmade Bicycle Show, plus an exclusive prize package from Abbey Bike Tools and a year's subscription the print edition of CyclingIndustry.News.
Kenneth Wee of Singapore has always had an affinity for bicycles, but he worked in the advertising industry for 26 years before committing to the cycling industry full-time in 2010. He now runs two bicycle schools – Singapore Bike School and Bike School Asia – which focus on coaching and mechanics, respectively. We are excited to share some of Kenneth's story with you in his own words!
PBMA: How did you become involved in cycling and/or cycling mechanics?
KW: I manage two schools – Singapore Bike School (SBS), and Bike School Asia (BSA). SBS delivers coaching in cycling skills and BSA provides training in bike mechanics. I started SBS in 2009 and BSA in 2011, partly out of passion and mostly out of necessity.
My first job out of school was as an art director with a regional advertising agency, and I stayed in the advertising industry for about 26 years, spending the last 12 running my own studios. The comfortable paycheck allowed me to indulge in several hobbies. One such hobby was collecting and restoring vintage BMX bicycles; the ones I either had or dreamt about as a teenager. Collecting led to racing, racing led to coaching and before I knew it, I was in Aigle, Switzerland studying for a Coaching Diploma at the Union Cycliste Internationale (UCI).
As fate would have it, upon my return from Switzerland, our main corporate client had a run of bad luck which stalled all projects, and work became scarce. Already increasingly dissatisfied with the ephemeral nature and mercantilism of advertising, I closed the studio in December 2010 and bid adieu to staff, clients and the sleep-deprived lifestyle I had grown accustomed to and coached full-time.
When I coached our national BMX team, one of the things I emphasized was that the athletes were ultimately responsible for the proper maintenance and performance of their own bikes. So we taught them to do simple repairs, maintenance and upgrades. In my mind, there is no way to become a complete, skillful cyclist without knowing the nitty-gritty of your bike. I set up BSA because teaching mechanics was something I looked forward to, I knew I could do reasonably well, and I hoped would fill a niche that will keep growing as long as more people are cycling.
PBMA: Do you have a favorite moment or story from your time in the cycling industry?
KW: When I started SBS, my first client was a 69-year-old grandmother who just had a hip replacement. She also had a hearing problem which affected her sense of balance. After we got her pedaling confidently, she told me, "You're doing a good thing. Otherwise, people like me won't get to do this and I won't be so happy." What she said helped validate my career switch. I am also very proud that quite a number of our BSA graduates have started their own successful bike shops!
PBMA: What motivation or advice would you give to aspiring professional bicycle mechanics?
KW: I count myself fortunate to be from the generation that saw the rise of both BMX and mountain biking. This gives me a deep appreciation for the evolution of both disciplines in terms of both the skills and the technology.
Not everyone has such a background and it can be hard for new mechanics to get opportunities to put their skills to use, which is why we started our Race Mechanic Program. In this program, freshly-minted mechanics get to work with elite, competitive and recreational athletes, learn from experienced team mechanics and coaches, and be exposed to cutting-edge technology.
Whatever your entry point into the industry, it helps to 'always be a student'. Learn how to learn. Ours is an industry that looks lo-fi, but can get very high-tech! Whether its technology, training methods, bike fitting techniques or mechanical know-how, maintain an open-mind and keep learning in whatever ways you can.
PBMA: What is your favorite tool?
KW: It's a toss-up between my Dualco grease gun (saves time and money) and my Quaxar crimper, because a perfectly crimped cable end cap is a too-often overlooked finishing touch.