Mobike set to bring electric bike-share scheme to London
Following on from TfL's decision not to create a docked e-bike scheme in London, Mobike has announced plans to introduce its' new dock-less e-bike in the city.
Speaking in this Evening Standard article Steve Milton, Mobike's head of communications, said: "E-bikes go further and make longer journeys quicker, while also opening up the market for people who don't cycle. If you're in your suit or work clothes you won't work up a sweat or use so much effort." A ride from High Street Kensington to the West End might take only 15 minutes "so you don't need to take the Tube". Michael Hurwitz, TfL's director of transport innovation, said: "We're working hard to make cycling easier and more accessible across London, so we welcome the growth in dockless cycle hire schemes."
Dutch Design
The new model has been designed by Dutch firm Springtime and is described as "lightweight and comfortable". It includes a central mobile phone holder for navigation and a seat that is adjustable with one hand (think old school MTB dropper post).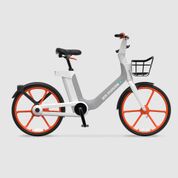 The bike has two modes; pedal-assist or full electric which you might think of as "e-moped". In this mode it can be used without rider input, with a max speed of 12 mph, and a range of 18 miles before charging is needed.
In "hybrid" or pedal assist mode the range is estimated at a more substantial 43 miles. CIN reached out to both Springtime and Mobike, however it isn't clear just yet if the power assist stops at 12mph or the legal limit of 15 mph. It will also be interesting to see if the bike runs "friction-less" above the motor speed.
The Springtime website describes the bike as "clean-looking, lightweight comfortable E-bike that uses both hybrid power and full electric drive. The moped-like full electric drive allows an easy transition for people with moped experience rather than cycling experience".
In order to prevent theft and vandalism issues, the bikes would be geo-fenced with fines for users who stray too far afield. Charging the Panasonic batteries appears to be carried out in bulk charging machines (off the bike) according the official video. While the preview of the App appears to suggest that locations and charge status will be visible, as well as the ability to advance book the bike before setting out to pick it up. IoT indeed. A full video can be seen here https://www.youtube.com/watch?v=K1bhW82o-us&feature=youtu.be
Retailer Reaction
CIN asked a panel of e-bike specialists for their views and found a universally positive reaction to the news:
Ben Jaconelli, owner of Fully Charged commented "This is super exciting as the main weakness of ebikes in London is lack of awareness and this will let people learn for themselves how amazing ebikes are!"
While Jonathan Cole of Velorution had this to add "It sounds tremendous, anything to get more people to realise how good e-bikes are must be a good thing. There is clearly a demand for e-bikes in central London as our new dedicated e-bike shop has only been open 4 months and is already at the No.2 spot in our portfolio of stores. The 12 mph per hour thing sounds good for leisurely riders, not everybody wants to sprint between traffic lights and 12 mph is a good speed in narrow cycle lanes. Certainly I use e-bikes between my stores and find them quite quick enough with no need to break a sweat."
Even outside of London it seems support is strong. Martin Brown, director of e-bikeshop.co.uk said "I personally like the idea of electrically assisted rental bikes, I believe it could grow the market and give a better understanding to the general public who may not have considered going 'electric' before. Time and time again new riders swing their leg over an electric bike and say 'wow, that's a lot better than I expected'. Any opportunity to expand on this is great.
I would welcome this type of scheme, especially ones that don't have to be docked in certain places. The last time I hired a 'Boris Bike' it was a great experience, only to find out that the closest dock to where I was going was around half a mile away from where I actually needed to be. With an electrically assisted rental bike, I could get to places faster, sweat-free and not have to worry about docking at all either. It couldn't be any more perfect.
My only doubt would be whether it was still where I left it, so I'd like to test this first hand. I believe there is a future for both shared eBikes and personally owned on the market. You'll always have riders who like to privately own their bike for many reasons, but the future of 'shared eBikes' is exciting. It adds flexibility to riders and, let's not forget, brings affordability to many new riders too. "
The timing of the scheme and the likely costs have not been made public at this point.