Mobile device retail records set over Christmas period, Cyber Monday gains prominence
Data from Adobe Analytics covering the Christmas period has shown a record rise in mobile device purchases, with 33.1% of online revenue stemming from handheld devices.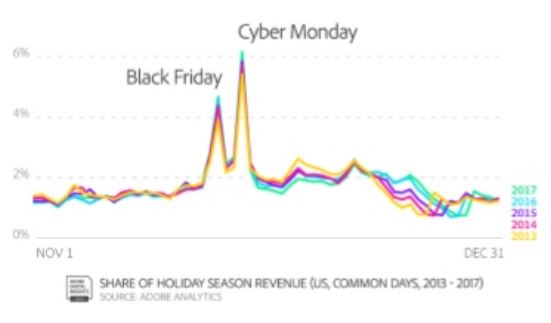 Some 52% of all traffic began on mobile devices over the Christmas holidays, with the transactions resulting in $35.9 billion in business.
Overall consumers in the U.S. spent $108.2 billion online during the 2017 holiday period, a 14.7% rise year-on-year, a figure which echoes a three year trend of rises ranging 14.4% to 17.7%.
Predictably, the drivers of trade were the so-called Black Friday and Cyber Monday events, delivering online revenues of $5.0 billion and $6.6 billion, respectively. Cyber Monday has been gathering pace in recent years, with consumers increasingly preferring to skip the high street battles for deals. Indeed retail giants like REI actually closed their stores on Black Friday, pointing customers online.
Frustratingly for small businesses, Black Friday seemed to last for several weeks with the cycling industry's larger online giants.
The data stems from Adobe's Analytics feedback, which aggregates anonymous data from over 1 trillion visits to 4,500 retail websites, covering 55 million SKUs.
Emphasising the importance of having a freeflowing and easy to use online platform, the data demonstrated an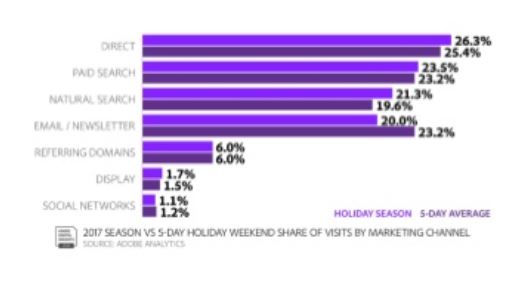 improvement in smartphone conversion. Both natural and paid searches over the ThanksGiving weekend posted a 14.2% improvement. Search led 44.8% of online visits, with paid searches edging natural at 23.5% to 21.3%. Email accounted for 20% of conversions.
As far as time of day goes, desktop usage is most common during working hours, with tablet and smartphone shopping peaking in the evenings.
A presentation of the data is now viewable here.