Mondraker bids for "lightest full-sus" XC bike title, e-Bikes evolve
Mondraker has released detail on its 2019 portfolio, introducing performance e-Bikes priced inline with the non-assisted Dunes and making a bid for the "lightest XC full-suspension" crown.
Shipping shortly the F-Podium, pictured above, is the World Cup XC tested 100mm travel whippet utilising a stealth carbon construction. Built in Germany by one of the world's foremost carbon manufacturers, Mondraker's signature Forward Geometry features on a frame that accommodates short offset forks and the ability to adjust the head angle should the customer opt to buy adjustable cups.
Pricing remains to be confirmed.
When  it comes to electric bikes, this year Mondraker's Level will be competing for the attention of those on the fence about whether to invest in top-end pedal power, or go electric, such is the narrowing window of price difference.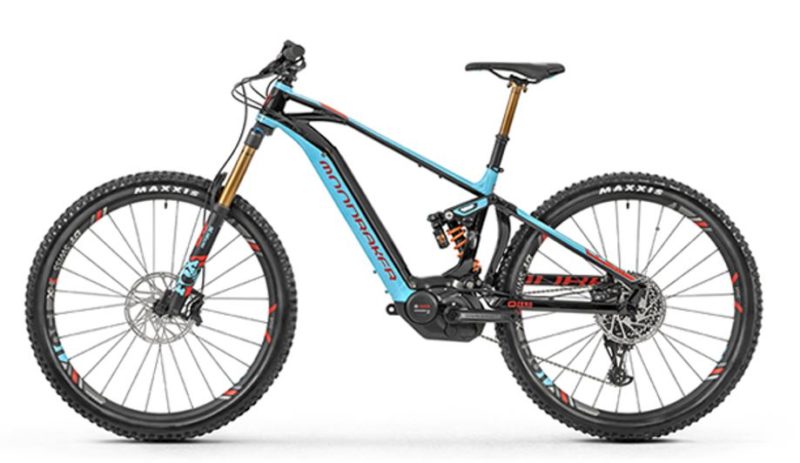 The Level (seen right) is new for 2019 and is design to tick the more hardcore box and meet the demands of riders going big on their battery powered machines. With 29" wheels and 160mm of coil sprung suspension the Level builds into the downtube a Bosch 500Wh motor and Powertube battery combination that will be more than capable for a day in the mountains.
Again built around 29″ wheels, the aluminium chassis builds in 160mm of Zero suspension system travel and comes with a threaded BB and ISCG05 tabs.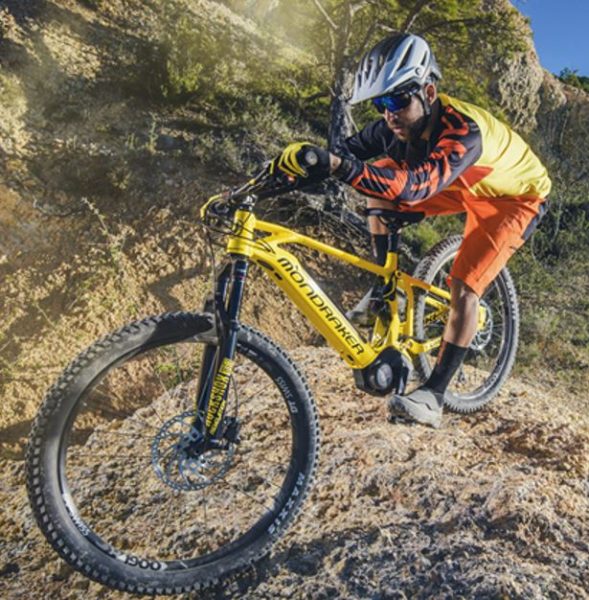 For those requiring a little less travel, the 130mm Chaser also joins the catalogue.
Featuring an integrated Bosch motor and Powertube battery, the Chaser brings Forward Geometry and performance Zero Suspension to riders looking for a capability, but more for trails rated blue to red. Designed from the ground up with an all new frame and RockShox suspension, Mondraker opt for 27.5″ wheels and oversized hardware and bearings, which should translate into a longer life for moving parts.
Away from pedal-assisted builds and hitting the sweet spot between downhill and trail riding the Foxy remains a fixture of the range, but now features nine bikes and five frame options.
Joined by the larger wheeled 29" version this summer, the 150mm trail bike continues to be a hot favourite with riders around the globe thanks to its versatility. With two wheel sizes to select from and a new aluminium option, the Foxy is tuneable, offering the ability to change the head angle by fitting new headset cups. Like the Chaser, oversized hardware and bearings feature alongside a threaded BB, ICG05 tabs and Boost axles.
Continuing its progress, the Dune positions itself in the 'Super Enduro' bracket with its 170mm of rear wheel travel.
All new linkages are mounted with oversized hardware and bearings all of which sits on either an aluminium or carbon frame with completely updated and reworked suspension kinematics for enhanced performance on all terrain.
To view the catalogue in full head to Silverfish's website, or to place pre-orders call the sales team on 01752 843 882.
Bike dealers wishing to custom build for their customers will have options from both Fox and Marzocchi when it comes to suspension, with Silverfish also operating the UK service for these brands.