Muc-Off debuts eco-friendly parts washers
Coming just before the industry heads for Friedrichshafen, Muc-Off has lifted the lid on two new parts washers with eco-credentials.
"Traditional parts washers use a lot of energy and pump out solvents into the environment, so we were stoked to be able to develop an alternative, more eco-friendly solution," said Muc-Off CEO Alex Trimnell.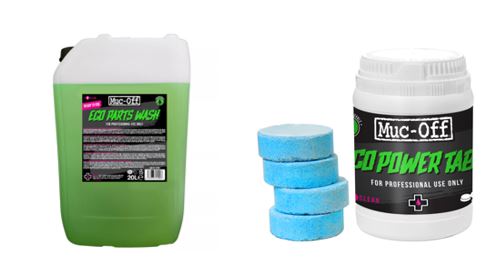 Utilising natural bioremediation cleaning power, Muc-Off claim their parts washer is safer and healthier to use for workshop staff. On top of this, it saves on energy costs as the temperature required for effective cleaning is lower than traditional parts washers at just 38°C.
Aside from the green-credentials, we're told Muc-Off's creation should offer better longevity than traditional units.
"There is reduced need for regular draining or filter cleaning and changing as the units are self-cleaning; fluid and filters both lasting on average three-times longer than solvent-based washers," said the PR. "The 100-litre unit has two permanent filters which don't ever need replacing, only a quick rinse with water once per month."
To run effectively, Muc-Off has introduced Eco Parts Wash fluid and Muc-Off Eco Power Tabs.
The Eco Parts Wash fluid is an active aqueous solution with specific surfactant giving degreasing results. It's formulated to rip through grease and oils with anti-corrosive agents to protect important metal parts. The fluid must be used alongside the Eco Power Tabs, which activate the solution through concentrated micro-organisms; these continuously break down hydrocarbons in the cleaning solution.
The Muc-Off Eco Parts Washers are available in two sizes: 40-litre and 100-litre, priced at £999 and £1,499, respectively. 20-litres of Eco Parts Fluid costs £99 and a pack of four Eco Power tabs cost £49.
All prices shown are subject to VAT and sales are currently restricted to mainland UK only. Stock is now available on a direct to dealer basis.