MyHermes follows trend away from postal vans with cargo bike trial
Logistics business MyHermes is to join the many others now turning to cargo bikes for inner city deliveries, starting with a Berlin trial.
Utilising a new cargo hauling system from Swedish start up Velove, the Armadillo e-Cargobike is more of a recumbent that tows what appears to be a quite significant haul.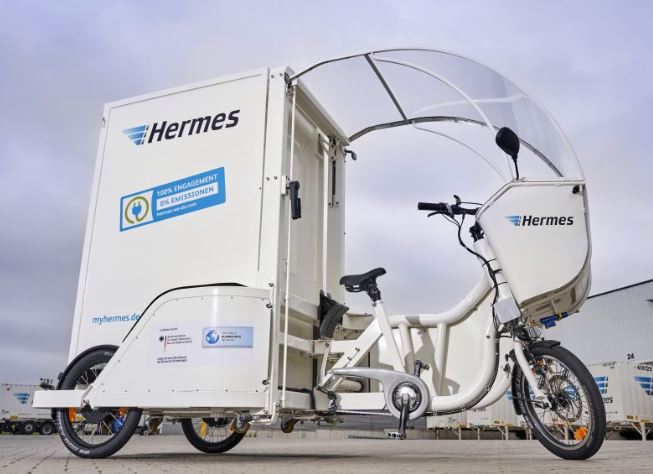 The unit is one of two to be deployed on Berlin's streets as part of the trial to see if such vehicles can save both time and money on inner city deliveries. A study into this subject has previously proven that in flatter cities businesses almost always save money.
The other bike to be deployed is Rytle's Movr bike (pictured).
Velove CEO Johan Erlandsson is interviewed on the MyHermes press site where he outlines the pros and cons of pedal powered logistics, as well as why he decided to enter the cargo bike business.
"For small deliveries in city centres the van is still the king, but is in a small scale being challenged by cycle logistics actors like MOVEBYBiKE (Malmö and Stockholm), Postiljohan (Karlstad) and Pling (Gothenburg). And of course, there are, like all over the world, many "app companies" that are riding on the gig economy trend in last mile delivery. Foodora and Budbee are two examples of this," said Erlandsson on the increasing number turning to cargo bike delivery.
Erlandsson's business came about in response to a rising tide of pollution in cities and one that he says is far from sustainable.
"The original idea was to develop a new type of bike for mobility purposes, to replace all of these short car trips that is one essential part of us Europeans emitting ten times more CO2 than what is sustainable. The concept was to combine the qualities of a cargo bike with the qualities of a velomobile, thereby reaching a level of comfort, cargo capacity and door-to-door speed that would make it a more attractive solution than the car on short distances in the city."
MyHermes begins its Berlin trial this month, though has not yet outlined a long-term plan should the scheme prove successful.