Nantes to invest 50 million euro in developing cycling levels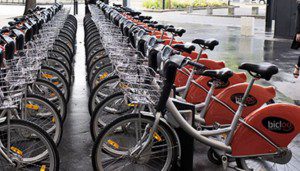 Nantes will invest around 50 million Euros in developing cycling over the next five years, reports
Mobilcities.com.
Having underachieved on a prior 2010 to 2014 target to develop the use of bicycles in the region, Nantes Metropole has approved a new action plan. Though modal share has risen one percentage point since 2008, local transport planners have now set an ambitious target of 12 percent by 2030.
The plans will include four key areas of focus, the first of which is cycling to school. 50 out of the regions 250 schools will form the initial focus, with the funactionality outside the school gates to be assessed to improve conditions for kids making the journey on two wheels. Once improvements have been identified the local authority will work with parents and teachers to develop kids' participation.
Included in the plans is a fleet of 2,500 electric hire bikes that will roll alongside the current Bicloo fleet of 880 hireable bikes – now with 10,000 subscribers. Some of those hire bikes were recently recalled following a manufacturer's fault.
Cycle parking at Nantes Station will triple from 1,000 to 3,000 spaces, while further areas to secure bikes will appear alongside main public transport routes in an attempt to boost intermodal transport.
Cycle paths are loosely part of the plan, while 30 'areas' for cycling will be introduced, particularly within residential parts of the city. Of those routes to get the thumbs up, a path between Chapelle-sur-Erdre and Nantes, as well as a second between Saint-Herblain and the city center are likely.
As is the case nationwide, mileage for cycling for work can now be claimed locally and financial assistance will be maintained for businesses promoting cycling to work, as well as a program of funding for firms choosing a fleet of electric bikes over motorised vehicles – something that has been proven to be financially effective.
Incidentally, the world's largest supplier of hire bikes recently introduced an electric bike.
Read more about Nantes' plans here.