We at CI.N were lucky enough to accompany Hans Rey on a jaunt into the Surrey Hills recently. What better place to conduct an interview with the trials and mountain bike pioneer than in the saddle? Here Rey discusses attracting and keeping sponsors, dreaming up tours and details which bike products have and will revolutionise riding…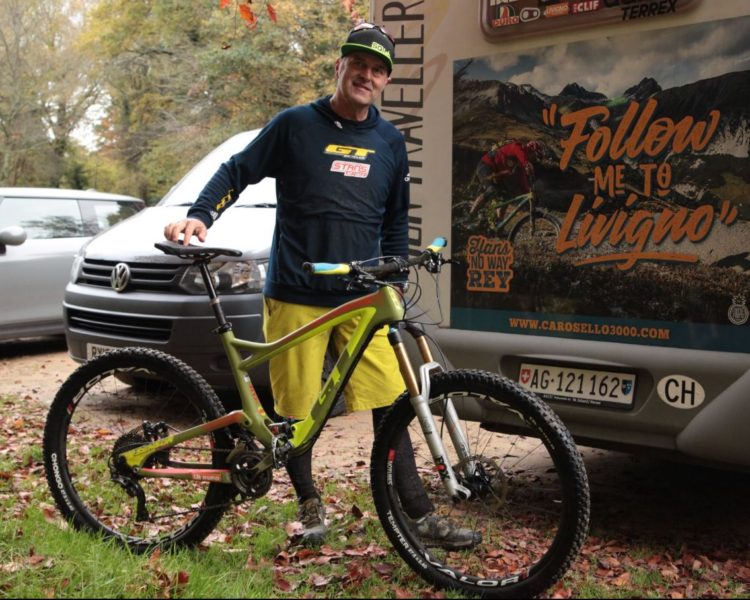 You hold the industry's longest standing sponsor relationship. For those looking to get sponsored – what's the secret to attracting brands?
I think one needs to treat it like a job or like business. Sponsoring is not charity; one has to offer a return on investments. This can be done in different ways, by winning races, creating media impressions or live impressions with performances and appearances.
Also, document your results and measure your impact if possible. Don't expect your sponsors to know about everything you do or bring to the table. It's up to you to keep them informed so they can see the value you bring to the table.
(Editor's note: Hans is the ultimate professional when it comes to a photoshoot and is probably the only interviewee we've ever had ensure that all his sponsor's logos are somewhere in the frame!)
You first made waves as a pioneer in the trials movement scoring fame on a German TV show, which you've said was a catalyst to pursue a career in cycling. Tell us a bit about this and how it changed the course of your life:
Around 1986/87 I received an invitation to come to America where a new sport was emerging. This sport was called mountain biking and always had a trials comp as one of the disciplines of the early stage races. Trials was European, unlike MTB or BMX. It was my chance to show them was real trials was. I guess I grabbed an opportunity when I had one. I could have not imagined in my wildest dreams what life this would lead to. I always thought I would do this for a couple of years and never thought I'd be active and sponsored at the age of 51. Our sport and industry have come a long way. I'm honoured to have lived and experienced its evolution so far.
What's it like seeing Danny MacAskill re-invigorate the sport of trials? How has his impact helped the segment?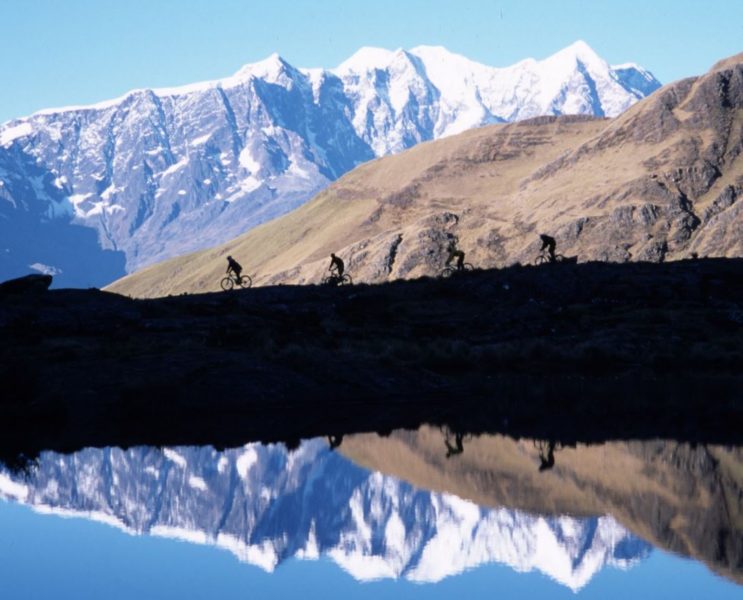 I think Danny's feats have not just helped trials, but also MTB and cycling in general. His story is an inspiration and gives kids hopes that their dreams may come true too. What Youtube is for Danny was VHS for me 20 years earlier. Trials has the hardcore comp scene, as well as the urban street trials scene. I have really enjoyed watching Danny's story unfold and his riding is at a level that nobody could have imagined 20 years ago.
What bike product innovation has made the greatest impact on your riding and ability on a bike over the years?
I have been around when many new products or trends were first introduced. For me the best aftermarket product ever has been dropper seat posts. I started using them around 2005. Big full-suspension bikes coming to market during the late 90s were also a game changer. They opened up riding new lines, the ability to go bigger and with more forgiveness.
Have you ever had an input on the product side with your brands? 
Yes, that was always part of my job, be it with various GT Bicycles bike and frame designs, or suspension systems. I used to be on the original skunk team when XTR landed, I've had my own signature tyres with several brands, was one of the first riders using riser bars and asking for shorter stems or wider tyres.
In recent years, I have helped iXS with my signature line of the Flow pads, The Trail XC helmet and gloves. Another sponsor, SQ Lab, has been great in developing saddles and grips with my input. Then there's pedal input, testing and R&D with Crank Brothers, as well as testing and feedback with Adidas Terrex.
Tell us about your work with IMBA and how important that organisation is for the industry:
I've been a long-term supporter of their cause and am now on the Honorary Board.
We bikers need a voice in the public office and public eye. When decisions are made that concern us we need to sit at the table to be represented and help shape our future and sport. Advocacy is important and I encourage readers to join a local group. Every regular bike rider should contribute with time or at least membership to support these groups. We can't take things for granted. It's not just access, but it's also to make our sport better and more fun. Just look at the trail center growth, achieved in part by organisations such as IMBA.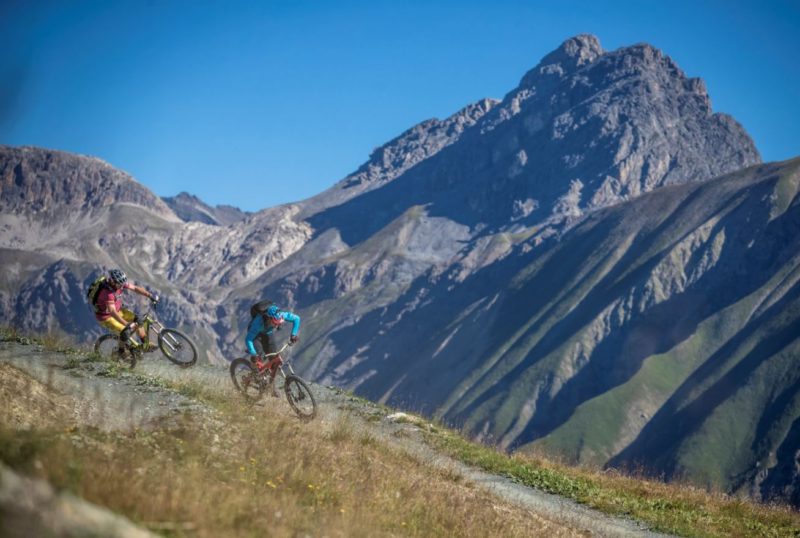 For those of us with ambitions to travel with our bikes, what trails would you recommend first of all for the amateur, but also for those who have ideas to take the route less travelled?
Anybody who hasn't ridden a 'Flow Trail' should give it a go; it's a new level of putting a grin on one's face. There are more and more Flow Trails that are beginner friendly, safe and not dangerous. Just try a Flow Country Trail, or easy line at a Bike Park or Trail Center.
Traveling with your bike is the ultimate way to see and experience the world. There are many tour operators in every corner of the world to contact and plan your first trip. Eventually you can plan your own adventures. It has never been easier to research all corners of the globe online.
With the dawn of the e-Bike age, what are your thoughts on the bikes, trail access and what they'll enable the less experienced cyclist to achieve?
I believe in e-Bikes and have been an advocate for 10 years, long before it became mainstream. I think e-Bikes are not only good for the obvious reasons (older riders, less fit riders), but they also good for advanced riders in many cases. They can be a lot of fun and open up new ways to ride, explore and get outdoors.
For me, the e-Bike doesn't have to replace the regular bike. It's a bit like Nordic Skiing and Alpine Skiing, one can do both. We all have to be responsible, give regular bikes the right of way, don't remove the chip. Doing so will only lead to mandatory insurance and this will ultimately lead to e-Bikes being re-classified as motorized vehicles, which will restrict them from a broad trail access.
Some opponents (usually people who have never tried one) may argue that they are motorized. I disagree. The mentality of the riders, the way we ride them, the way we dress (cycling gear), the way most people use them; it's more like a bicycle than a motorcycle.
It's a fine line and it's something new that needs to find its place and acceptance. I think e-Bikes can draw more people onto bikes, so are good for our industry.
In your opinion, what's the next big thing in mountain biking?
Bike technology will always evolve and improve, but I think the future will be more dictated by the way we ride them and where we ride them (e.g. Trail Center, purpose-built trails).
On the tech side, I wouldn't be surprised if mountain bikes will come with smaller back wheels than front wheels in the future, just like in the motorcycle industry.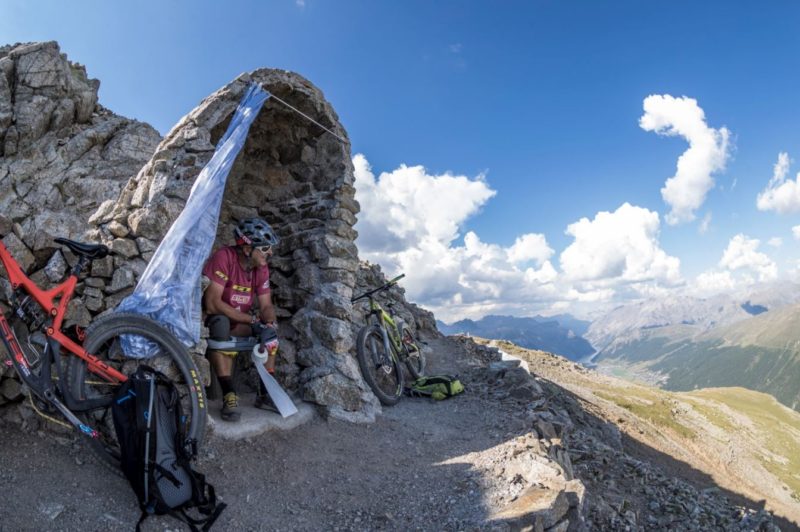 What can bike shops do to engage communities in cycling? 
Get engaged! Enrol your customers in cycling and its lifestyle, help with advocacy efforts, organize rides and educate your customers. For example, don't sell an e-Bike because it's an easy sell at the moment, make sure your customers are fit to ride one, educate them, teach them and make the aware of concerns other trail users might have.
You've a charity – wheels4life. How can the bike industry donate, or help?
Wheels 4 Life is a non-profit charity that gives bicycles to people in need of transportation/mobility in Developing Countries. You can help our cause by spreading the word of our mission, organise a fundraiser (no effort is too small for us).
Learn more at www.wheels4life.org
Tell us about your speaking tour and where we people can still catch you?
I've done talks for a while in the cycling community and occasionally I'll host motivational talks outside our industry for cooperate events.
This is the first time I've done a proper Tour. Together with promoter, Speakers from the Edge, we are currently doing a 11 city UK Tour: Hans Rey – Riding Life.
Hans Rey is touring his 'Riding Life' talk to UK theatres until November 25th – details & tickets are here:  http://bit.ly/2xeydQW