Northroad Cycles talks taking its own brand in store
Bike shops going own brand is now a trend in the ascendancy. Here Chris Keller-Jackson speaks to NorthRoad Cycles who are doing things in reverse, taking an own brand in store…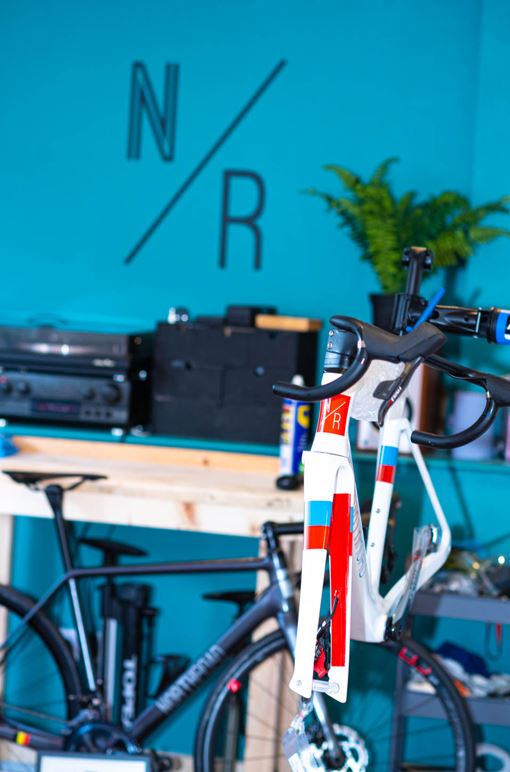 Now in its fourth year of operation, NorthRoad Cycles has taken the plunge and opened up its own shop; the physical 'bricks and mortar' that allows a potential customer to see the products, try on a bike for size and delve deeper into the customisations offered by the brand.
After a period dabbling on the side in the sales of 'boxed bikes', and a short tenure at the Rapha store in Manchester, NorthRoad has refocused on what it does best, offering their own road, gravel and TT bikes with different build packages and a high level of customisation, including frame spraying of your choice. Relatively extensive bespoke frame colours can easily be designed from the base of carbon black and a second colour choice, though you can add more colours and more design options for a small charge. Having a spray booth on site certainly helps, with the end results looking clean and minimalist.
Such customisation is not unique in the bike industry, but with a base colour of black it guarantees that every bike that rolls out of the shop has the opportunity to be a one off, how unique is up to the customer – and to some extent, the size of the wallet. Many of the bikes on display had high level groupsets with SRAM Red, eTap and Shimano Di2 components, all with disc brakes. Whilst this might look like shop stock with better componentry, the majority of the bikes on display were destined for customers, with their choice of colourway, drivetrains, wheels and tyres. In theory, there will be an ever-changing roster of bikes in the shop, plus those owned by the staff.
Social Media is a key component of much of our lives, and it's no coincidence to find the prevalence of NorthRoad Cycles tweets and Instagram posts. Social Media certainly got the message out there, with a steady stream of customers during the day, many customers roll through on their NorthRoad bikes to say a socially distanced hello, as others try out bikes or enquire about new purchases.
So, who are NorthRoad? Founders Ian and Jane both have a teaching background, and like many within the bike industry, the passion for cycling became a vocation. Whilst Jane still teaches, Ian has now become his own boss and works full time within the business. They have just recruited Stephen, as Head of Operations.
Ian proudly shows me the range of frames, and the spray booth where he applies the custom frame colours, as well as his recently delivered coffee machine (does all the bike world run on caffeine ?). When Stephen joins us, he brings with him his custom Quest gravel bike. Gravel is something quite new to NorthRoad but they are tapping into a vibrant local scene that's drawing new ridership. They have the Explorer with more traditional geometry and the newer Quest with better 'bikepacking' credentials and more radical frame geometry. In addition to the burgeoning Gravel bikes they currently have four Road frames and one TT bike frame, all with differing build options – though they are keen to point out that you can have any build you want, or to swap out components for other choices, or even supply your own parts.
On the subject of frames, this is after all North Roads' USP, the frames currently come from a number of sources, both in the Far East and in the UK. The intention is to offer more locally sourced frames, with murmurings about more direct involvement in the manufacturing process. Watch this space.
Lasting impressions are of a growing and loyal customer base, a bright, inviting showroom and workspace, and a unique and compelling product offering. NorthRoad Cycles may be relatively new to the market, but the welcome and passion from the team is evident, the coffee making skills are on point too.
Pics: @CrankPhoto