Pivot follows Mike Hall's Tour Divide record with TwentyFour12 headline sponsorship
Pivot Cycles has announced that it is to be the title sponsor of the TwentyFour12 2016.
Now in its eleventh year, the 2016 event lands on July 23rd and 24th at Newham Park and offers free trackside camping.
"We are very excited to title sponsor this amazing long-running event" says Rory Hitchens, Marketing Manager for Pivot's UK distributor, Upgrade Bikes Ltd.
"TwentyFour12 holds a magic place in the mountain bike calendar and the varied terrain of Newnham Park is ideally suited to our bikes so make sure you come along and try them out.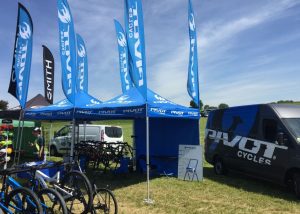 "If you want to compare times between one of our bikes and your own ride, we will even let you take one out for a lap of the race. We look forward to seeing you at Pivot TwentyFour12," concludes Hitchens.
There are a wide range of race categories to choose from depending on your age and how long you, or your team, wants to ride.
In addition to the marathon 24-hour race, there are two 12-hour options – one that starts at midday and the Torchbearer kicking off at midnight. Within each race there is a choice of solo, pair or team entry as well as the 'Just for Fun' relay option for teams of up to 8 people. Entries close on July 13th and, at time of writing, places are selling extremely quickly in all categories with all Solo categories now full.
A full range of Pivot demo bikes, including the new super-boosted Switchblade, Mach4 and LES hardtail will be present for those eyeing a new bike.
The Pivot announcement follows last week's Tour Divide success under Mike Hall, who took the record aboard an LES hardtail, coming in at 13 days, 22 hours and 51 minutes, smashing the previous record by 12 hours and 46 minutes.
Since Mike's last Tour Divide in 2013, the event has been a case of "unfinished business", due to forest fires that forced him to detour from the official route that rendered his then potential record time as "unofficial". Mike's goal this year was to take the record back with authority and have it stand in the books.
Check out last year's TwentyFour12 highlight reel in the below video: