Scott's Cadence and Centric Plus make bold claims on helmet design
Scott Bikes is laying claim to have created both the world's fastest and coolest helmets with the introduction of the Cadence Plus and Centric Plus.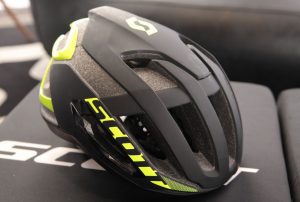 Starting with the Centric Plus, Scott claims that in wearing this lid the rider can run marginally (2%) cooler than if wearing no helmet at all (when riding at 40km).
Aimed at road and cross country racers, the Centric Plus was designed in a two year collaboration with the University of Adelaide. Maintaining strong aerodymanic properties, the lid's primary focus is however rider comfort and as such there's vents in the front, sides and rear. Scott says that the design strikes an excellent balance between reduced drag over the helmet's surface and maximum airflow within.
Meanwhile, the Cadence Plus bears three removable plugs in the fore of the helmet, allowing the rider to seal off the ventilation to create maximum aero efficiency.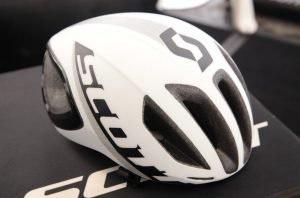 Scott claims that even with the plugs removed, the Cadence Plus is quicker than its nearest competitor by a small margin over a 40km stretch. Add the plug and that gap increases to five seconds, says the firm. The tests, which can vary between brand to brand, were conducted at a 20-degree head tilt.
As far as cooling goes, the Cadence Plus claims to offer 1% better cooling over a bare head and a 23% improvement on its Vanish Aero helmet.
MIPS technology features in both the Cadence Plus and Centric Plus, offering the rider enhanced protection from rotational forces in the event of a crash. Each is fitted to the rider via a simple to adjust Halo system – a small dial easily tuneable with gloves on.
Finally, on the mountain bike front, a new shaped Fuga Plus has been debuted. It's a touch heavier than the prior model, but carries a reduced price for 2017. Again, MIPS tech features, as well as a removable visor and attention to detail on the ventilation.