Pivot Switchblade launch brings with it Super Boost Plus 157 hub measurement
Debuted to the press late last week Pivot's new Switchblade has got the industry talking much thanks to the choice of rear hub – a new hub spacing measuring 157mm.
Starting with the Boost 157 hub, fear not, the hub's backwards compatible and offers both a wider axle and flange spacing, so should result in a stiffer wheel. The brand is also keen to stress it's not introducing another standard, in fact the Switchblade will be compatible with a good number of DH hubs measuring 12 x 157, though many of these will have narrow flange placement over many hubs due to market later in 2016.
Having moved to boost 148 on its Mach 6 and 429 Trail builds, Pivot's engineers have said that the improved chainline clearance was valuable but hadn't gone quite far enough to maximise the potential for 27.5+ or 29er builds.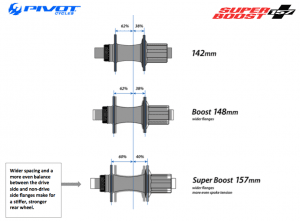 "The Switchblade is a from-the-ground-up design, specifically engineered to accept the new bigger tire sizes," said Pivot Cycles President andCEO, Chris Cocalis. "For enduro riders, this is the 29er that they've been waiting for from Pivot, with new long and low geometry and 135mm ofdw-link suspension. For plus-tire riders, we designed this bike to accommodate tires up to 3.25" wide for a 27.5+ build. In addition to all of this,we've also achieved the shortest chainstays in the class – 428mm (16.85") – for a bike that makes it incredibly easy to manual and pop up and over obstacles."
Moving on to more about the bike itself, the carbon chassis is built around DW Link suspension, with the frame utilising the same double wishbone rear triangle and linkage design found on the Phoenix DH and Mach6 Models. Additionally, the Switchblade features updates to Pivot's Cable Port System with the cleanest internal cable routing and  fully integrated Di2 functionality.
Furthermore, with all the tweaks the engineers have made, the build is claiming to carry the shortest chainstays and most tyre clearance of any bike in the all terrain category.
In the UK, distributor Upgrade bikes will offer an XTR/XTR 1X built at £5,900 and specced with carbon wheels. A cheaper spec with DT XM series wheels comes in at £5,000 and prices remain the same whether the customer has a 27.5+ or 29er build.
Introducing the Pivot Switchblade from Pivot Cycles on Vimeo.