Product picks of the week: careful cleaning, mechanic's time savers and "square aero"
Brake Shield, by Eat my Dirt
Now available to bike retailers, the Brake Shield is more of a preventative measure than a product, so bike mechanics, this one's for you:
Designed to block stray spray, the Brake shield clasps around the rear of a bike's cassette, creating a shield for the brake whilst lubricant or cleaner is applied.
Once in place, a built in tray catches all the cleaner, dirt and oil making the Brake Shield an ideal cleaning solution in any situation where no mess is desired.
Retail partners are now sought for the Eat my Dirt made product. For trade enquiries, head to eatmydirt.eu.
3T Exploro Aero Gravel frame (pictured lead)
Gravel enthusiasts, ever wished your bike sliced through the air just a little better when you're tearing along that sneaky shortcut?
3T has just the thing in its new Exploro frame, claiming to be the world's first gravel build to have hit the wind tunnel in its development. A year in development, the frame uses what it calls "Squaero" shapes, or structurally efficient squared tubing in simple terms. Doesn't sound particularly aero? Well 3T claim in both lab and real world conditions these tubes are clocking faster speeds and greater savings, even when caked in grime from the gravel path.
The Exploro uses Sqaero 50/25, with a 50mm wide downtube perfect to pick up the airflow coming off a wider cross or mtb front tire and lead it on to the water bottles. The seat tube is 25mm wide to make it aerodynamically disappear in between the bottles and the rear tire. The headtube, seatstays and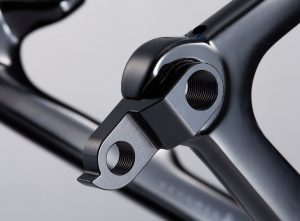 custom seatpost also use Sqaero shapes.
Designed to cater for GravelPlus tyres, the frame will house either 700c or 650b wheels and delivers power through punchy short 415mm chainstays to provide agile steering and strong acceleration.
Other features include a 'Hang Loose Hanger', a feature that allows the rear derailleur to detach from the frame when the rear wheel is removed, making life much easier for quick wheel changes.
Check out the frame's features on the microsite here.
BBB gravity gear
There's two new garments landing from BBB at present – the Gravity jersey and Element shorts.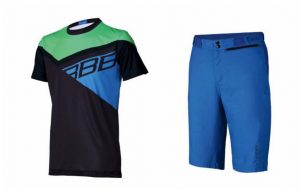 Designed "functional but free", the Gravity Jersey is loose fitting and made with Activeplus quick drying material. For the €49.95 price there's a few tidy hidden features not visible at first glance, such as an integrated thick lens cleaning fabric in the hem for cleaning your glasses, as well as a bike specific cut with a dipped tail covering your customer when things get mucky.
Onto the Element shorts, priced at €59.95 and there's a velcro adjustable waist to dial in the fit, with strategically arranged directional stretch paneling aiming to provide maximum freedom of movement. Sizes range small through to triple XL, each featuring reflective detailing and a padded waist for extra comfort and security.
VeloPac RideClean wipes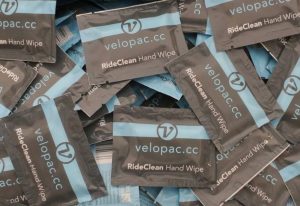 Made in the UK by Wildoo and meeting EU Cosmetics Regulations, the new RideClean wipes from VeloPac.cc are, as the name suggests, a stashable wipe that'll degrease your hands post puncture fix or chain mount.
Small enough for the seatpack or jersey pockets, the minty lemon-scented product is available to dealers in pack sizes of 10, 20, 50, 100 or 1,000 and prices start at £2 for a pack of 10.
See VeloPac.cc for more details and pricing structures.
Altum Modual multitool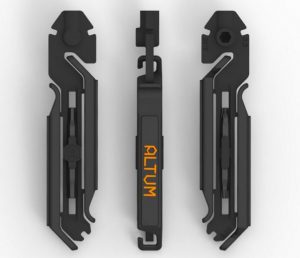 A new product round up wouldn't be complete without a kickstarter project. Enter Altum Designs' Modual – a modular multi-tool and accompanying tool roll.
Compact enough for use on the road, the Modual seeks to be an alternative to folding multi-tools, offering 13 essential functions.
The modular system utilises individual tool bits rather than pivoting allen keys. Four of these can be held internally so the tool can be configured to match the specific requirements of any bike. Tyre levers snap magnetically to each side forming an ergonomic handle, whilst the tool's elongated body provides strong leverage. The head of the tool features two tool bit slots, one acting as a wrench and the other a screwdriver, allowing for easy access to any bolt.