The Ernesto Colnago interview: "The future does not scare me, I am in constant search of innovation"
"The future does not scare me, I am constantly in search of innovation," says Ernesto Colnago when asked what challenges are presented by seamlessly designing in Colnago's iconic styling with modern framebuilding technology.
Punchy as ever, just as you'd expect from the boss of a brand whose reputation precedes it. Admired by the competition, collected by aficionados and with a deep race heritage beneath record breaking cycling superstars, Colnago to this day remains a pack-leading brand. But a rich history doesn't guarantee a bright future, something which Colnago says is a challenge relished by the Milano brand.
"The classic style is a beautiful thing and it will remain forever. But I have always been able to combine both style and functionality at the same time bringing forward technological innovation. For example, the straight fork, carbon fibre and now disc brakes."
It's been over 40 years now since Ernesto, at the time an up and coming framebuilder, met a similarly emerging talent in Eddy Merckx, something which the 84 year old has described as an honour and a stimulant for the creation of "special bikes". Among other achievements in a decorated career, the pair particularly enjoyed Merckx's 1972 hour record, captured on a Colnago built steel racer which came together with detailed input from The Cannibal.
But when it comes to performance bicycles, Ernesto's fondness of steel remains in the past.
"I think the best material to produce bike frames is carbon fiber. The steel demand exists, but I do not believe in a comeback of this market. The public wants serious performance bicycles and there is no better material over carbon fibre to combine these qualities.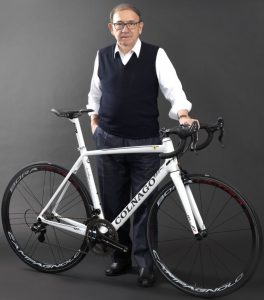 "The C60, for example, is a masterpiece, a frame that you cannot compare to anyone else. It is handmade, hand-painted all over in Italy. It is like a dress made by a tailor."
The tailoring of performance bicycles has gradually become an important part of the bicycle business and Colnago is no exception. The C60 can be produced to 20 standard sizes; horizontally, sloped or high.
"No other manufacturer can do such a thing," says Colnago. "In the case of special requests we can also make the frame tailored down to the layup."
This is where investing in skills has paid off and where the brand has earned its reputation among cycling's connoisseurs, believes the boss.
"When we recruit our investment in good people is double. It makes no sense to invest your money in unfit people, only the best. Good people represent a good resource for the brand. I want to say one thing, which is Colnago: the continuity of seriousness. There is no other words who explain better who we are."
It's undeniable, though, the steel appeal remains. When re-launched last year, the Arabesque quickly become one of the most papped bikes on show, but what many don't know is that this revival of a shortlived classic came to be almost by accident. Produced only for a year, this mid-1980s build is noted for its flamboyant lug work and it was a forgotten box of those that led to the re-issue of a limited run.
"It is not a frame for all," says Colnago. "It is appreciated by the people who love beautiful things and know the history of the bicycle and our brand. We produce and sell about a thousand a year."
Back to the future and we had to ask, what is Ernesto excited to see develop? The answer's simple, the potential of women's cycling.
"I was the first to believe 50 years ago in women's cycling and I continue to believe in it today. We sponsor the number one team in the world (Wiggle High5) and this year, for the first time, we have the pink jersey of the female tour (Giro Rosa)."