Read online: CyclingIndustry.News' fifth edition, 2021
CyclingIndustry.News' fifth edition of 2021 is now live and available to read online and download here.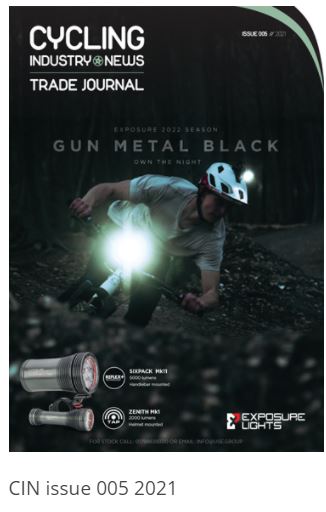 In this, our largest issue of the year and an edition that those visiting Eurobike will be able to pick up in the flesh, we tackle a variety of pressing topics for the industry with long-form articles covering the realities of the shipping crisis for the trade, among other must reads.
The magazine, as always, begins with retailer opinion. In this 'ask the trade' instalment the topic is handling customers by appointment, a trend that existed prior to the pandemic, but has really taken root since.
A further snippet from our annual market report is found overleaf, within which the subject of where industry marketing spend should be allocated in order to grow the customer pool is detailed. Alongside this comes the view of 250+ UK bike shops on the greatest obstacles to growing the pool of cyclists and thus customers. (To purchase our report in full, email the editor here.)
Next, Laura Laker, co-author of Media Reporting Guidelines covering the subject of cycling writes about the research behind their 10-point guidance and why press outlets should consider pledging to accuracy and care in phrasing when reporting on vulnerable road users.
With less than two weeks until Eurobike opens its doors in Friedrichshafen for the last time, we check in with show director Stefan Reisinger for his views on this year's edition and a future of enhanced possibilities in Frankfurt.
Next up comes the assessment of the container and shipping crisis, which at the time of writing is showing absolutely no sign of abating. The CMA has in fact now been called in to investigate. Find out the true cost per unit shipped in this very frank deep dive alongside industry importers.
It won't have escaped the attention of long-termers in the trade that a substantial inflow of money into the industry's giants has driven a frenzy in the stock market, with new listings galore and share prices hitting new highs across the board. CI.N reflects on the growth of our stock market presence on page 27.
One of the more interesting discussions you'll find in this edition comes from those with a long-term presence in the electric bike market; we ask simply is UK's 15.5mph assisted limit right and what part has the speed pedelec to play in the market's broader evolution?
There's plenty more following that too, including:
Merchandising expert Gosia Adamska's take on what a bike shop revamp should prioritise
An interview with FSA
A profile on Panzerglass, which now produces protective layers for e-Bike and cycle computers.
A catch up with Oxford Products on the back of a period of IBD account growth
A profile with Topeak
A guest take on IoT's part to play in cargo bike fleet management from Paztir
A profile with USG Ltd and its trio of house brands
We finish with our usual CEO hot seat interview with ZyroFisher's Rob Haycock
To view prior CyclingIndustry .news editions, head here