Reid says "exponential growth" ahead for electric scooter market
Australian bike, e-Bike and now e-scooter label Reid suggests that, once private ownership is legalised, those retailers invested in the electric scooter market goods can expect "exponential growth". Kyle Gouveia lays out the company's vision for the coming years…
"There are now very few retailers opposed to the idea of carrying stock of electric scooters. if not now, then once the Government forms a decision on private ownership at the end of the 12-month share scheme trial, things will really move."
Those are the words of Kyle Gouveia, who working for cycling and mobility giant Reid has earned a broad perspective on all things micromobility, pedal-powered or otherwise.
In a former CI.N trade forum poll run at the start of 2020, one in three shops outlined that stock of the light electric vehicles was of interest, but Gouveia says "I would go as far as to say the interest is even greater than that."
"As many see e-Scooters being a big part of our sustainable transport network in the future and the product seems to have a natural affinity to bike shops, so it's more a question of why wouldn't they?" he starts.
"The opportunity for a retailer is to welcome a new type of customer through the door, first and foremost. We're not talking about low-priced budget toys here, so money through the till and the subsequent cash contribution from a sale are definitely attractive. The likelihood at its peak in the future, is that we will see a stronger representation of sales in more urban areas, but this is still a relatively new category, so the uptake in our sales into the retailers so far, has been pretty widespread."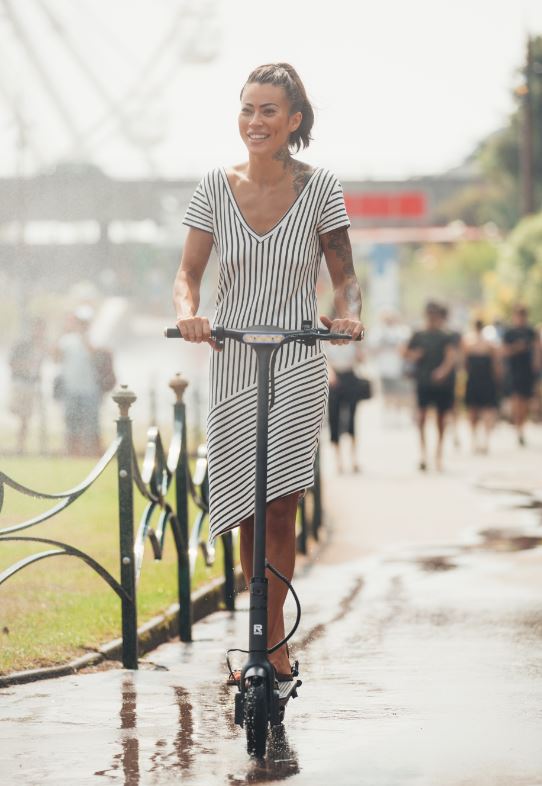 Sitting on the fence and trend watching remains the choice of many. There is no guarantee that the trials will return the results many looking at the future of sustainable transport will hope for. In fact, there have already been signs of turbulence with some trials, which is arguably to be expected. Reid expects two waves of interest from both existing early adopters and those playing it safe.
"There was a (and continues to be) surges in demand when the electric scooter trials were announced. With more people seeing electric scooters in everyday life and the benefits and practicality they bring, regardless of which way the Government make their decision, we do not expect this demand to slow down anytime soon. If the Government do pass on private ownership, then we can expect exponential growth unlike anything we've seen in recent years of the e- Mobility market. Which is why a lot of unreputable brands are coming up, selling direct to consumer, without any experience, trying to capitalise on the market right now."
If the growth of the electric scooter market is to be exponential, a variety of demographics will quickly pass on the benefits of micromobility forms by word of mouth, suggests Gouveia.
"The initial customer was the typical early adopter and regular city commuters, however we've already seen this expand rapidly into the mainstream with more people moving away from only the commuting benefits and more into the leisure side of just getting around to see their friends or having a ride together in the parks or beaches."
Public trial usership will be key to sales, rather than hindering the scope, we're told.
"Share schemes within the proposed trial have limitations for speed and power that will continue to raise positive awareness for how great electric scooters are for alternative methods of travel. The more people see them on the streets, the more people try them. Steadily the national education and awareness is being raised, which will lead to more purchases.
"The trends are still taking shape," he adds, "so those sitting on the fence have time to make observations of their own and survey customer demand in and out of store."
There are also opportunities even for those not wishing to make sales a priority, says Gouveia.
"We have heard from our distributors outside of the UK stocking other mainstream e-Scooter brands having a warranty rate of up to 30%," something that inevitably means a repair business will emerge in time, as well as consumable sales on items like grips and tyres.
For Reid, whose distribution goes through Moore Large, such issues will be worked through closely alongside its retail partners, if they ever arise. At the present time we're told warranty issues are very low and fixed within a week if they do crop up.
A question critics are increasingly asking is will electric scooter journeys replace car trips, or worse, impact cycling's modal share. The latter point is currently being discussed on bike industry only forums.
Referencing search and sales data from recent months, where transport habits have been forcibly altered, Gouveia says: "We've had a lot of feedback of our electric scooters replacing city car journeys, with feedback from customers in swapping them for their car on commutes to work as it's quicker than driving.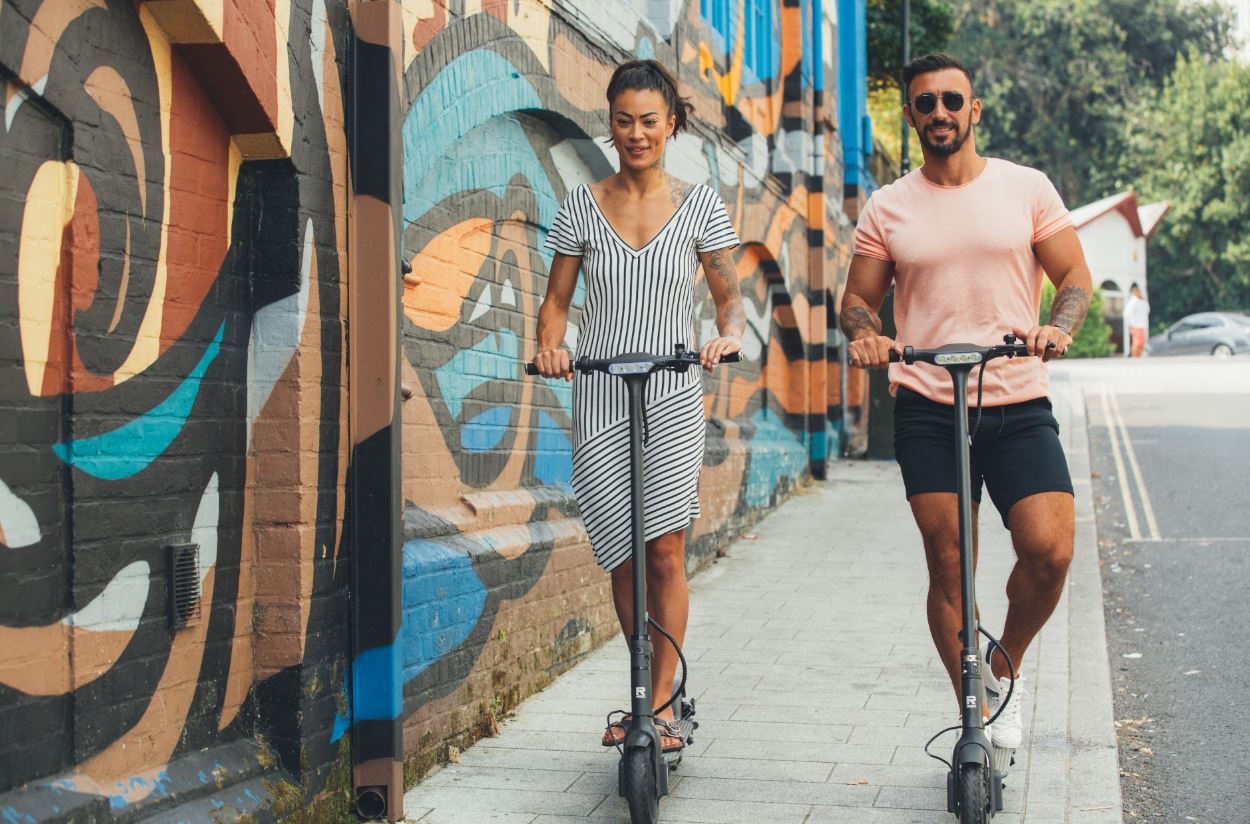 "In the larger UK cities where car ownership is often lower, it is replacing public transport journeys from buses to tubes. Many people now opt for a scooter for their last few miles off a long train or for localised travelling. This can be seen evidently in Google trends searching for bus and train timetables in comparison to e-Scooter searches for the last six months."
There is more likely scope for multi-modal transport based sales and furthermore, purchases made by those living in apartments where even cycle ownership can be a bit more complicated, says Reid.
"The great benefits to our e-Scooters is they fold down and can easily be stored and packed away, making them a better option for many people who don't have a space for a bike at home."
With months yet to go on the electric scooter hire scheme, Reid has not yet taken a lobbying role with Government, as some have, but the products currently do fit within the announced trial specification limits, with top speed matching the current guidelines and the EU limit for eBikes of 25kph.
"We believe providing safe, viable e- Scooters sets an example to governments and others brands to see the benefits and solutions to personal and public travel problems we are now facing all over the world. It's up to them to make the decision on whether they change, however, we are helping to provide a platform of evidence in positive rider experiences for them to base this judgement on," adds Gouveia.
With all things considered, in the last six months of operating in the UK, alongside Moore Large, Reid has found that demand had been outweighing the initial supply. As a result, it now has regular shipments coming in weekly to ensure that there is always good stock availability.
"This demand has only continued to grow with announcements of trials in the UK and general awareness from the common consumer rising, with more e-Scooters being seen ridden. This is shown in our organic web traffic, with our pages for e-Scooters up over 300% in the last three months compared to three months before that. "Reid are also supporting bike shops during this period and have conducting advertising for several individual IBDs and Nationals as part of our ongoing strategy to support our retailers in the UK," concludes Gouveia.
To read a more in-depth assessment on the electric scooter market and what the barriers to full legalisation from Department for Transport are, read CI.N's recent article produced alongside those close to discussion.